Winnipeg will see temperatures climbing back towards the mid-30s this week as another heat wave is set to develop over the region.
Winnipeg will move into another extended period of hot, dry weather over the coming days. An upper ridge will gradually amplify over the rest of the week, producing another broad area of clear skies with increasingly hot weather.
Before the warmer weather starts, the city will see one more "cool" day. Skies will be a bit cloudier this morning with a few showers or thunderstorms drifting into the Red River Valley. Most of this activity will pass to the south of Winnipeg, but there is a chance for the city to see a shower or thunderstorm in the first half of the day. Skies will clear for the afternoon with temperatures climbing to a high near 29 °C. Skies will stay mainly clear tonight with a low near 15 °C.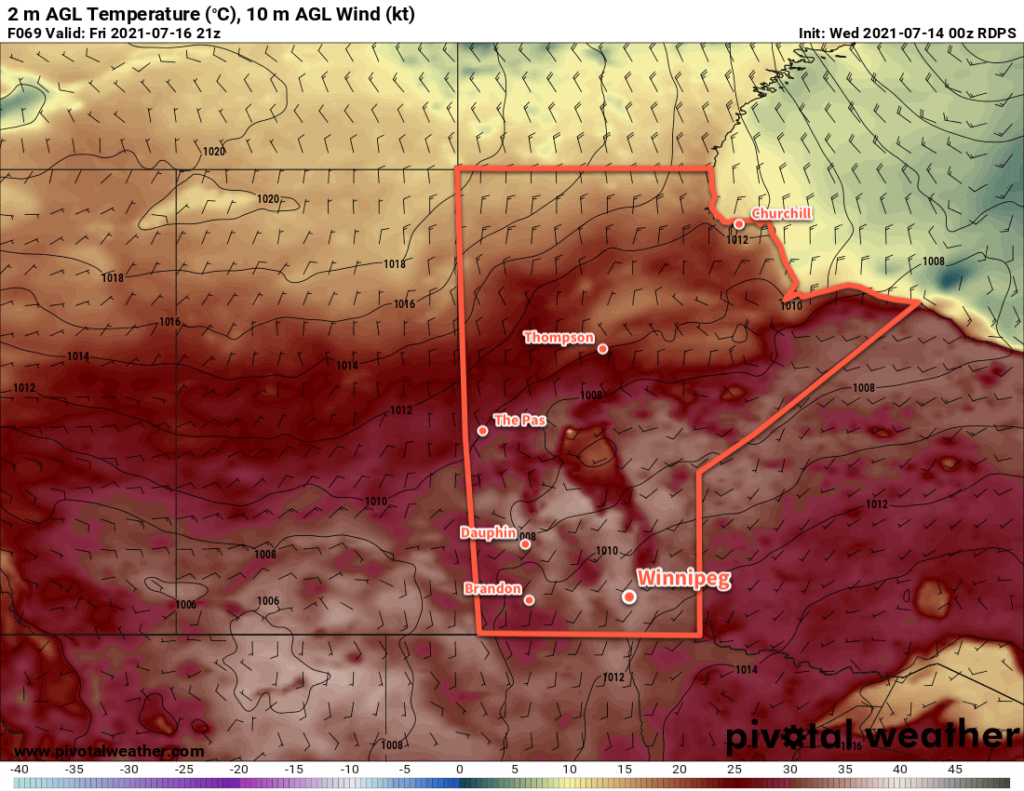 The rest of the week will bring warming temperatures and mainly clear skies. As the upper ridge amplifies, daytime highs will climb to 35 °C by Friday. Overnight lows will warm to around 20 °C. Winds will be light on Thursday, but southerlies will pick up to around 20 km/h on Friday.
Hazy skies will linger through the region this week.
Long Range Outlook
Temperatures will stay in the mid- to upper-30s through the weekend and right through next week. While there may be the periodic chance of showers or thunderstorms, little to no organized rainfall potential is in the forecast.
The hot, dry conditions will continue to worsen the drought over the region and push more regions into an extreme fire danger. While smoke plumes can be difficult to forecast beyond short time ranges, it's highly likely that southern Manitoba will continue to see varying amounts of smoke moving through the region.
Drink lots of water, check on those who may not be able to protect themselves from the heat as well, and stay safe!
Today's seasonal daytime high in Winnipeg is 26 °C while the seasonal overnight low is 13 °C.