Winnipeg will [likely] see record-breaking temperatures over the coming 3 days as a heat wave develops over the province.
Winnipeg will be scorching under the influence of a potent upper-level ridge this weekend. This potentially record-breaking warmth will pose a danger to those who have sensitivities to the heat, especially as overnight lows warm up in the low 20s. With little relief from the heat, it will be important to remain hydrated limit outdoor activities as much as possible late in the morning through the afternoon when the sun is at its highest.
So, how hot will it be? Today will be the initial day of significant heat in the region with temperatures increasing to a high near 35°C under sunny skies. Winds will increase to 15-20 km/h this afternoon. Temperatures will remain mild tonight with a low near 19°C.
Saturday will see even more heat build into the region as winds pick up out of the south to around 30 km/h. Temperatures will climb to a high near 36°C under sunny skies. Saturday night will see a very warm low near 23°C. Sunday appears to be even warmer than Saturday with southerly winds of 20 to 30 km/h continuing. Winnipeg should see a high near 37°C. A passing low pressure system on Sunday night will allow slightly cooler air to begin building back into the region. This should allow temperatures to dip to near the 20°C mark on Sunday night.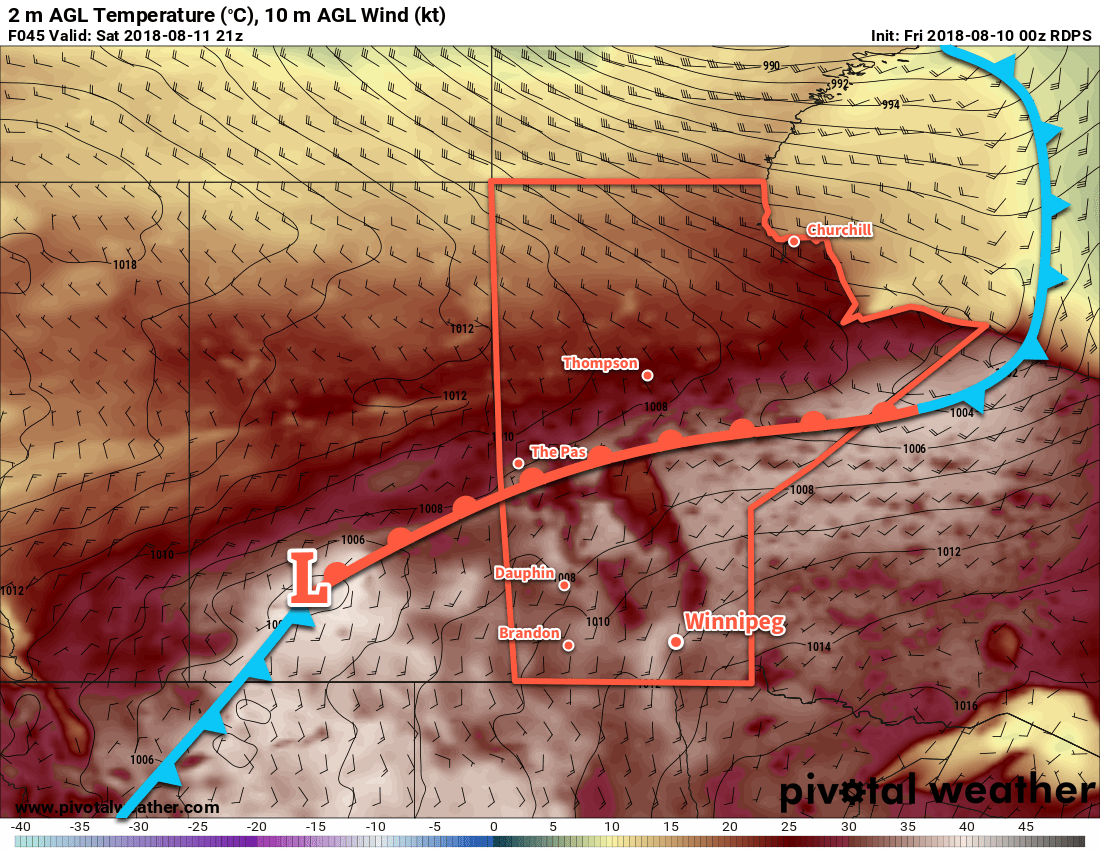 Fortunately, humidity levels will remain fairly average throughout this event. Strong evapotranspiration may lead to slightly humid conditions in the mornings, but as it quickly warms up the moisture should mix out of the boundary layer and return to more average values. Make no mistakes, though, it's still going to be extremely hot.
Potential to Break Record Highs
This heat wave will spread significant heat that could potentially break records every day over the coming three days.
Record Temperatures in Winnipeg, MB for August 10-12
| Date | Record Maximum Temperature | Record Warm Minimum Temperature |
| --- | --- | --- |
| Aug 10 | 35.2 (1988) | 20.0 (1947) |
| Aug 11 | 34.9 (1978) | 18.9 (1949) |
| Aug 12 | 35.0 (1972) | 21.1 (1928) |
Record maximum and record warm minimum temperature records for Winnipeg, MB valid as of August 9, 2018
Today will be a close one with daytime highs and overnight lows forecast near the existing records. Both Saturday and Sunday, however, show a strong likelihood of breaking both daytime maximum temperature records as well as record warm overnight lows. These records are derived from ECCC's official observation database for Winnipeg and are inclusive from 1873-2017.
Long Range Outlook
As mentioned before, a low pressure system with a cold front will move through the region on Sunday night. It looks like the passage of the front will remain dry, but it should bring a return to near to slightly below-seasonal temperatures. Another warm-up into the upper 20s or low 30s is possible in the latter half of next week.
Winnipeg's seasonal daytime high is currently 26°C while the seasonal overnight low is 12°C.