Winnipeg will see very hot and unsettled conditions heading through the weekend.
A low pressure system crossing the province today will send temperatures soaring in Winnipeg. South-southwest winds of 30–40 km/h will usher in a hot air mass with highs climbing into the mid- to upper-30s. The dew point will stay in the low teens which will mean, fortunately, that the humidity won't make the heat feel any worse than it already is. A "cold" front will sweep southwards through the Red River Valley later today. This front will bring a risk of thunderstorms to the region as it passes, although the most likely area to see any convection will be south near the U.S. border. Winds will shift to the north behind the front and then ease overnight. Temperatures will head to a low near 18 °C.
On Saturday, moderate southerly winds will bring more hot weather back into the region as another low pressure system moves into the province. Temperatures will climb back into the mid-30s but this time humidity will accompany it. Dew points will climb into the mid- to upper teens, making it feel closer to +40 out. That heat and humidity will meet another cold front pushing into the Red River Valley late in the day. This combination will bring a risk of thunderstorms — potentially severe — to the region Saturday evening and overnight. Temperatures will head to a low near 19 °C.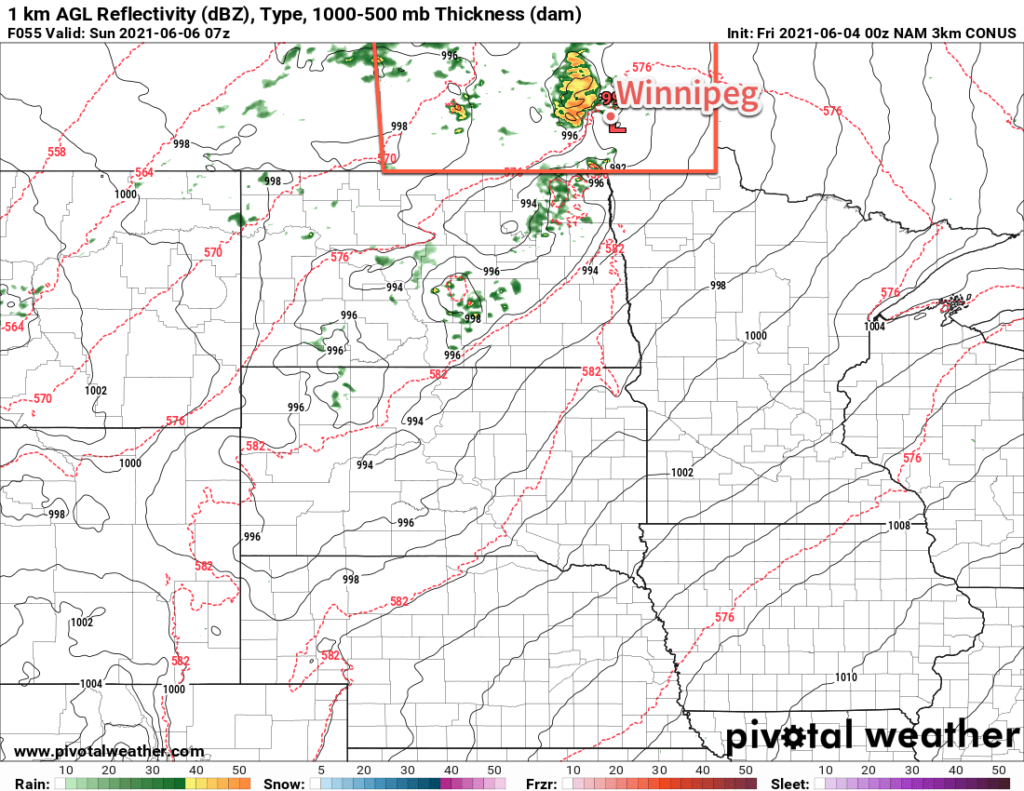 Drier, slightly cooler air will work into the region on Sunday. The morning will start with some lingering cloud with a chance of showers or thunderstorms as the cold front slowly continues to push through the valley. It should be off to the east by late in the morning with skies clearing for the afternoon. Temperatures will climb to a high near 27 °C with a moderate westerly wind bringing more comfortable humidity levels to the region. Skies will stay clear on Sunday night with a low near 14 °C.
Long Range Outlook
Next week will start with mainly sunny skies and highs near 30 °C again. Forecasts show more unsettled conditions developing mid-week, then gradual cooling back towards seasonal values by the weekend.
Today's seasonal daytime high in Winnipeg is 22 °C while the seasonal overnight low is 9 °C.