Today will be a rather cloudy, cool and unsettled day across the Red River Valley as a trough of low pressure swings through the region. The wet weather will be short-lived, though, and there will be a quick return back to sunny and warm weather.
The wet weather moved in overnight and will taper off this morning, leaving mostly cloudy skies until sometime in the afternoon when some sunshine will begin breaking through. Temperatures will be cool for mid-August with a high of just 23°C. There will be a slight chance of a shower or thundershower this afternoon if enough sunshine pops out and warms things up even a little bit more than expected.
The cloud will clear out in the evening, leaving Winnipeg with clear skies as temperatures head to a low near 13°C.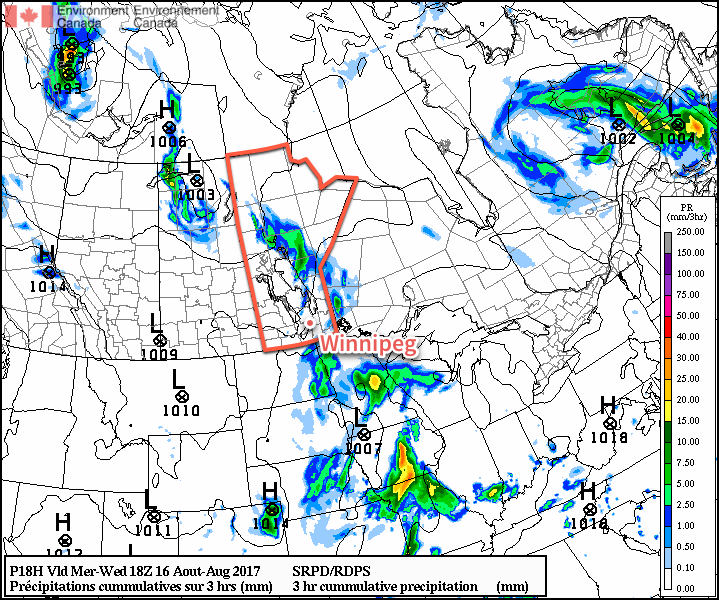 Thursday will bring summer weather back to Winnipeg. Aside from a bit of morning low cloud or fog, skies will be partly cloudy with temperatures rebounding back towards a high near 27°C. Some cloud cover will begin working into the region in the evening ahead of an incoming low pressure system. This system will spread scattered showers into southwestern Manitoba overnight as it slowly moves east-southeastwards, but should remain west of the Red River Valley. Temperatures will dip to a low near 15°C under mixed skies on Thursday night.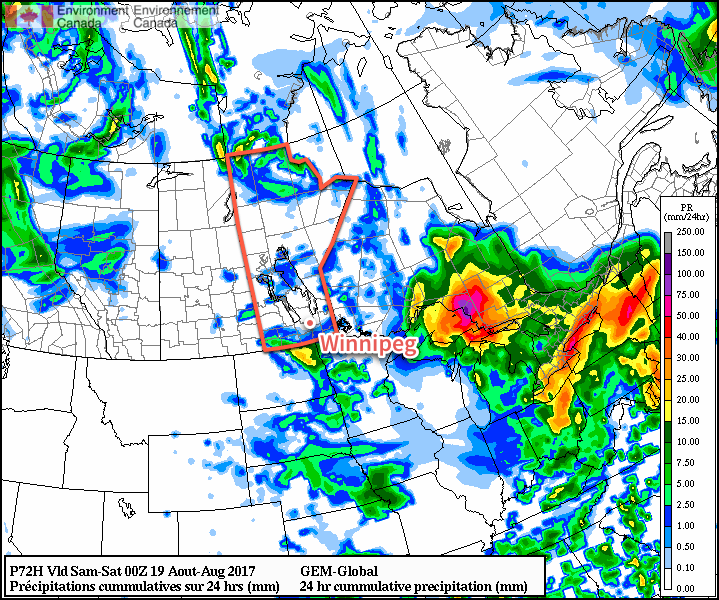 Friday will continue to be warm, but skies will be mixed as a low pressure system passes to the south of Winnipeg. Highs near 28°C combined with the low moving through will bring showers and the risk of thunderstorms to the Red River Valley. Depending on the exact track of the low, everything may end up to the south of Winnipeg, but at this point there's still enough of a chance of seeing something here that it's worth mentioning. Things will clear out for Friday night as temperatures head to a low near 15°C.
Long Range
Once we get past Friday's weak disturbance moving through the region, things turn more settled once again with generally warm and dry conditions. Daytime highs will climb to the upper 20's through the weekend with overnight lows continuing in the mid-teens. The start of next week continues to look nice with warm, dry conditions expected.
Winnipeg's seasonal daytime high is currently 25°C while the seasonal overnight low is 12°C.