The passage of a cold front this morning will usher in strong northerly winds and bring scattered showers to the Red River Valley as a blast of Arctic-sourced air spills southwards into the region. The cool conditions will stick around for the first half the week, but temperatures are set to soar again heading into the weekend!
There's no getting around it: today is going to feel positively fall-like as a cold front moves through this morning and blasts Winnipeg and the Red River Valley with winds of 40-50 km/h and gusts up to 70 km/h as a surge of Arctic air spreads southwards in its wake. Temperatures will reach a high of just 19°C today under mixed skies with widespread showers as an upper-level trough swings through behind the front.
With such strong winds in the region, if any thunderstorms manage to develop, they will have the potential to produce severe wind gusts in excess of 90 km/h. Additionally, marginally severe hail1 is possible due to very low freezing levels, but larger quantities of small hail would be more likely from any thunderstorms that could manage to develop today.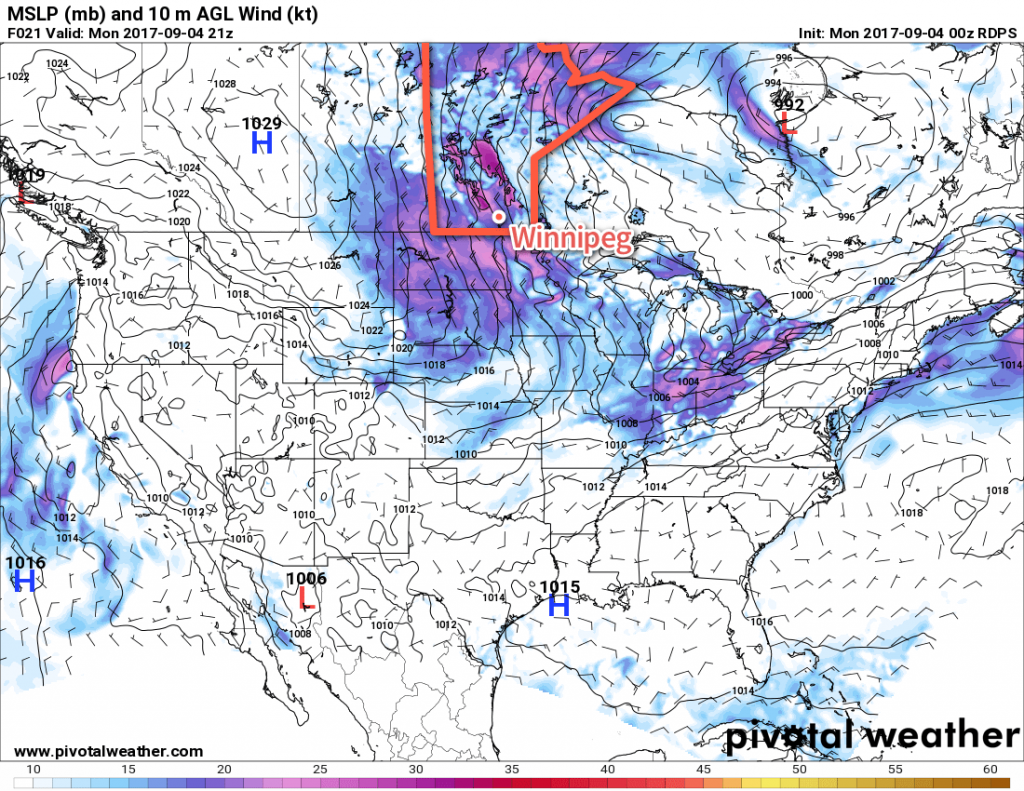 Winds will ease tonight as temperatures head to a low around 9°C under partly cloudy skies. Tuesday will continue to be windy out of the north to northwest at 30-40 km/h with gusts up to around the 50 km/h range, but skies will be sunnier and no rain is expected. Temperatures will be similar to Monday with highs around 19°C. Tuesday night will be quite chilly as temperatures dip to a low near 5°C or so as a large ridge of high pressure moves into the region.
Wednesday will mark the start of a turnaround back towards positively summer-like heat. Winds will be light out of the west under mainly sunny skies as temperatures climb to a high of 21°C. While it's not a huge improvement from Tuesday's temperatures, it marks the departure of the large ridge of high pressure bringing the cool temperatures as it slumps off to the south. In its absence, the upper-level ridge that is bringing very warm temperatures to western Canada will begin to work its way across the Prairies.
Long Range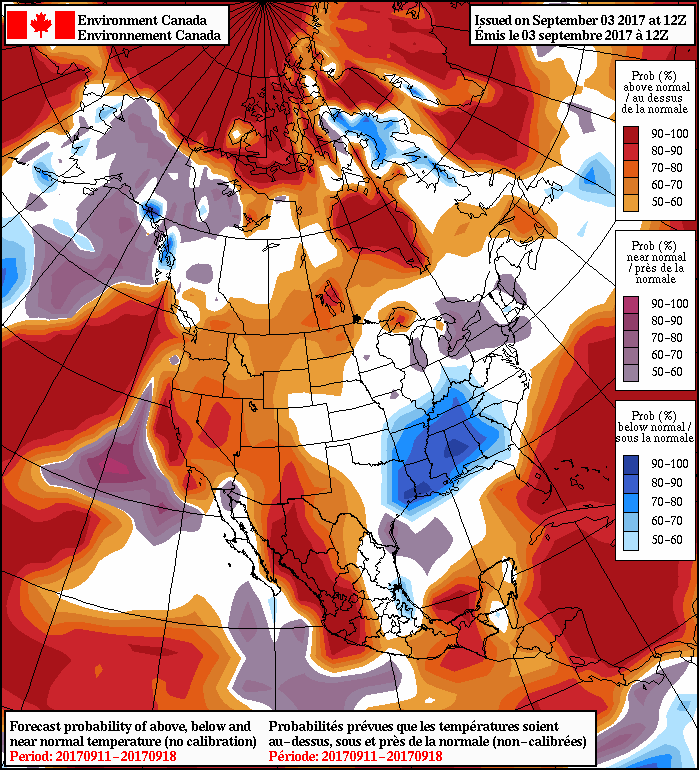 Temperatures are set to soar through the latter half of the week with highs in the upper 20's on Thursday and Friday, then potentially reaching the 30°C mark on the weekend. Temperatures are then expected to remain above-normal through the remainder of next week. Additionally, there's essentially no chance for rain from Thursday onwards through next week in current forecasts as persistent upper-level ridging shifts the storm track well to our north.
Winnipeg's seasonal daytime high is currently 21°C while the seasonal overnight low is 9C.
EC³ condensers severe hail to be the size of a nickel (21mm) in diameter or larger. ↩