The first part of this week will see unsettled weather as a strong low pressure system passes to our south. This system will likely result in moderate rainfall and a risk of thunderstorms over southern Manitoba on Tuesday.
Monday
Today looks to be mainly cloudy ahead of an approaching low pressure system. There may be a few passing showers throughout the day, but no major precipitation is expected. High temperatures are expected to reach the low twenties with gusty south winds.
Tuesday
Tuesday looks quite unsettled as we sit north of a fairly strong low pressure system over the Dakotas. A warm front will likely be located over northern North Dakota, allowing for warm and potentially stormy weather just to our south. In southern Manitoba, we will remain stuck in a cool easterly flow north of the warm front. As a result of our position relative to the warm front we likely see moderate rainfall during the day with a chance of embedded thunderstorms.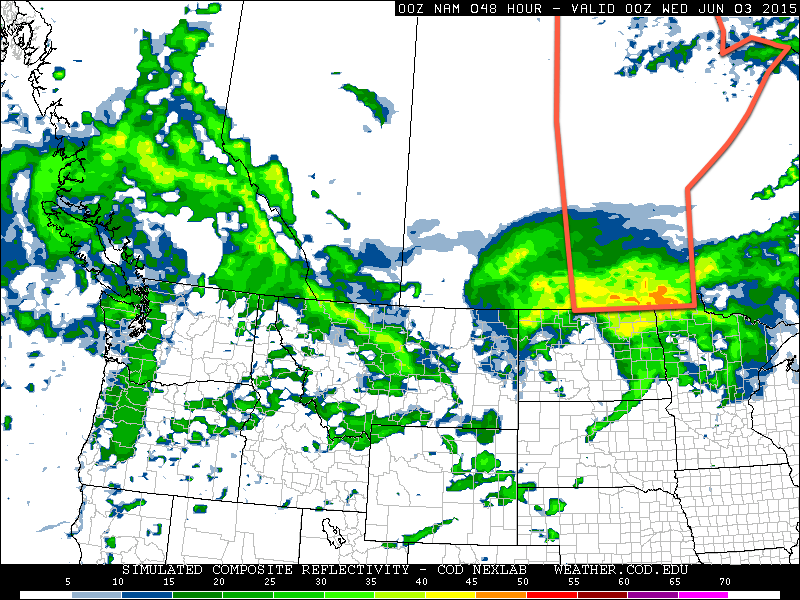 Should the warm front move further north than expected, our risk of thunderstorms will be higher, but at this time that does not look probable. Total rainfall amounts in southern Manitoba could be in the 15-35 mm range, although it is difficult to predict this sort of system ahead of time. Higher rainfall amounts are certainly possible on a localized basis due to isolated thunderstorm activity.
Wednesday
Wednesday looks cool and cloudy as Tuesday's system departs. We my see a few showers during the day, but in general not much precipitation is expected. The wind will be from the north at around 30 km/h.
Long Range
The long range forecast suggests we'll see generally normal to above-normal weather through the middle of June. Numerous weak to moderate weather systems are expected to traverse the region over the next while, meaning our weather will continue to feature unsettled patches, before we return to more favourable conditions.