The wait is over: the warmer weather has arrived. Today will mark the first day of a huge swell of warm air spreading eastwards across the Prairies over the next week that will bring seasonal to above-seasonal temperatures to the region. The warmer weather will be joined by a couple chances for flurries over the next few days as well thanks to multiple weak disturbances rippling along the edge of the warmer air.
Friday
Increasing cloudiness; a few evening flurries
Saturday
Mixed skies with a chance of evening flurries
Today will start off sunny but see increasing cloud as temperatures will climb to around -3 or -2°C this afternoon. A weak low pressure system moving through the Interlake will bring the potential of flurry activity through the Red River Valley as it passes this evening, but any amounts from the system would be minimal. Temperatures will drop to around -10°C tonight.
Saturday will bring mixed skies with temperatures once again climbing towards the -2°C mark under mixed skies. Another low tracking through the region will bring another chance for some very light flurry activity through the late afternoon & evening hours. Expect an overnight low near -8°C.
Sunday will be the warmest day of the next few with temperatures climbing to the freezing mark. Skies will likely be mixed with somewhat breezy northwesterly winds to 20-30km/h. Sunday night will bring a balmy low of around -4°C.
Warm Weeks Ahead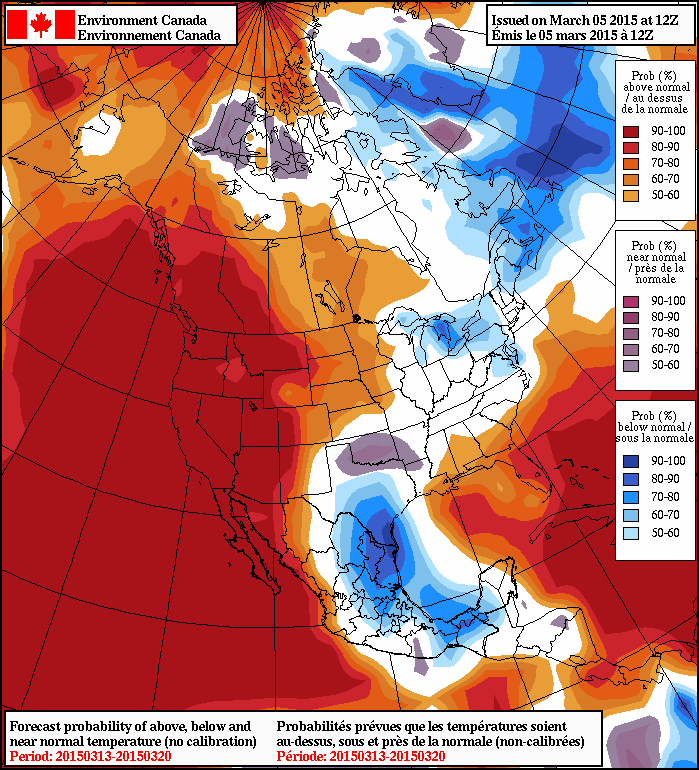 Fortunately for us, the warm weather looks like it's going to stick around for a while. The NAEFS 8-14 day outlook is showing a decent probability of above-normal temperatures while only a brief mid-week cool-down looks on the cards for next week.
With the relatively low amount of snow on the ground, we may be heading into positively spring-like weather!