Snow will make a late-season appearance this week, an unwelcome surprise in what has generally been a very pleasant March.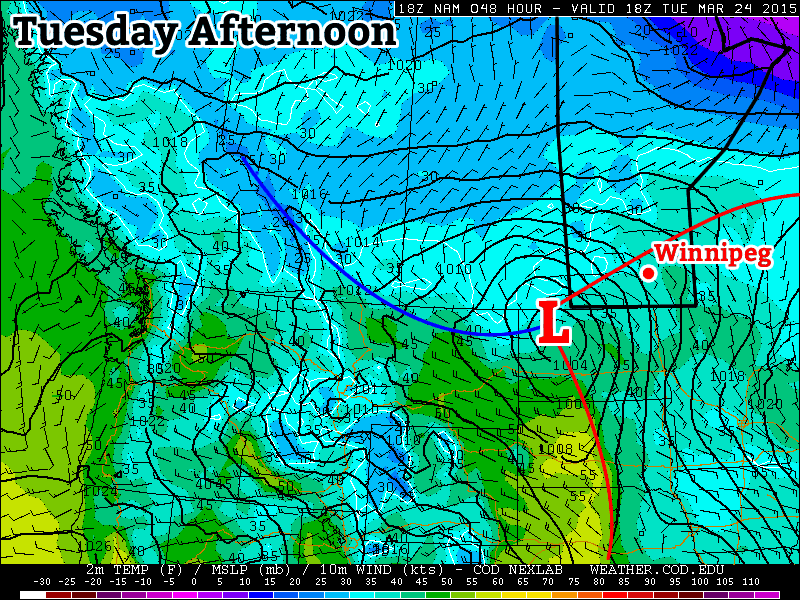 Monday
Today will see some light snow tapering off in the morning as a system from overnight exits the region. Thankfully, temperatures will rise above zero by this afternoon, which should melt most of the snow that fell last night and this morning. Once the snow ends skies are expected to remain mainly cloudy and but winds will remain light.
Tuesday
Tuesday
Mainly cloudy with chance of showers
Tuesday looks to be warmest day this week as we sit in the warm sector of the winter storm that will bring us snow on Wednesday. Temperatures will be in the mid to upper single digits, which should help to eliminate any of Monday's snow that was yet to melt. There may be a few stray showers throughout the day, but otherwise no significant precipitation is expected. The main event will arrive overnight…
Wednesday
The much-discussed winter storm will arrive on Wednesday. It will not be a particularly powerful storm by any measure, but that won't stop it from producing significant snowfall in some areas. Currently, it appears that Winnipeg and the Red River Valley is in line for 5-10 cm from this system. Areas further west, particularly in higher elevations and upslope terrain, could see closer to 30 cm. However, it is still too early to place a large amount of confidence in these predictions. As we get closer to Wednesday, more accurate snowfall forecasts will become available.
Long Range
Following the departure of Wednesday's storm we'll see temperatures drop back down to below seasonal values to end the week. Models suggest that we'll continue to be caught between a trough to the east and a ridge to the west, meaning we'll see frequent oscillations between slightly above and slightly below normal conditions. Until this pattern shifts our weather will continue to be a bit of a roller-coaster.