A potent spring storm is moving into Manitoba today and will likely exit the region known as one of the strongest of the Winter 2014/15 season. This storm has already brought drizzle, rain and freezing rain to southwestern Manitoba & the Red River Valley and will end up delivering the whole wintery mix by the time all is said and done. Environment Canada has issued a swath of heavy snowfall warnings and special weather statements across Manitoba in advance of this system.
Tuesday Night
Tuesday Night
Rain changing to snow
Rain will redevelop this evening and persist through much of the overnight period until a cold front pushes through the Red River Valley and switches the precipitation over to snow. Many areas in the Red River Valley will see around 5-10mm of rain. Alongside the switchover to snow, strong northwesterly winds to 40-50km/h with gusts as high as 70km/h will begin to move into the Red River Valley. The combination of falling snow and strong winds, coupled with the temperature dropping below zero overnight after a day of melting, drizzle & rain will likely produce very poor driving conditions with slippery roads & poor visibilities in blowing snow by Wednesday morning.
Wednesday
Wednesday
Snow ending in the afternoon; windy
Snow will continue through Wednesday morning before beginning to taper off through the afternoon with a further 5-10cm possible for the City of Winnipeg and the Red River Valley. As mentioned before, the snow will be accompanied by strong northwesterly winds to 40-50km/h which will produce a fair amount of blowing snow as well. Temperatures will drop just barely to -2 or -3°C through the day. Given the relatively mild temperatures, it's quite likely that as soon as the snow begins to taper off, the blowing snow will too; falling snow will be needed to produce it and it's unlikely we'll see much ground-based blowing snow after the fact. Winds will begin to taper off late in the afternoon or in the early evening as the storm moves off into Ontario. Left behind the storm will be partly cloudy skies as temperatures drop to around -11°C.
---
Storm Update
As expected, many regions across Manitoba saw a significant dump of snow overnight and into this morning. Snowfall totals to 10:30AM CDT across Manitoba are:
| Location | Snowfall Amount |
| --- | --- |
| Winnipeg | 5cm |
| Portage la Prairie | 5-10cm |
| Brandon | 6cm |
| Steinbach | 5cm |
| Dauphin | 15-25cm |
| Rossburn | 20cm |
| McCreary | 18cm |
| Neepawa | 15cm |
| Fisher Branch | 15cm |
| Roblin | 14cm |
| Elkhorn | 10cm |
| Argyle | 10cm |
| Swan River | 8cm |
| Miami | 6cm |
| Morris | 2cm |
In addition to the heavy snow, many areas through the Red River Valley saw several hours of rain last night. Here in Winnipeg, around 8mm fell overnight, and preliminary reports indicate that similar amounts were seen through much of the Red River Valley. In addition to the snow and rain, very strong winds to 50-60km/h moved into Red River Valley this morning producing blowing snow and helping make sure roads are slick.
The winter weather has wreaked havoc on area infrastructure with numerous accidents on highways as well as complications to power infrastructure with numerous pole fires & power line damage events reported. Many motor-vehicle collisions were reported on Manitoba Highways, with several resulting in sections of Highways 1 and 75 being closed. Two of the more significant ones, pictured above, involved a jackknifed semi-truck collision near Elie and a school bus rollover near Ste. Agathe on Highway 75.
Conditions have begun to improve in the Red River Valley; winds remain strong however with the snow finally moving off into Ontario, much of the blowing snow has stopped. Road conditions will continue to be poor through the remainder of the day, so if you are driving, especially on area highways, be sure to give yourself extra time and be cautious.
---
Thursday
Thursday will be a mainly sunny day – perhaps just a few lingering clouds – with a cool high of just -6°C. Winds will be light, so with the increasingly strong March sun it may not actually feel all that bad outside. Even with the sub-zero temperatures, expect plenty of melting to happen. We head into Thursday night with clear skies and cool off to around -10 or -11°C again overnight, although that could be a couple degrees warmer depending on when cloud cover arrives from…
Friday
Friday
Mainly cloudy with a chance of light snow
Friday will bring mainly cloudy skies as clouds push in either early Friday morning or late overnight on Thursday thanks to a system rippling through Southern Manitoba from the northwest. It will most likely produce a band of snow through portions of the Parkland, Southwest and into the Western Red River Valley. Under this band, accumulations of 1-2cm look possible at this time. There's a little uncertainty as to the exact track, given that it's 3.5 days out at this point, so it may end up a little further west or east. With the current "most likely" track, Winnipeg sees a fairly decent chance at some flurries but little in the way of accumulations. Temperatures will climb to around -3°C with fairly light winds. Friday night looks pleasant with light winds again and a low near -8°C.
Long Range
It's looking as if another storm is possible on Saturday night as a shortwave tracks across Manitoba.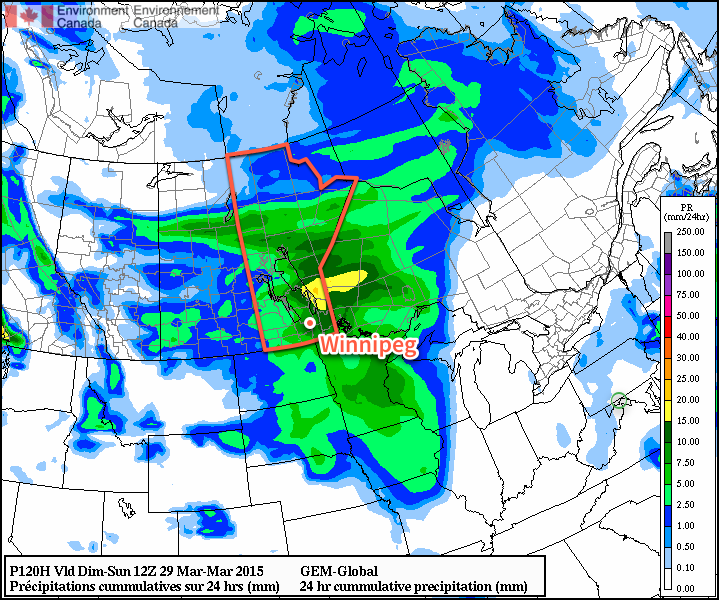 Fortunately, it seems like it will be bringing enough warm air with it that precipitation would fall as rain. Either way, though, it looks like we'll see plenty of cloud and wind this weekend. After a long spell of little in the way of weather, it looks like a typical, more active springtime pattern is setting up!