Tired of the phrase "chance of a thunderstorm" and want to just have a couple days without rain? Good news! It looks like Winnipeg & the Red River Valley will finally shake the unsettled weather pattern and see a couple days of calm, pleasant summer weather with very little chance of precipitation thanks to an upper-level ridge that will build into the Eastern Prairies.
The coming few days will see gradually warming as we transition from the cool air mass left behind from the systems that tracked across the region on Saturday & Sunday into a warmer air mass pushing in from the west. Today will be the coolest day with a daytime high of just 22 or 23°C under partly cloudy skies. There may be some isolated shower or thundershower activity, but at this point it looks like it would be very spotty in the Red River Valley. Temperatures will dip to around 12°C tonight.
Tomorrow and Wednesday will both be beautiful summer days with highs climbing into the mid-to-upper 20's under mostly sunny skies. Winds look fairly calm, although by Wednesday afternoon we could see southerly winds begin to strengthen. At this point it doesn't look too bad – perhaps 30km/h with some gustiness on top of that – but if the pattern speeds up a bit, we could end up seeing quite windy conditions out of the south by then. Conversely, if the entire pattern is a bit slower we'll see calm conditions throughout the day. Overnight lows both nights will be in the low-to-mid teens.
Hot, Humid & Stormy Weather Returns for End of Week
Looking ahead into the second half of the week, the trend seems to be for the hot and humid weather to return. As the upper ridge transitions across the region, deep layer southerly winds developing will tap into more humid air to our south and begin increasing the dew point. By Thursday evening, the dew point could be as high as 20–22°C, making it feel very sticky out there. Depending on the exact daytime highs, Thursday and Friday could both end up feeling more like the mid-to-upper 30's instead of the upper 20's thanks to the humidity.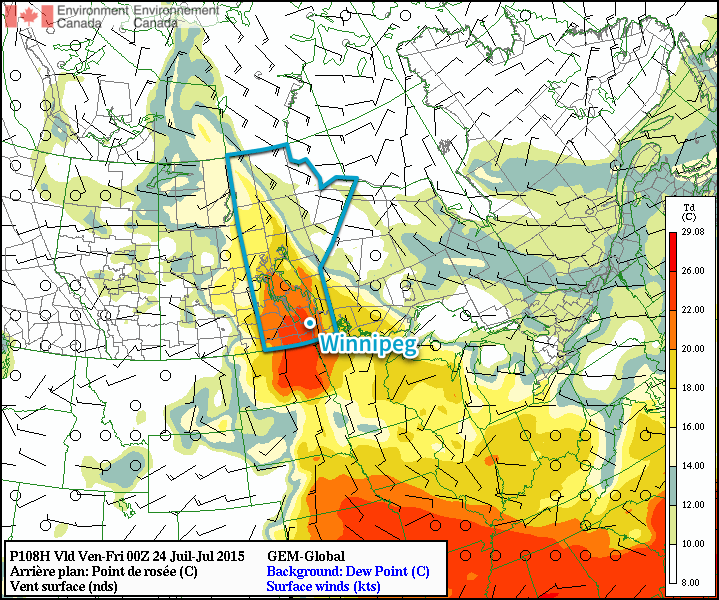 In addition to all that heat and humidity, a low pressure system tracking through at the end of the week looks to bring the potential for strong to severe thunderstorms, likely on Thursday. More on that later this week!