This past week a typhoon made landfall on one of Japan's islands, the island of Shikoku and with it brought winds the equivalent of a category one hurricane gusting up to 185km/h.
[map type="terrain" autofit="1″ disable_scrollwheel="1″] [pin]Island of Shikoku[/pin] [pin]Kamikitayama, Japan[/pin] [/map]
Nangka initially formed in the middle of the Western Pacific Ocean about over a week ago and slowly strengthened as it approached Japan; it traveled over 5000km to make landfall. Over open waters it peaked at the equivalent of a category four hurricane, with sustained winds of over 200km/h and gained super typhoon status. Slightly cooler ocean waters (of 26°C to 27°C) towards Japan weakened the typhoon somewhat before it made landfall, but with that said, the typhoon's impacts were still fairly significant. In expectation of the typhoon 550,000 residents were either issued a mandatory evacuation notice or voluntary evacuation notice, in the most prone-to, low-lying areas near the coast.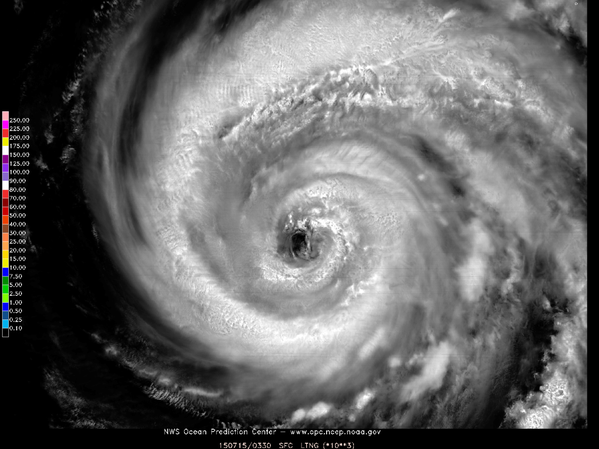 In total, two people perished from the typhoon and about three dozen people sustained injuries – thankfully it wasn't worse due to good planning by authorities to get the people most at risk out. Numerous rail runs and flights were cancelled, affecting about 200,000 people's daily activities. Some flooding did occur as the typhoon brought a plume of tropical moisture to the region with it, which led to rainfalls in excess of 700mm in the hardest hit areas in 48 hours (740mm reported in Kamikitayama). Just over 100 houses were reported to have been completely flooded out
Since Nangka has made landfall it has progressed to its dissipating stage, and possibly extratropical transition by the end of the weekend. However, it will still bring with it the threat of heavy rainfall in the northern Japanese islands and mountainous areas even though it continues to weaken. On average there are 16 typhoons in the Western Pacific in a year, and this year's count is currently at seven. Most storms form in the Western Pacific between May and November (because shear is weaker) but there are occasional storms that form in the other months of the year.