Winnipeg is finally seeing a break from the relentless heat and humidity of the past week thanks to the passage of a cold front yesterday evening that pushed the humid air mass that had been so persistent over our region off to the east and ushered in significantly drier air from the western Prairies. Conditions will remain fairly unsettled over the next few days, however, as multiple shortwaves slide down over the province in the northwest flow left in the wake of a departing low pressure system.
Wednesday
Today will be a fairly cloudy day as the upper low associated with the system that brought a terrifying long-tracked, rain-wrapped, nocturnal, multi-vortex tornado to southwestern Manitoba moves over the region.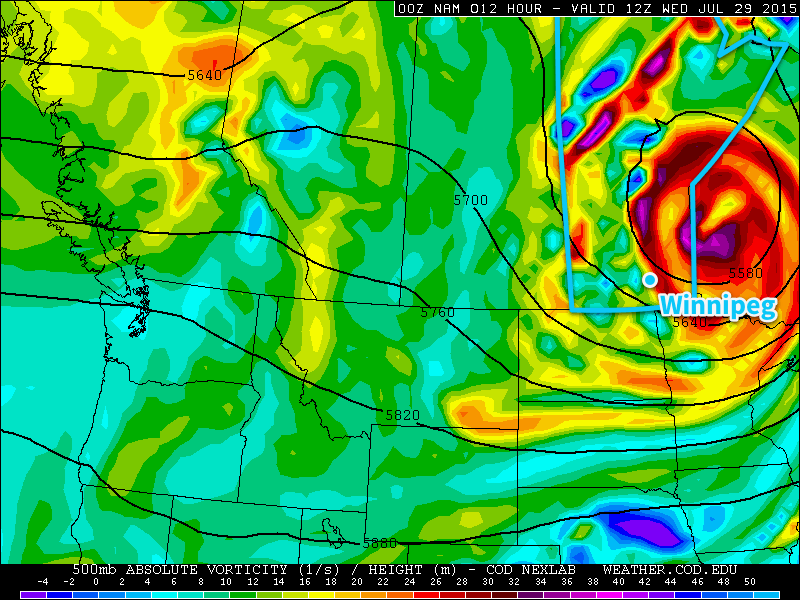 With little heat or humidity left in the region, scattered showers are expected with minimal accumulations. The bigger story than the precipitation today will be that the wind will be quite prominent this morning out of the northwest at around 40km/h with gusts to 60–70km/h. The wind will taper off as this system pushes to the northeast, and by evening we should see it sitting at a manageable 20km/h or so. Temperatures will climb into the mid–20's today with an overnight low in the mid-teens.
Thursday
Thursday will be a fairly nice day with mixed skies and a high in the mid-to-upper 20's. Humidity will remain comfortable as well, making for great summer weather.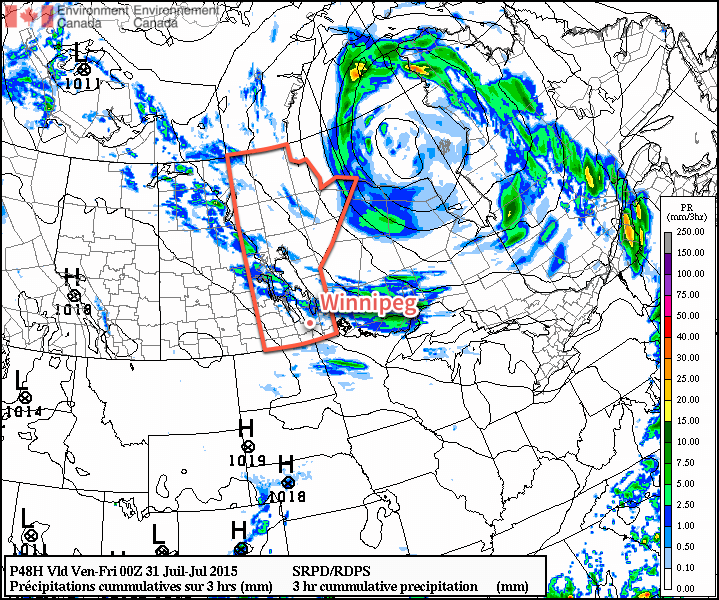 Most indications are that a shortwave trough – evidenced above by high vorticity values at 500mb – will move through midday into the afternoon. As it pushes across Manitoba, it will bring with it the risk of a few thunderstorms; at this point no severe weather is expected should any thunderstorms get going.
Skies will clear out Thursday evening as the temperature drops into the mid-teens.
Friday
Not much to say for Friday other than it will be another beautiful day. Just a few clouds are expected as temperatures climb into the mid- to upper–20's once again. There are some hints of some thunderstorm activity, but at this point it looks like it should remain well north of the Red River Valley. Temperatures will dip down into the mid-teens on Friday night.