A threat of severe thunderstorms will come to Southern Manitoba today as a trough of low pressure pushes across the region, tapping into very muggy air near the surface. The passage of this system will mark the beginning of a transition towards a summer heat wave as a potent upper ridge begins building over North America.
Friday: Severe Thunderstorm Threat
This morning's cloud and drizzle will break up through the morning as our winds finally begin swinging around to the west/southwest, finally allowing some sun to begin poking through and allowing us to start climbing towards our daytime high near 25 or 26°C. As we move towards the afternoon, however, a trough of low pressure will begin pushing into the Red River Valley from the west, bringing with it the threat for severe thunderstorms.
Taking a look at the basic MIST principle for today's convective potential:
Moisture: Moderate moisture will be in place today with surface dewpoints near 18°C and mixed layer dewpoints around 16°C.
Instability: As the trough swings into the region, mid-level lapse rates will steepen significantly alongside the erosion of the capping inversion thanks to daytime heating. By mid-afternoon, MLCAPE values near 2000 J/kg will develop with little to no capping inversion along the trough line.
Shear: Slightly backed surface winds ahead of the trough line coupled with approximately 25kt of 0–6km bulk shear will be sufficient to provide organization to any thunderstorms that develop.
Trigger: This is the most questionable aspect. Models differ on the strength of the trough line as it swings through; while some show little strength to it resulting in a lack of convergence and no convection, others show a stronger trough which would be sufficient to focus the energy and produce more substantial thunderstorm activity.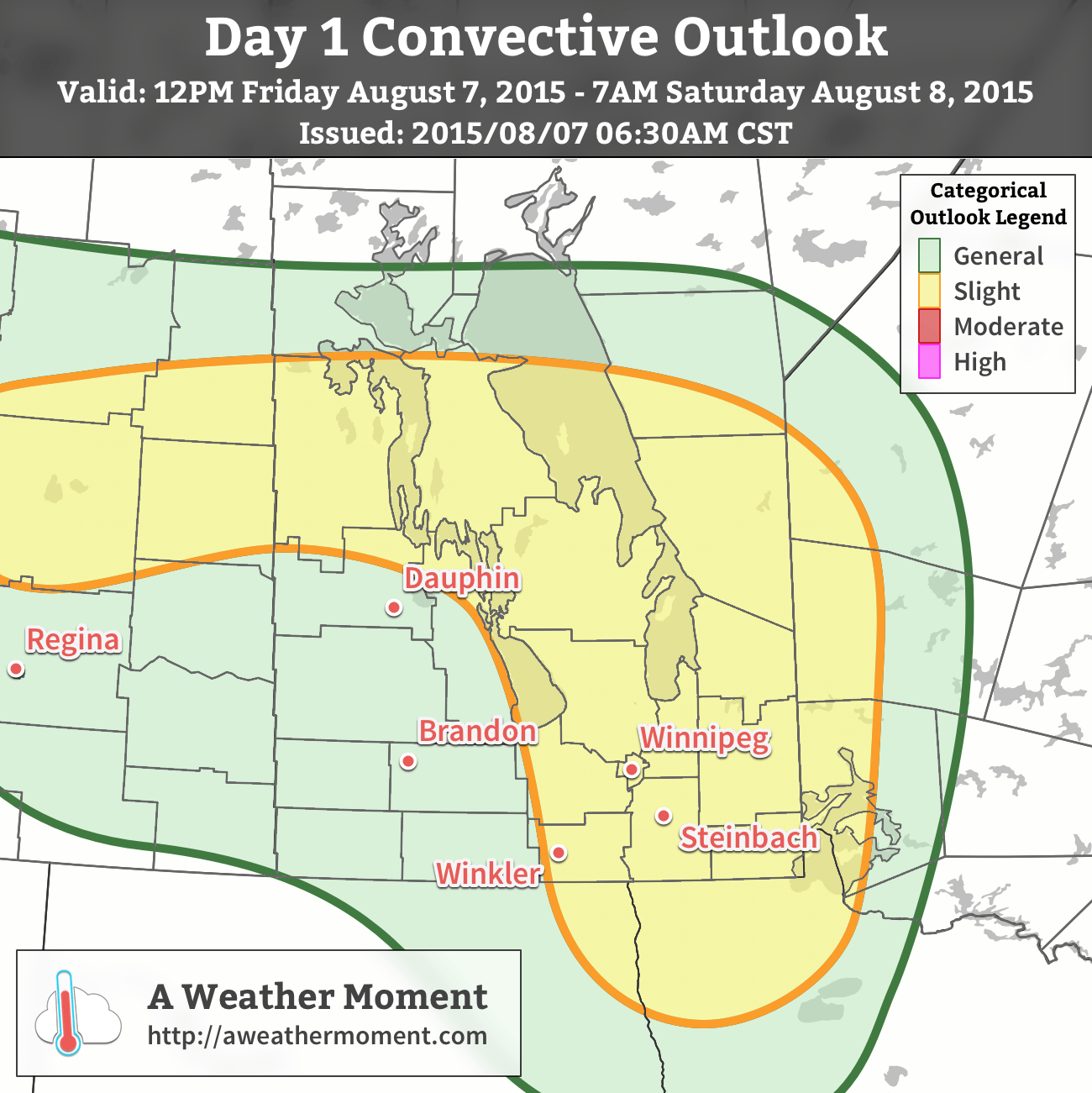 As a result, a slight risk of severe thunderstorms is warranted for much of Southern Manitoba. Any storms that develop will likely initiate as single-cell or supercell thunderstorms before growing upscale fairly quickly into linear convective elements. The primary threat with any storms that develop today will be strong winds and large hail, however rainfall rates may pose significant impact in storms despite accumulations likely not hitting any severe criteria.
Thunderstorms will move off towards the east through the evening, leaving behind clearing skies and a pleasant overnight low near 15°C.
Beautiful Weekend Ahead
There isn't much to say about the coming weekend other than it will be quite nice. Daytime highs on both Saturday & Sunday will be near the mid–20's with overnight lows in the mid-teens. Winds will be relatively light out of the northwest on Saturday and fairly calm on Sunday. There will be a bit of cloud cover left over on Saturday while Sunday will be mainly sunny.
Heat Wave Builds In Next Week
Next week will see very warm weather return to Southern Manitoba as a potent upper-level ridge builds across much of North America.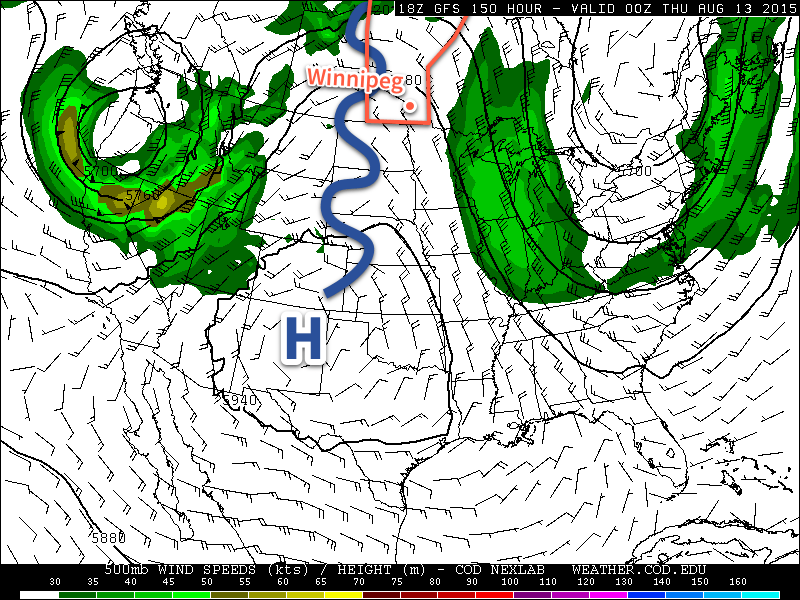 As the upper ridge builds, a deep southerly flow will develop over the eastern Prairies, bringing significantly warmer air into the region. With 850mb temperatures forecast to reach 20°C or warmer, it seems likely we would see daytime highs in the low 30's several days next week. One of the big questions is exactly how humid it will get, but we'll have to wait until we're closer to better assess that question. At this point, though, it seems quite likely that we'll see a stretch of dry and hot weather next week.