The heat is on for Thanksgiving weekend in Southern Manitoba as a low pressure system tracking across the northern Prairies and draws unseasonably warm air eastwards into the province. Temperatures will soar into the 20's on the weekend—some 10–15°C above normal for this time of year—with possible record-breaking heat in place for Sunday.
Today will be a fairly cloudy day despite our sunny start, thanks to a large area of cloud spreading eastwards along the leading edge of the warm air. As the cloud moves in, winds will increase out of the south-southeast to 30–40km/h with a bit of gustiness on top. Today's daytime high will be near 15°C throughout much of the Red River Valley. The cloud cover will thin this evening into the overnight as temperatures dips to the high single digits.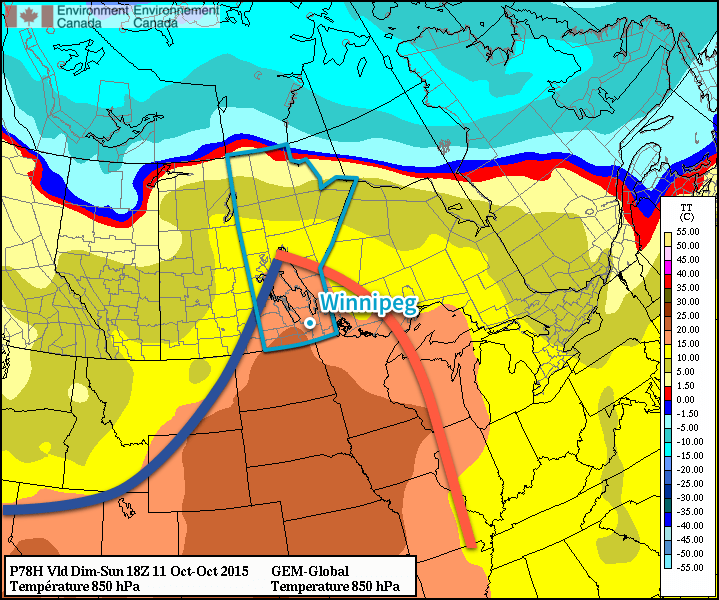 Saturday will be a gorgeous day with partly cloudy skies, southwest winds at 20–30km/h and a high temperature around 23°C in the Red River Valley.[1] Temperatures will dip to around the 10°C mark on Saturday night with clear skies.
Sunday will bring mixed skies as a cold front approaches from the northwest. Temperatures will soar into the mid–20's, giving a run at the record high of 26.1°C set in 1942. It looks like Winnipeg's temperature will likely end up just short of the record, but it's something to keep an eye on!
Record Temperatures for Thanksgiving Weekend 2015 in Winnipeg, MB

| Date | Record Temperature | Record Year |
| --- | --- | --- |
| October 9 | 27.8°C | 1938 |
| October 10 | 27.8°C | 1934 |
| October 11 | 26.1°C | 1942 |
A cold front will slump through the Red River Valley on Sunday evening, ushering in breezy northwesterly winds up to 40–50km/h and a cooler airmass. The low temperature will settle around 10°C on Sunday night. There will be a chance for some rain on Sunday night into Monday depending on exactly where the wrap-around precipitation of the low passing to our north ends up, but at this point there's too much uncertainty to make any confident forecast at this point.
Thanksgiving Monday & Beyond
Thanksgiving Monday looks less pleasant than the weekend; there will be plenty of cloud around alongside a chance for rain as a strong low pressure system moves into northern Ontario. Winds will be fairly strong, likely around 40km/h or so. The daytime high will only be in the 10–15°C range, so it will certainly feel significantly cooler than the weekend.
After Monday, things look fairly seasonal with temperatures potentially slightly above normal. No particularly big weather systems appear to be on the horizon, although a slight northwest flow is forecast to develop mid-week, which could increase our chances of some shower activity. All in all, though, a fairly quiet week expected.
Happy Thanksgiving! Enjoy your weekend!
---
Daytime highs might climb a degree or two higher near the western escarpment of the Red River Valley where southwesterly downslope winds may add a bit of warmth.  ↩