A low pressure system moving across Southern Manitoba today will produce some rain this afternoon that may have a slight risk of an isolated thunderstorm in the heavier bands. This system is on the leading edge of a large-scale pattern shift that will transition the region into a warmer, but windier, regime for the end of the week and extending through Thanksgiving weekend.
Today will be a bit of an unpleasant day; moderately strong southeasterly winds will develop through the morning to around 40 km/h (with some gusts on top of that) by this afternoon while temperatures struggle from a chilly sub-zero low to just the low-to-mid teens. The strengthening winds will be courtesy an approaching low pressure system that will push across the Red River Valley later today; this system will be responsible for some widespread shower activity late this morning into the afternoon hours that will push from west to east across southern Manitoba.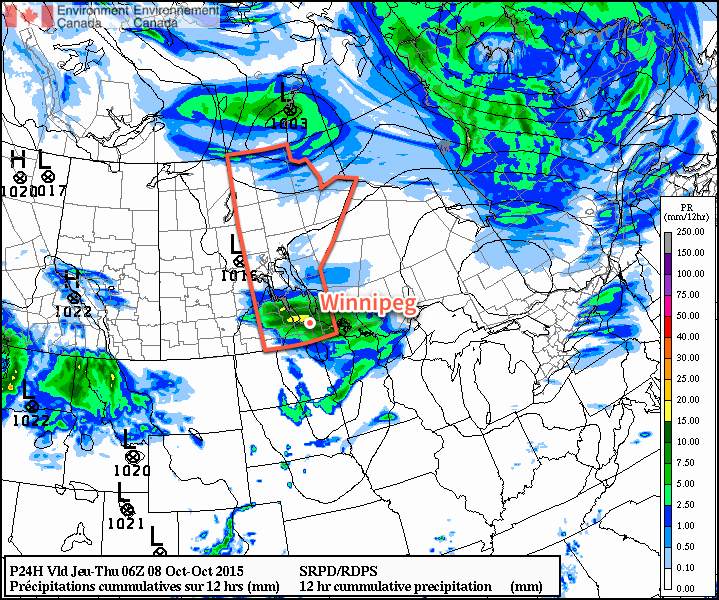 Winds will diminish as the low passes by in the evening. Expect mainly cloudy skies overnight with a low near 6 or 7°C.
Seasonal Temperatures Lead to Weekend "Heat Wave"
Thursday and Friday will both be fairly similar days thanks to a ridge of high pressure dominating the region. Winds will be relatively light, skies fairly sunny[1], and temperatures fairly seasonal with daytime highs near 13°C and overnight lows near in the –1 to 4°C range.
The winds will begin to pick up out of the southwest on Friday evening as the ridge of high pressure moves off to the east and a more zonal flow pattern begins to develop for the weekend.
This zonal flow pattern will result in much warmer air pushing eastwards across the Prairies, sending temperatures soaring 5–8°C above normal for this time of year. At this point, it looks like daytime highs will be around 20–22°C this weekend with winds in the 20–30km/h range.
No precipitation is expected on Saturday or Sunday, however a cold front pushing through Sunday afternoon may bring in some breezy winds. For Thanksgiving Monday, pleasant conditions with highs in the mid-to-upper teens are expected. Winds will likely be breezy out of the west to northwest, though, at around 30km/h.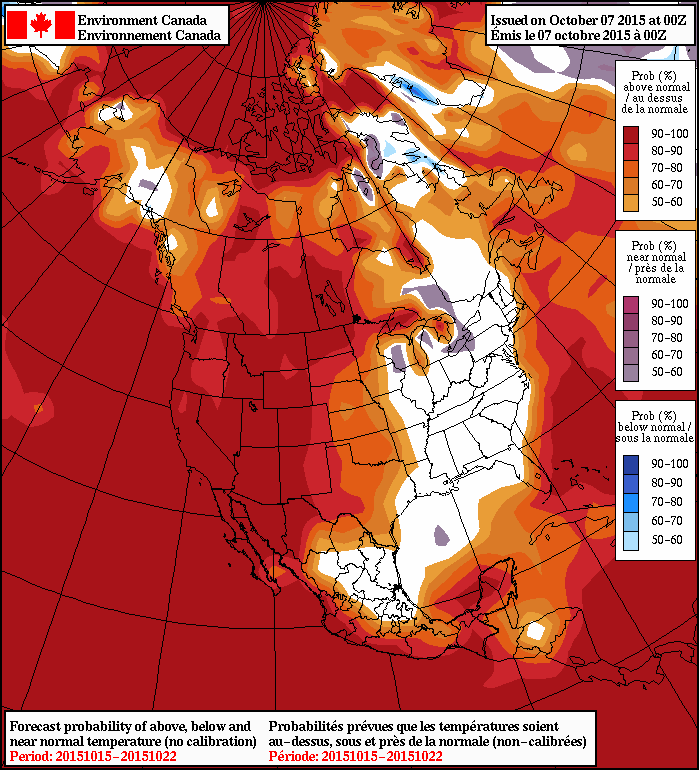 Further down the road in the 8–14 day range, the NAEFS continues to forecast above normal temperatures for western North America. There isn't a whole lot to say about it, so just enjoy the (relatively) pleasant weather outside. If a frosty morning here or there has you down, just remember that it's October and we're looking at 20°C+ highs for Thanksgiving weekend!
---
Except for Thursday morning, where any remnant cloud from today's system will be clearing out.  ↩