It will be a very windy Thanksgiving as a strong low pressure system ushers in potentially damaging winds. By the time you're reading this your loose objects will probably already be in your neighbour's yard!
Monday
Today will not be the most pleasant Thanksgiving, as rain and strong winds wreck havoc outdoors. A strong low pressure system and corresponding pressure gradient will generate high to extremely high winds over southern Manitoba on Monday. The highest winds are expected Monday morning, when sustained speeds of 60-80km/h, and gusts to 100km/h or more, are expected. The period of extreme gusts likely won't last more than a few hours, but during that time it will certainly do some damage, not to mention the fact that you'll have a lot more leaves to rake!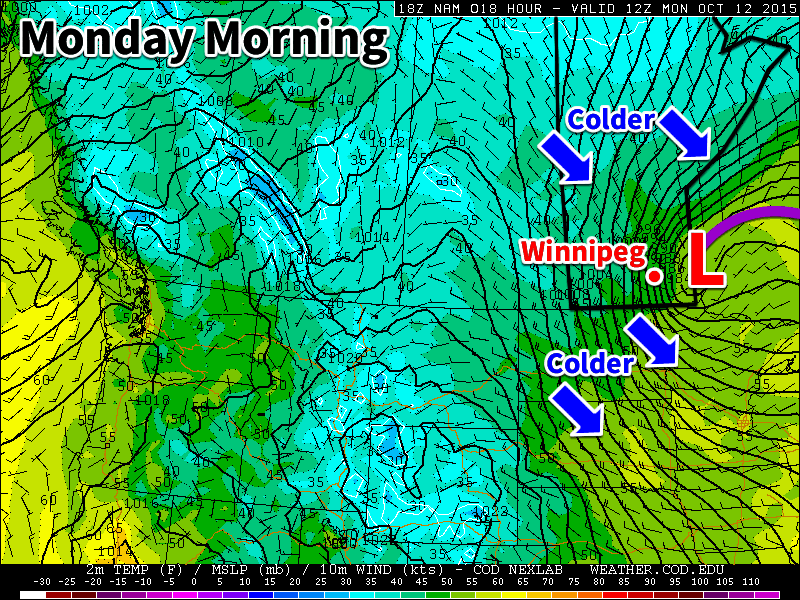 Today will also be rather soggy, as moderate rainfall occurs in association with this low pressure system. Today's rainfall amounts will likely be around 5-15mm in the Red River Valley. You'll have to wait until at least Tuesday for all those wet leaves to dry out!
Tuesday
Tuesday will be much calmer than Monday. Temperatures will climb into the mid teens under mainly sunny skies. Winds will remain breezy from the west, but they will feel light compared to Monday!
Wednesday
Wednesday will feature much the same weather as Tuesday. Temperatures will be in the low to mid teens under mainly sunny skies. Winds will be breezy from the north-west, but once again it will feel like nothing compared to Monday.
Long Range
Long range models continue to show a strong signal for warmer than normal weather through the end of October. Hopefully this will continue to be the trend as we move into winter due to the effects of El Nino.