After the blustery entrance of winter that saw the first substantial snowfall of 2015 in the Red River Valley alongside winds gusting anywhere from 70 to 90 km/h, significantly cooler weather will settle over the region for the coming days. There good news is that temperatures won't be too far from seasonal for this time of year, despite being nearly 15°C colder than they were earlier this week.
Mainly cloudy skies will persist through the Red River Valley today with northwesterly winds of 20–30 km/h with gusts up to around 45–50 km/h. The snow we've seen the past couple days is over, but a couple light flurries can't be ruled out through the day; that said, it wouldn't be much that will accumulate. The only threat of accumulating snow will come as the winds align and lake-effect snow develops off of Lake Manitoba and Lake Winnipeg. Who will see the snow will depend on exactly what the wind direction is, and at the time it looks like Winnipeg may see a bit of snow from these features. Daytime highs will be slightly below the seasonal normal of –3°C, topping out at –5°C or so.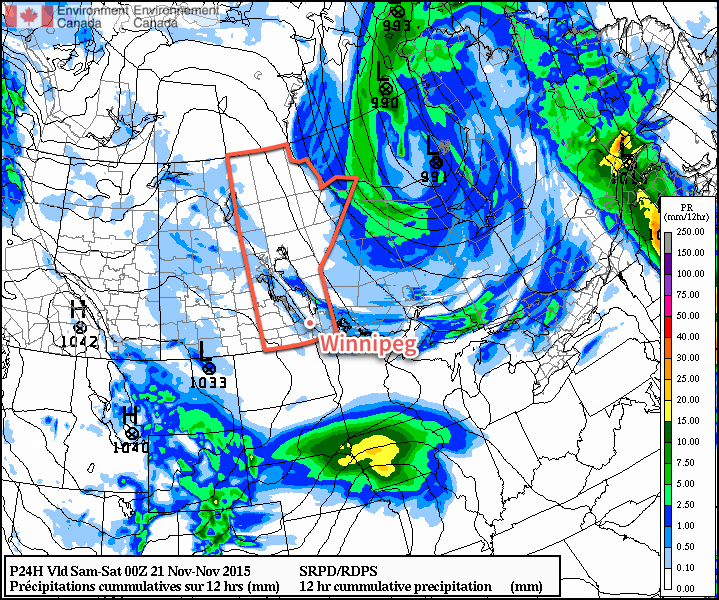 The clouds will start breaking up tonight as we head towards a low of –12 to –15°C.
Saturday brings less wind, a little less cloud, but more cold. Mixed skies will preside over a day that sees temperatures climbing to –6°C or so and calm winds. The cooler, calmer weather is thanks to a ridge of high pressure that will be sliding through the area. Despite the cooler weather, the lack of significant winds and a bit of sunshine may end up making Saturday a relatively pleasant day overall. Expect a low near –12°C under partly cloudy skies on Saturday night.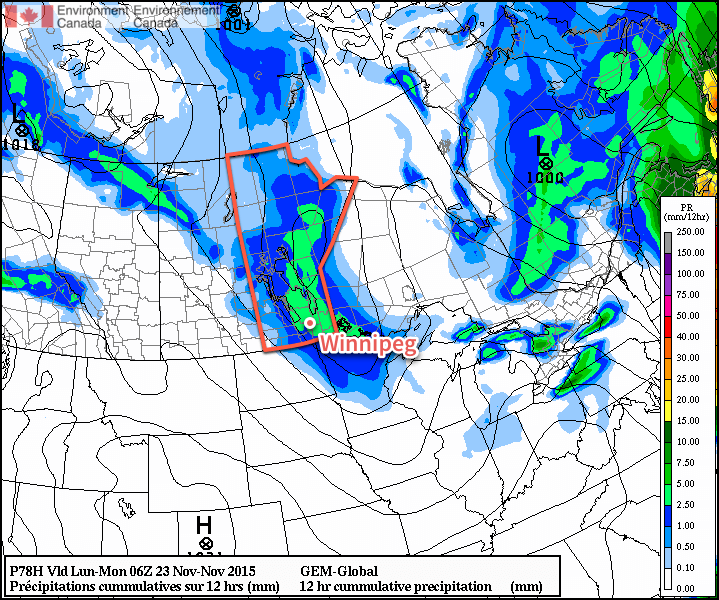 Sunday's weather will be largely influenced by the approach of the next low pressure system to impact Winnipeg and the Red River Valley. Starting fairly early in the morning, winds will begin picking up out of the south and will strengthen to around 30–40 km/h by midday.[1] Cloud cover will push in from the northwest while temperatures climb close to the freezing mark. By later in the afternoon, it appears that there will be a fairly good chance that the Red River Valley will see an area of snow push through, possibly dropping another couple cm over the region.
---
At this point, winds of 30–40 km/h seem reasonable, however if a little more cold air damming occurs in the Red River Valley, which will dependent on the exact track and strength of the ridge of high pressure moving through on Saturday, then stronger winds of 40–50 km/h could possibly develop. We'll keep an eye on it as the weekend progresses.  ↩