This week will remain seasonably warm, although not quite as warm as last week. There will also be another chance of snow by the middle of the week as a low pressure system pushes up from the south.
Today will be seasonably warm, but mainly cloudy. We'll be under a breezy north-easterly flow as a strong surface high sits off to our north-east. Temperatures will sit just below the freezing mark with little change throughout the day.
Tomorrow will be mainly cloudy once again, but this time there will be a slight chance of flurries. Any snow that does fall will not accumulate to much. Temperatures will sit in the mid minus single digits with a light easterly wind.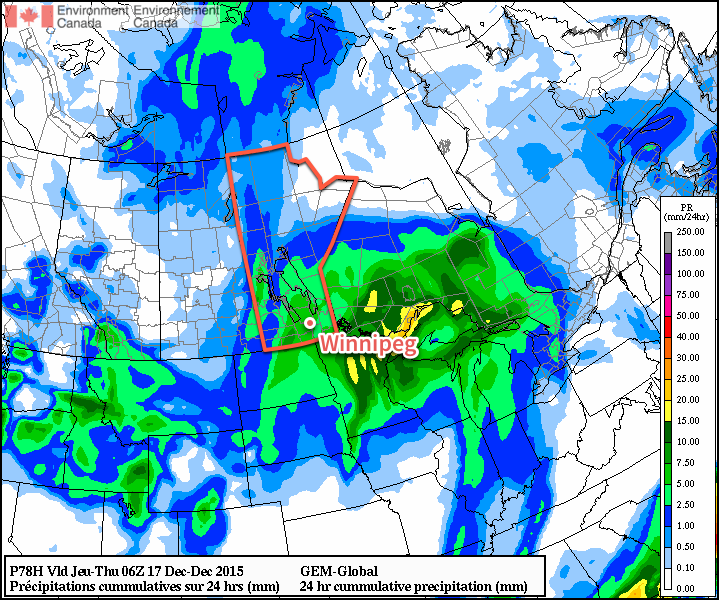 A stronger low pressure system is currently forecast to affect southern Manitoba on Wednesday. This will be a Colorado Low type system, which is expected to mainly affect areas to our south, but may also bring light to moderate snowfall to parts of southern Manitoba. At this point it appears that areas along the US and Ontario borders will see the most snow, but it's too early to speculate on possible accumulations. Stay tuned for more updates.
Long Range
The long range forecast suggests that we'll continue to slide closer to seasonal temperatures in the short to medium term. That means high temperatures near -10C and low temperatures near -20C. However, ensemble guidance continues to hint at high probabilities of above-normal weather as we move toward Christmas, so any prolonged cold snaps appear quite unlikely through the end of December.