Southern Manitoba has its first major snowstorm of Winter 2015/16 on the doorstep as a Colorado Low moves northeastwards through the American Plains and is poised to produce 10–20 cm of fresh snow through the Red River Valley.
The incoming Colorado Low has spread snow across South Dakota this evening which is now pushing into North Dakota and Minnesota. This area of snow will intensify as it heads northwards courtesy a steadily organizing weather feature called an inverted trough. This trough of low pressure extends north/northwest out from the centre of the Colorado Low and will draw moisture into the Red River Valley and produce a swath of heavier snow through the region.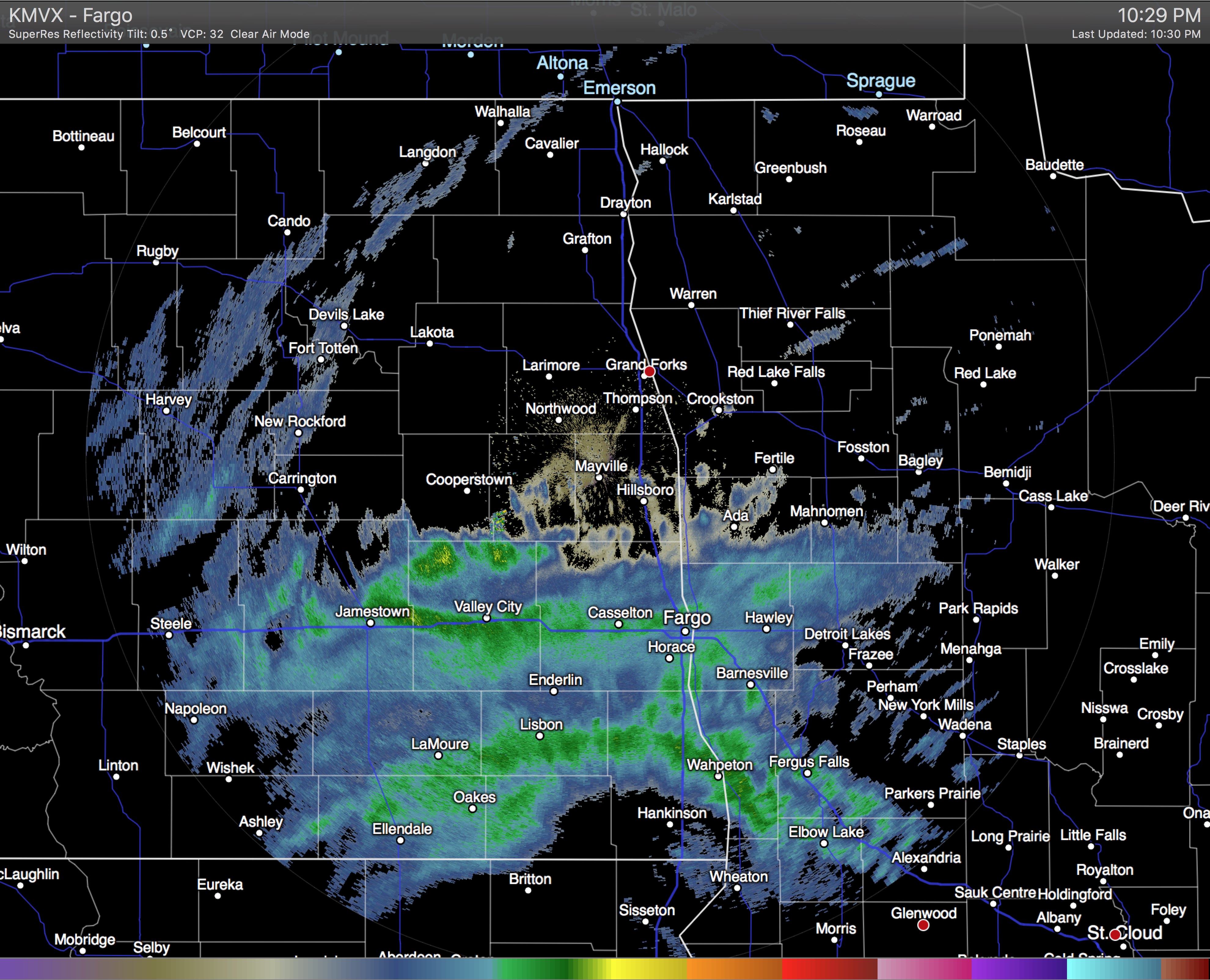 At this point, it looks like the snow will begin pushing across the U.S. border sometime between 2 and 4 A.M. and then spread into Winnipeg before 4 and 6 A.M.. The heavier snow will build into the Red River Valley between 6 and 9 A.M. and persist until near lunch time. Through the first half of the day, as much as 10 cm could fall; that's a fairly intense snowfall rate and will undoubtedly have significant impacts on transportation. The snow will ease slightly for the afternoon, but still be fairly persistent, dropping another 2–5cm or so.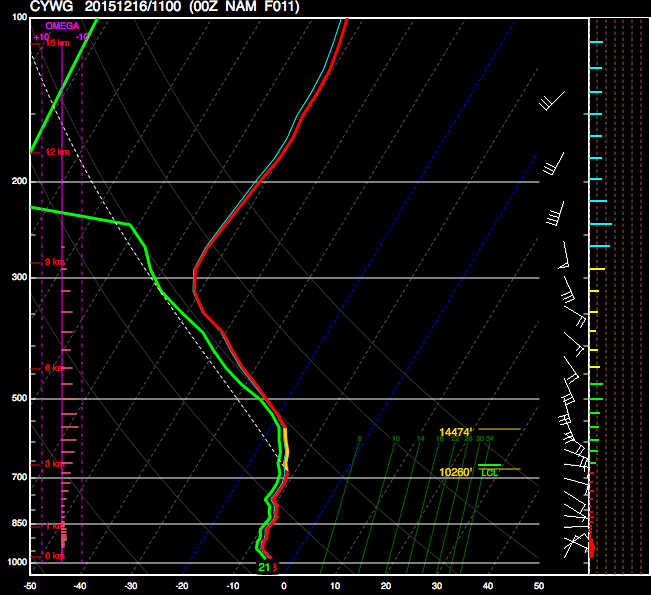 Heading into the evening and overnight hours, the snow will begin to become a little bit more disorganized save for one area known as the deformation zone. This feature will be the western-most extent of the snowfall and will typically have slightly more organized precipitation along it. Best indications at this point are that the deformation zone will line up through the Interlake and Red River Valley, meaning it's fairly likely that more persistent light snow will last through the night. This snow could produce anywhere from 1–3cm more.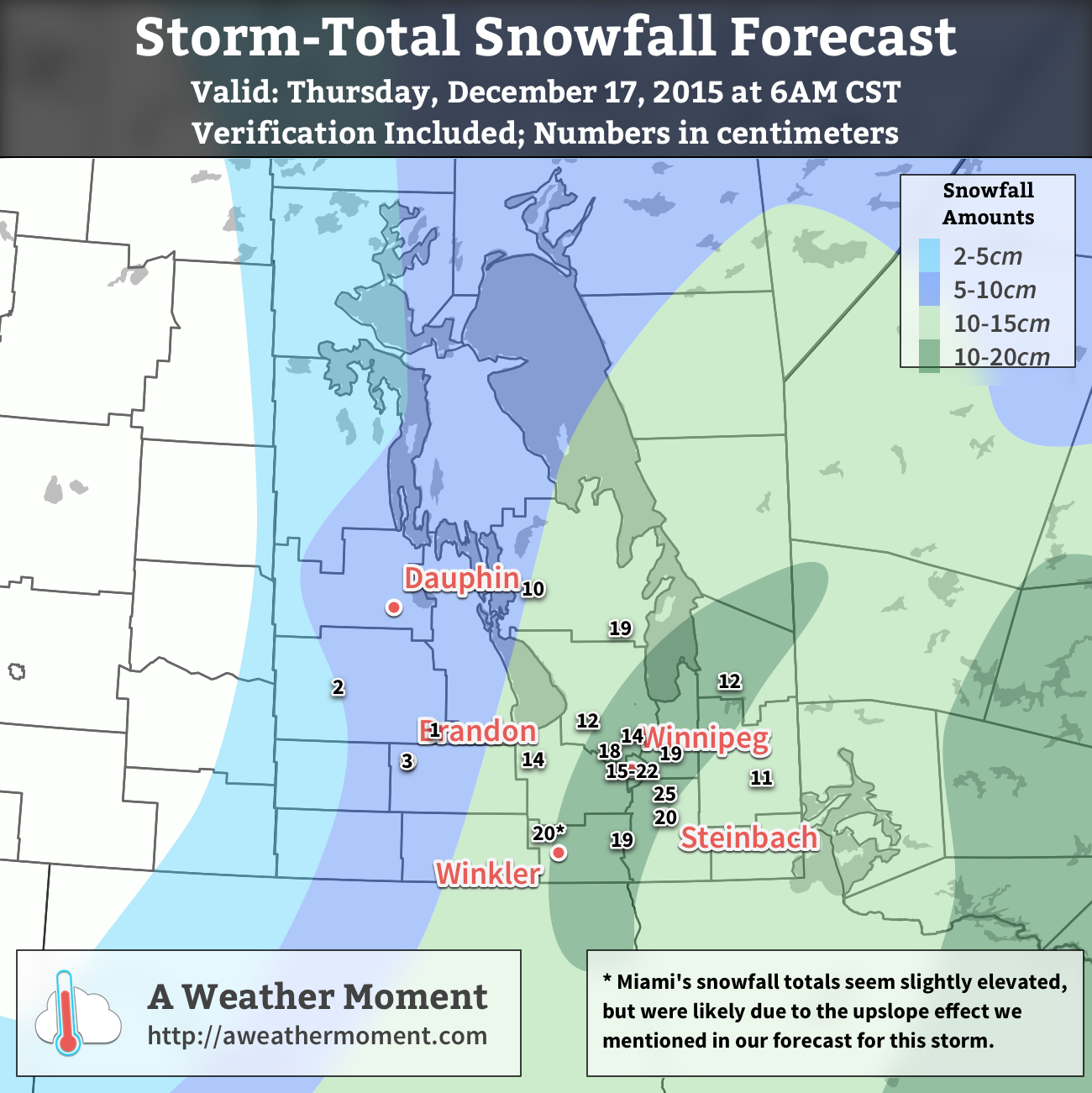 By Thursday morning, the snow should be tapering off to flurries and moving out of the region. When all is said and done, it's likely that anywhere from 10 to 20cm of fresh snow will have fallen in the Red River Valley. Localized amounts could possibly exceed 20cm in a few particular locations, namely anywhere that may see upslope enhancement in the northerly winds: the western escarpment of the Red River Valley and north side of Turtle Mountain being to of the most likely places. These higher amounts would be very localized, though, and are not reflected in the above snowfall forecast, which is looking more at large-scale snowfall totals.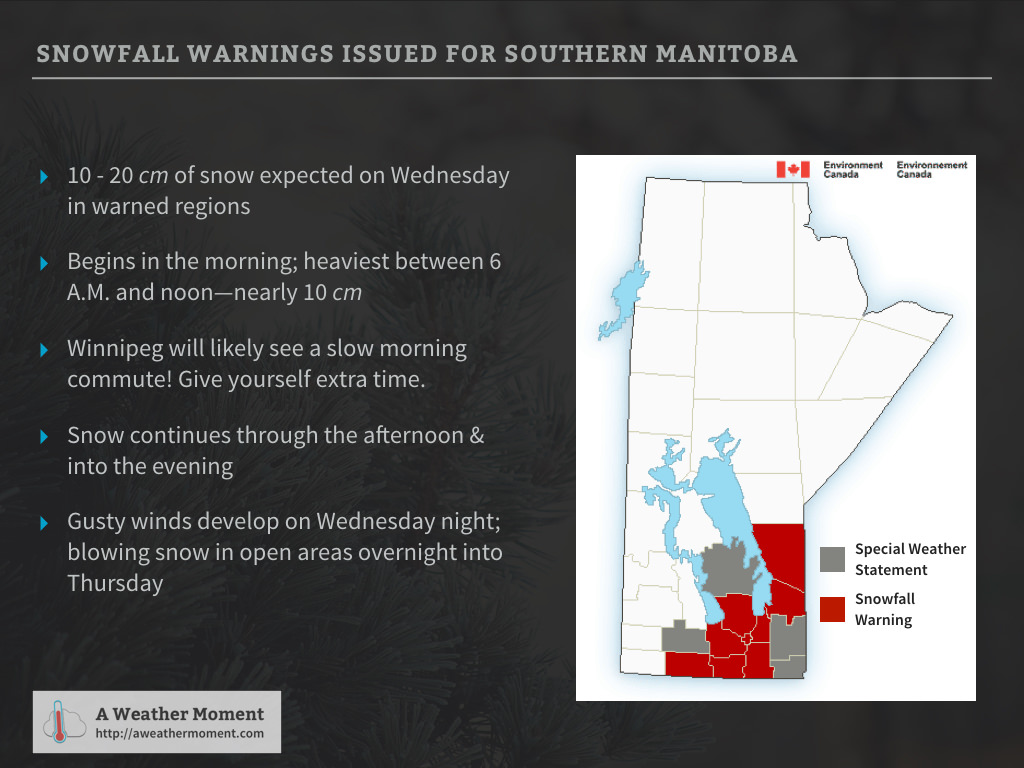 Environment Canada has issued a snowfall warning arcing across the Red River Valley with the discussion showing very similar thinking: 10–20cm of snow, heavy first thing Wednesday morning, then blowing snow and cooler temperatures heading into Thursday.
Cooler with Blowing Snow Behind the Colorado Low
Beginning Wednesday evening, northwesterly winds will begin moving into southern Manitoba. Despite the cooler temperatures pushing in and the relatively strong winds aloft, winds will likely only reach around 30 gusting to 50 km/h overnight.[1]
By Thursday morning, the wind will strengthen to 40 gusting 60 km/h, which when combined with the fresh snow, will almost undoubtedly produce fairly widespread blowing snow through the Red River Valley. These stronger northwesterly winds will also be ushering in a much cooler air mass that will drop temperatures to –20°C by Saturday morning.
This colder weather, while an abrupt change from what we've been seeing for the past month and a half, is actually not all that uncommon. Normal daytime highs for Winnipeg this time of year are around –10°C with normal overnight lows near –20°C. So while we'll see temperatures dropping 10–15°C, they'll be seasonal to just slightly below seasonal for this time of year.
Fortunately this cold snap will be brief. Early next week it looks like a weak system will move through bringing a chance for some light snow and a return to slightly above-seasonal temperatures.
---
This is due to the cyclonic curvature of the surface pressure gradient which can act to diminish wind speeds.  ↩