Warm weather is on the way for Winnipeg this weekend as a strong low pressure system developing over Northern Alberta spreads mild air eastwards through the Prairies. This storm system will then slide southeastwards across the Prairies, bringing a moderate snowfall event to Manitoba primarily through Saturday afternoon and Sunday, followed by falling temperatures, gusty winds and blowing snow.
Winnipeg will see mainly cloudy skies today as the city remains locked underneath a tight baroclinic zone. [1] There will be a continued chance of occasionally seeing some of the flurry activity that developed last night over the city, however no real accumulations of snow are expected today. Temperatures will be fairly pleasant with a daytime high near -6°C, which is 4°C above the normal high of -10°C for this time of year.
The chance for any flurry activity will diminish tonight, but the cloud will stick around as temperatures dip to around -11°C for the overnight low.
Storm System Moves in on Saturday
Saturday will bring the arrival of both warmer weather and the storm system that will bring a new batch of snow to the region. First the good news: temperatures will be on their way up through the entire day. From the morning low near -11°C, temperatures will gradually climb to near -5°C midday and then up to near -1°C by evening. Temperatures will then remain fairly steady through the night, wavering around the -1°C mark. Cooler air will begin working into the region on Sunday, dropping the temperatures in Winnipeg to around -8°C by the evening.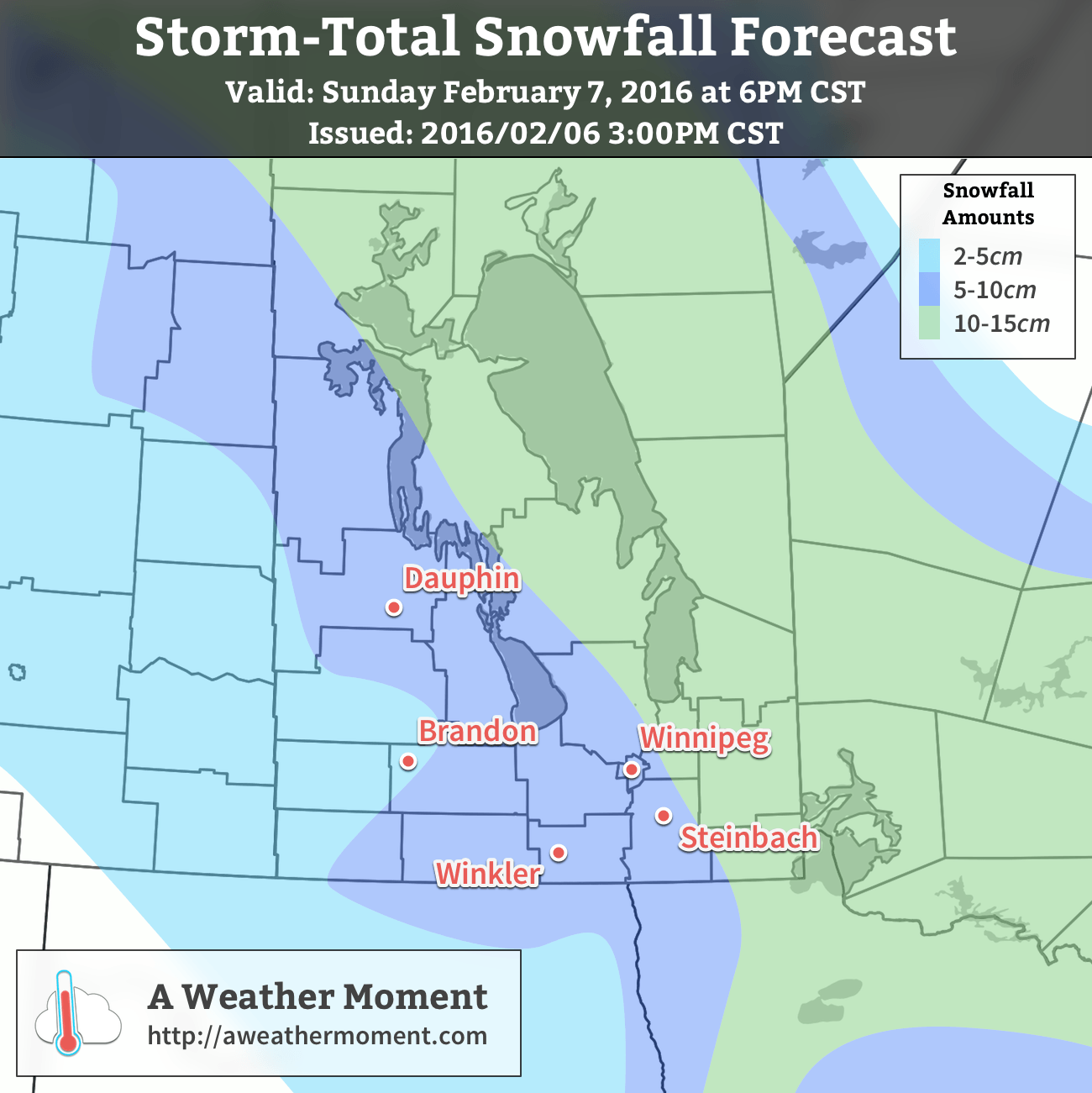 While some flurries are possible through the morning, the real snow will develop through the afternoon hours as the low centre of the storm begins moving into Southern Manitoba. Snow will intensify into the evening and the heaviest snow of the storm will be through Saturday night. On Sunday morning the snow will likely begin to ease, but continue to persist much of the day. By the time all is said and done, it looks quite likely that essentially all of Southern Manitoba will have seen at least 5cm of new snow before things taper off on Sunday night.
The heaviest amounts will fall to the north of the low track, which, given that it's still a day and a half out, could change. The current agreement seems relatively dependable, however if it does end up shifting south even just a little, it's possible that Winnipeg could surpass 10cm.
Although this system has the potential of producing a lot of snow, it doesn't look like it will qualify for a snowfall warning from Environment Canada, which requires 10cm to fall within a 12hr. time period. This system will produce higher amounts more through it's longer residency time than its intensity. That said, it's still early for a lot of things with systems like these; we'll be keeping an eye on it and updating forecasts if it looks like it's going to change significantly from current expectations.
Lastly, there will be a bit of wind with this system too. Winds won't be too bad on Saturday, however for a short while in the afternoon winds may climb up to around 30-40km/h out of the southeast. Winds will diminish overnight before picking up on Sunday out of the northwest. Blowing snow will be an issue on Sunday as the northwesterly winds increase to 40 gusting 60km/h and combine with the fresh snow. Through the Red River Valley, the strong winds will be in place by mid-day Sunday and persist into the late evening hours, so if you have plans to travel on Sunday afternoon or evening, prepare to give yourself some extra time to account for poor visibilities and driving conditions. For those reading this in southwestern Manitoba, the stronger winds will be in place by Sunday morning and persist into the overnight period as well, making blowing snow an issue all the way west into southeastern Saskatchewan.
Long Range: Colder Weather…But Only Briefly
Behind this storm system, cooler air will begin slumping into the Prairies, returning temperatures to seasonal values. Another batch of snow is possible Tuesday night as another disturbance moves through the region, which will usher in a pattern change that will see southwestern Manitoba clipped by several systems while even colder air works into the Prairies.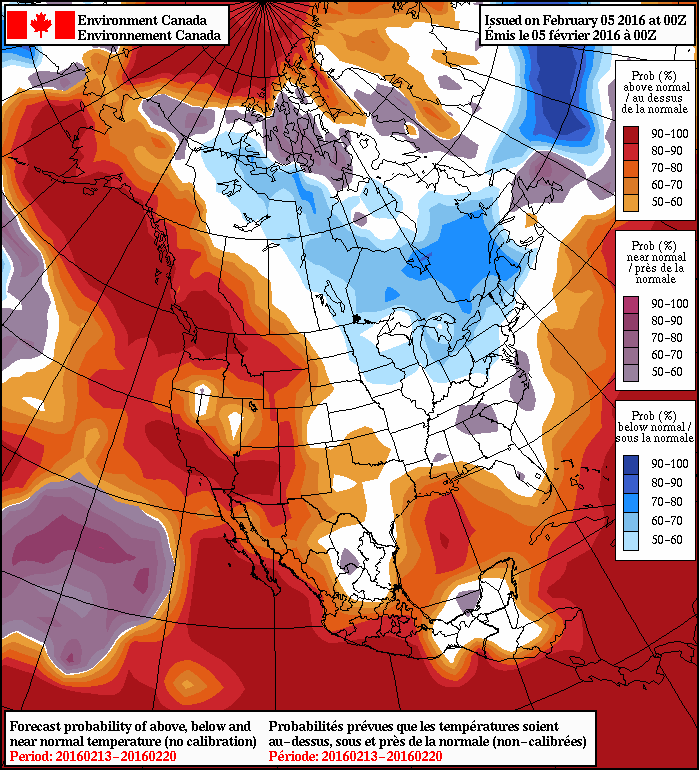 Into the second half of next week, below-seasonal temperatures will begin moving into the province with daytime highs slumping into the low minus teens and overnight lows dipping below -20°C. This cooler weather will likely persist into the early parts of the following week before a moderating trend begins, shown by the higher probabilities of cooler-than-normal weather in the NAEFS forecast above.
The seasonal daytime high for February 5th in Winnipeg is -10°C, while the seasonal overnight low is -21°C.
---
A baroclinic zone is an area where there is a strong temperature gradient across relatively short distances, either at the surface or aloft.  ↩