Temperatures will be taking a ride on a roller coaster this week as abnormally warm weather briefly gives way to a more seasonal cold snap and then soars back to well above-normal conditions. By the latter half of the week, above-0°C daytime highs may even be possible.
A mild air mass over the Red River Valley will bring a typical "warmer than it ought to be this time of year" mix of conditions to the region. It will be mainly cloudy today with a chance of flurries throughout much of the day, although if any snow does materialize, it should be light. Throughout the morning hours, though, fog patches and the risk of freezing drizzle will be the more prominent weather. The temperature should climb to around -1°C for a daytime high with light winds.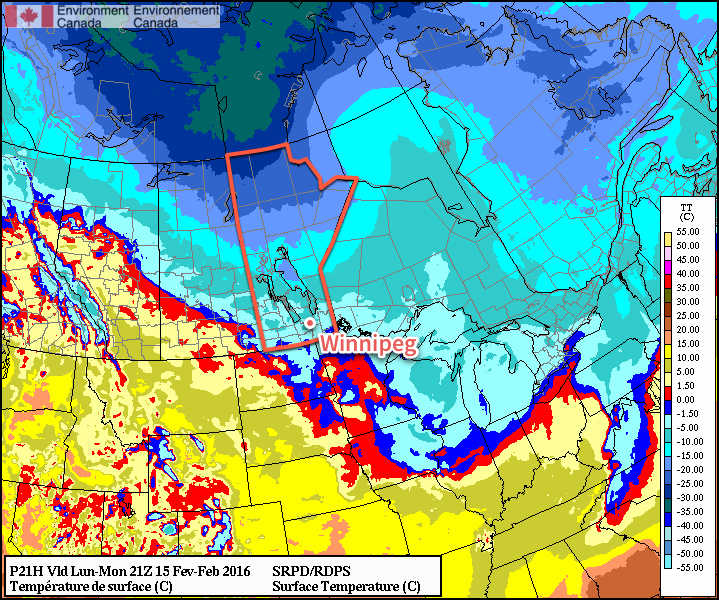 Light northerly winds will develop this evening, ushering in cooler air. As the cloud cover gradually scatters out, temperatures will drop to an overnight low near -18°C. The light northerly winds will continue through Tuesday courtesy of an Arctic ridge building into the region. Temperatures will rebound to a high of about -13°C under partly cloudy skies, and then drop into the minus twenties for an overnight low near -22°C.
Tuesday night will be the coldest night for a while as a significant pattern change begins on Wednesday which will result in a more persistent flow of Pacific air across the Prairies. The result will be a second half of the week that brings daytime highs well above normal. For Wednesday, a warm front will push across the Red River Valley, bringing southerly winds of 20-30 km/h and temperatures climbing to about -7°C. The warm weather will continue to push in on Wednesday night with temperatures climbing a couple degrees more. With that warmer weather moving in, there will also be a chance of some flurries, but no significant accumulations are expected.
Long Range: Warm!
The second half of the week will be mild, albeit cloudy, as significantly warmer air moves in from the west.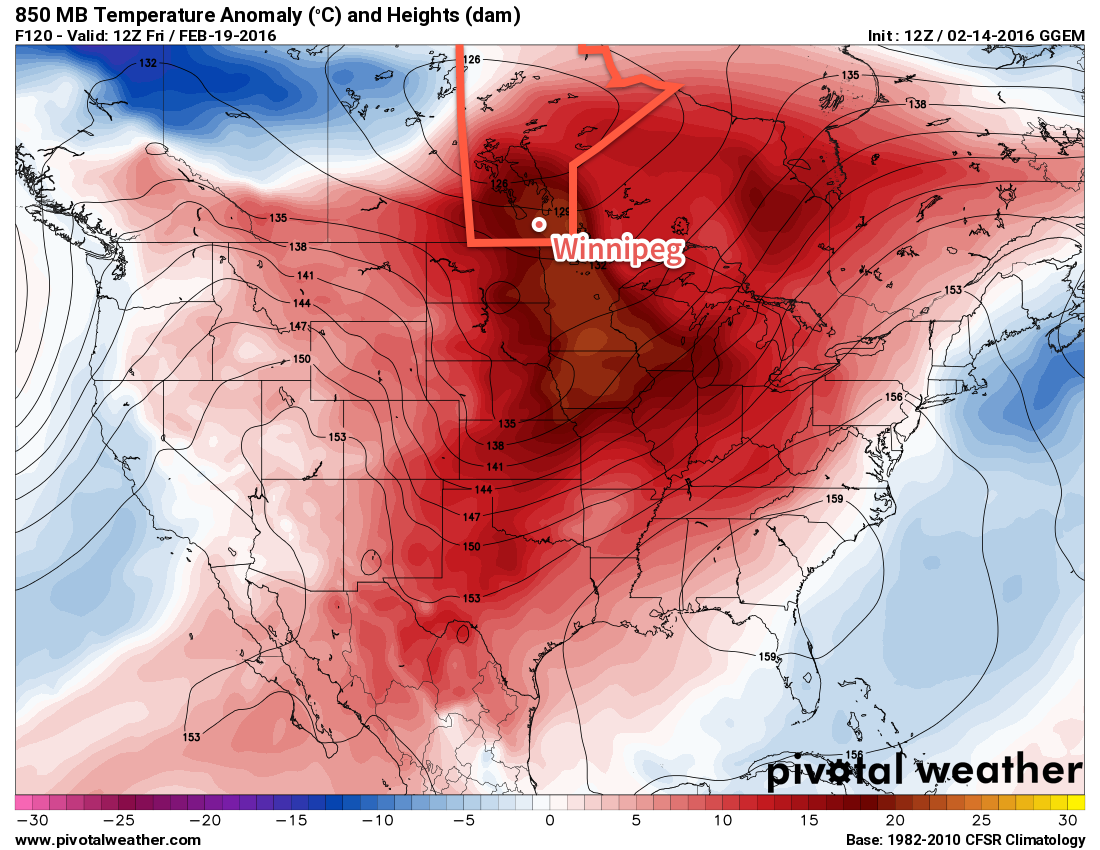 This surge of warm air is well represented by the forecast 850mb temperatures heading into Friday. As shown above, a surge of warm air around 20°C above normal is forecast to move into the region. The temperatures at this level don't correspond 1:1 with surface temperatures, so don't expect it to be 20°C above normal (which would be a high of +12°C) on Friday. Rather, what we'll see is temperatures getting about as warm as they're allowed to get with the established snowpack we have, and they likely won't budge too much once they get there, at least until the warm air leaves.
Temperatures will likely climb to +1 or +2°C on Thursday with a chance of some light snow. Once we reach that high temperature, temperatures will likely remain there until a weak cold front moves through on Friday night. It looks a bit uncertain at this point, but there will be the chance for precipitation throughout both Thursday and Friday.
Heading into the weekend, it will be cooler but still above normal with daytime highs in the minus mid-single digits. There will be the occasional chance for some flurry activity.
The normal daytime high for Winnipeg is currently -8°C and the normal overnight low is -18°C.