Numerous record were broken across the province from March 11-14, 2016 as abnormal warmth spread across the Southern Prairies. In Winnipeg, the event ended up breaking several record types, including record high temperatures, record high dewpoints, and record daily rainfall amounts.
What caused this anomalous event and what was the overall outcome? Read on to find out!
Upper Ridge Brings Anomalous Warmth to the Prairies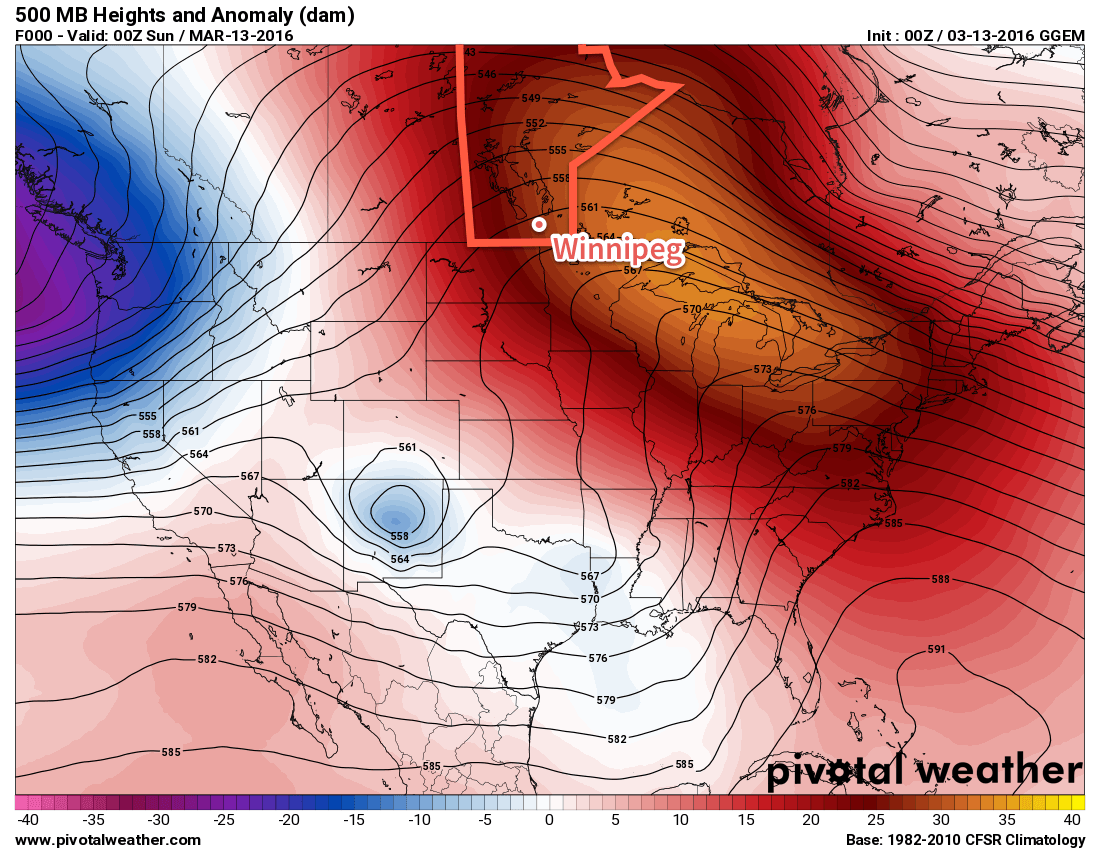 The entire event was precipitated by an anomalous 500mb ridge over much of North America. This feature introduced a broad southwesterly flow through the western Prairies and northern Plains of the US, allowing mild Pacific air to flood eastwards across the region.
Temperatures ended up well above seasonal values across the entire Prairies. Shown above in the above image, 850mb[1] temperatures were nearly 20°C above normal over southern Manitoba. This translated to very mild temperatures at ground level, with many communities seeing multiple days of record high temperatures.
Southerly Feed Enhances Dew Point Values
Additionally, a weak cut-off low over the central Plains resulted in a enhanced southerly component to low-level winds, which tapped into [relatively] humid air to the south and fed it northwards into the province, evident in the above image that shows that there was a higher-than-normal amount of water in the atmosphere over southern Manitoba.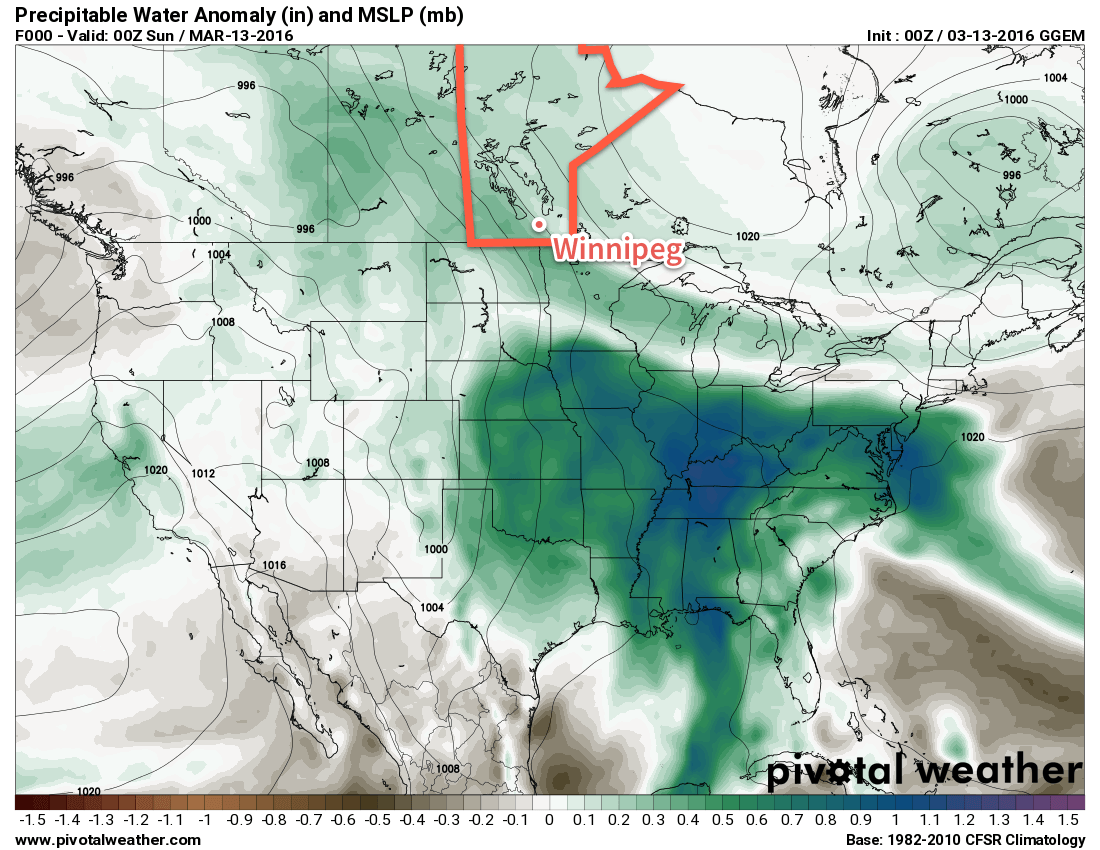 This resulted in seasonally high dew points for the region. Winnipeg ended up breaking two maximum dew point records on Saturday March 13 and Monday March 14. The anomalous moisture also brought a heavy London-like fog to the region on Sunday night which resulted in a fog advisory for the Red River Valley and southeastern Manitoba as near-zero visibilities blanked the area for over 8 hours.
Wet Transition Out of Pattern Breaks Daily Rainfall Records
A deep trough began digging into the Western United States on Monday March 14, developing a deep surface trough extending from Northern Alberta all the way to Texas. Ahead of this trough, a southerly feed tapped into moisture-laden air over the southern United States and began pumping it northwards towards Manitoba. As the system organized over the Dakotas on Monday night, it was able to spawn an area of thunderstorms over North Dakota that blossomed into an area of moderate rain as it pushed eastwards through the night.
This area of rain pushed through southern Manitoba on Tuesday morning, dumping anywhere from 10-20mm of rain over the region. This resulted in a new daily rainfall record for Winnipeg, breaking the prior record of nearly 70 years.
Record Values
In Winnipeg, 4 records were broken through the period of March 11-15, 2016:
Record high temperature in Winnipeg on Saturday, March 12 (New 12.2°C, old 9.7°C set in 2012)
Record high dewpoint in Winnipeg on Sunday, March 13 (new 7.6°C, old 6.7°C set in 2010)
Record high dewpoint in Winnipeg on Monday, March 14 (new 7.7°C, old 6.2°C set in 2012)
Daily rainfall record in Winnipeg on Tuesday, March 15 (New 15.6 mm, old 11.4 mm set in 1946)
However, numerous record high temperatures were broken throughout Manitoba over the 4-day span. Of note was Melita's high of 20.5°C on Monday, March 14, which marked the earliest 20°C temperature in Manitoba, beating out the prior record of March 16, set by 13 communities in 2012.
Significant Daily High Temperatures across Southern Manitoba on Friday March 11, 2016

| Location | High Temperature | Record High | Record High Year | Type |
| --- | --- | --- | --- | --- |
| Gretna | 14.8°C | 8.7°C | 2012 | New Record High |
| Melita | 15.8°C | 14.6°C | 2012 | New Record High |
| Pilot Mound | 14.1°C | 11.8°C | 2012 | New Record High |
| Brandon | 13.4°C | 13.5°C | 1981 | Near-Record High |
| Winnipeg | 11.6°C | 12.8°C | 2012 | Near-Record High |
Significant Daily High Temperatures across Southern Manitoba on Saturday March 12, 2016

| Location | High Temperature | Record High | Record High Year | Type |
| --- | --- | --- | --- | --- |
| Brandon | 12.0°C | 11.7°C | 1910 | New Record High |
| Gimli | 8.6°C | 8.5°C | 1994 | New Record High |
| Gretna | 13.8°C | 11.3°C | 2012 | New Record High |
| Melita | 15.3°C | 9.8°C | 2007 | New Record High |
| Pilot Mound | 12.1°C | 9.9°C | 2012 | New Record High |
| Pinawa | 12.5°C | 10.2°C | 1996 | New Record High |
| Winnipeg | 12.2°C | 9.7°C | 2012 | New Record High |
Significant Daily High Temperatures across Southern Manitoba on Sunday March 13, 2016

| Location | High Temperature | Record High | Record High Year | Type |
| --- | --- | --- | --- | --- |
| Melita | 17.7°C | 15.5°C | 2012 | New Record High |
| Portage la Prairie | 15.0°C | 13°C | 2012 | New Record High |
| Pilot Mound | 15.0°C | 13°C | 2012 | New Record High |
| Island Lake | 12.3°C | 11.2°C | 2010 | New Record High |
| The Pas | 11.4°C | 11.1°C | 1929 | New Record High |
| Thompson | 10.1°C | 9.6°C | 2012 | New Record High |
| Brandon | 15.2°C | 15.2°C | 2012 | Tied Record High |
| Berens River | 9.3°C | 10.4°C | 2012 | Near-Record High |
| Fisher Branch | 7.1°C | 9°C | 2012 | Near-Record High |
| Gretna | 11.4°C | 12.3°C | 2012 | Near-Record High |
| Norway House | 8.2°C | 8.8°C | 2010 | Near-Record High |
Significant Daily High Temperatures across Southern Manitoba on Monday March 14, 2016

| Location | High Temperature | Record High | Record High Year | Type |
| --- | --- | --- | --- | --- |
| Melita | 20.5°C[2] | 14.8°C | 2015 | New Record High |
| Brandon | 17.9°C | 15.0°C | 2015 | New Record High |
| Portage la Prairie | 17.1°C | 16.6°C | 2015 | New Record High |
| Pilot Mound | 15.9°C | 14.4°C | 2015 | New Record High |
| Pinawa | 15.5°C | 13.3°C | 2015 | New Record High |
| Sprague | 15.5°C | 12.6°C | 2015 | New Record High |
| Fisher Branch | 12.7°C | 12.5°C | 1981 | New Record High |
| Winnipeg | 13.1°C | 13.2°C | 2015 | Near-Record High |
| Gimli | 10.6°C | 11.8°C | 1981 | Near-Record High |
| Gretna | 14.4°C | 15.8°C | 2015 | Near-Record High |
Significant Weather Events in Winnipeg, March 11-15, 2016

| Date | Record Type | Value | Record Value | Record Year |
| --- | --- | --- | --- | --- |
| March 11 | Near-Record High Temperature | 11.6°C | 12.8°C | 2012 |
| March 12 | New Record High Temperature | 12.2°C | 9.7°C | 2012 |
| March 13 | New Record High Dewpoint | 7.6°C | 6.7°C | 2010 |
| March 14 | New Record High Dewpoint | 7.7°C | 6.2°C | 2012 |
| March 14 | Near-Record High Temperature | 13.1°C | 13.2°C | 2015 |
| March 15 | New Daily Rainfall Record | 15.6 mm | 11.4 mm | 1946 |
---
850mb is approximately 1.5km above the ground. This level is favourable to use for temperature anomalies at the moment because it is mostly free of the influences of snow cover.  ↩
Melita's high temperature of 20.5°C on March 14, 2016 marks the earliest date of a ≥ 20°C temperature in Manitoba. The prior record occurred across 13 sites in the province on March 16, 2012.  ↩