We'll see one more nice day today before a potentially significant weather system affects us on Tuesday and Wednesday. Rain and snow is expected in southern Manitoba with this system, but exact amounts remain unclear.
Today will be another very nice day. Temperatures will climb into the mid teens over much of southern Manitoba, allowing our snow melt to continue. Many rural parts of southern Manitoba are already snow-free, but there is still snow to melt in sheltered areas. Skies will be mainly sunny, with breezy south-east winds.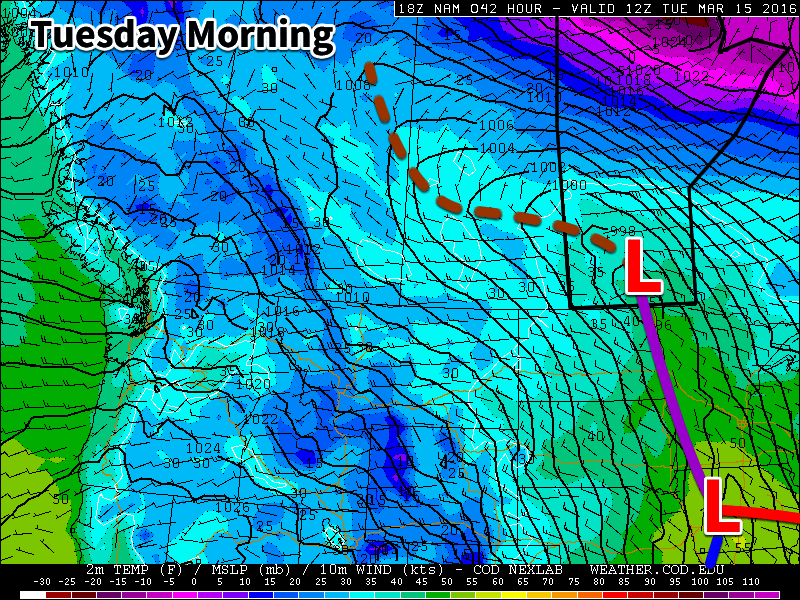 A major low pressure system is expected to affect southern Manitoba on Tuesday and Wednesday. This system will bring a combination of rain and snow, which makes it difficult to forecast. At this time it appears that rain will be the main mode of precipitation over the Red River Valley. Models disagree widely on potential accumulation, so it is difficult to say exactly how much rain will fall. A "best guess" is that Winnipeg will see about 5-15 mm of rain. More or less rain could fall depending on how the system evolves.
We will continue to be under the influence of this system on Wednesday, but temperatures will fall as we experience a stiff north-westerly flow. As a result of this cold air surging in from the north, rain is expected to change over to snow, with a couple centimetres of accumulation being possible. The exact amount of snow will depend on how much the system stalls over our area and how much cold air manages to infiltrate southern Manitoba. High temperatures on Wednesday are currently expected to be near 2C, which would not favour large accumulations.
Long Range
The end of the week is expected to be colder as the system from earlier in the week pulls down colder air from the north. Longer range models suggest that the second half of March will see a cooler pattern with outbreaks of colder arctic air. However, if we remain mainly snow-free following this week's system, it will be difficult for very cold conditions to last long as the darker soil will be able to absorb much more sunlight than snow would.