The shift back to closer-to-seasonal weather will feel like quite an abrupt change given the marked warmth that's been in place much of March so far. Fortunately, even with the cooler weather, daytime highs will remain above the freezing mark, and with little snow left and not too much expected to fall, it gets harder and harder for the cold air to stick around[1] as the sun continues to increase in strength.
The low pressure that brought yesterday's rainfall to the Red River Valley will dominate the weather for two more days before things gradually shift to a more neutral set-up.
Some say what goes up must come down, and while not typically true about the weather, today we'll see the area of precipitation that pushed northwards into Central Manitoba slump back southwards throughout the day as an inverted trough extending west-northwestward a from the main low pressure system in NW Ontario rotates southwards around the low. This will result in some showers and cooler air pushing into the Red River Valley through the day. As the precipitation moves in from the northeast, the rain will—at some point—switch over to snow. The flurries will continue through the evening and overnight before tapering off on Thursday morning.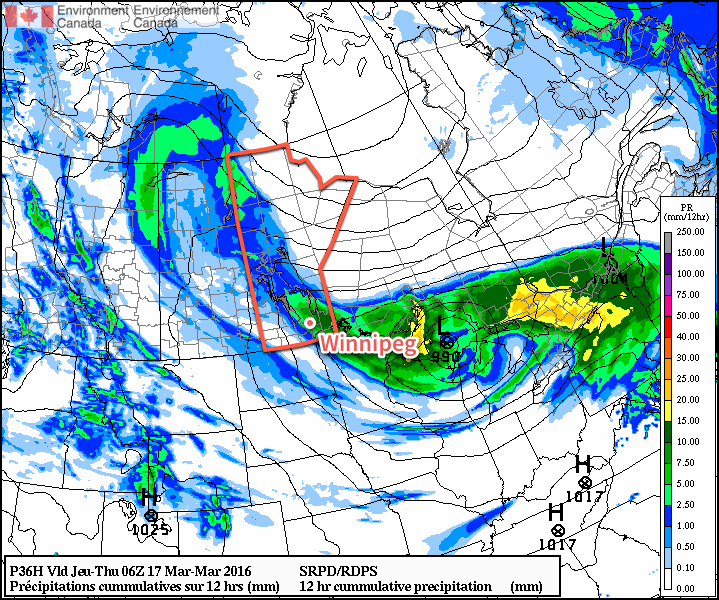 Temperatures will climb to around 3-4°C this afternoon and then drop with the cooler air to a low near -3°C tonight. Winds will fairly breezy today out of the northwest at around 30 km/h with gusts up to 50km/h or so. To the southwest of Winnipeg, winds will likely be a bit stronger at 40 gusting 60 km/h. The winds will ease tonight as the axis of the inverted trough moves into the region.
Thursday will be an unexciting day compared to the past week. Any lingering flurries will taper off early in the morning and leave Winnipeg with mainly cloudy skies and temperatures gradually climbing towards a high of 2°C. Winds will be out of the north at 20-30km/h. Skies will remain cloudy tonight as temperatures dip to a low near -3°C with winds slowly easing off.
Friday will once again bring mainly cloudy skies and a high temperature near 3°C. Winds will be light and no precipitation is expected. Skies will remain fairly cloudy on Friday night as the temperature drops to a low near -2°C.
Winnipeg's seasonal daytime high is currently -1°C while the seasonal overnight low is -11°C.
Long Range: Continuing Cloudy, Chance of Flurries
Heading into the weekend, it looks like we'll likely continue to see a fair amount of cloud as a weak trough remains in the region. While Winnipeg won't likely see any snow, there is a very slight chance of some flurry activity through the region. Should any snow develop, amounts are expected to be minimal and in most cases likely won't even accumulate. Temperatures are expected to remain slightly above seasonal.
The weather will turn more active next week as a zonal flow develops aloft and multiple shortwaves ripple across the Prairies. Multiple storm systems are forecast to track through next week, each bringing a mix of wintery precipitation. Temperatures will remain slightly warmer than seasonal through the period.
---
Snow is so effective at keeping temperatures cool due to its white colour. Snow can reflect much of the sun's energy, limiting the ability for temperatures to warm up. Once the snow cover is reduced or eliminated, the darker ground absorbs more sun and helps temperatures warm up more quickly.  ↩