Temperatures will be startlingly colder this weekend than we've seen through the first half of November, but despite the shock to the system, Winnipeg will simply be seeing temperatures closer to typical values for this time of year.
The weather through the weekend will be relatively benign overall, with the major storm system forecast once upon a time to slam the Manitoba Red River Valley now taking a significantly more southwards track, instead tracking across central Minnesota into Northern Ontario. With that major system moving through to our south, we'll be left with cloudy skies and a brisk north wind to 30 gusting 50 km/h. Temperatures will be much cooler with a high near +1°C
As cooler air slumps southwards through the day, narrow bands of lake-effect snow will fire up off of the south basin of Lake Winnipeg. At this point, it appears that the line will run north-south and primarily impact a line between Selkirk and St. Clements southwards towards Springfield. Beausejour may end up just east of the main band, but slight shifts in the wind direction could shift the heaviest band east or westwards. Lighter flurries may make it all the way south of Steinbach. By the time the lake-effect tapers off on Saturday morning, anywhere from 5-15cm of snow may accumulate under the heaviest axis of snow.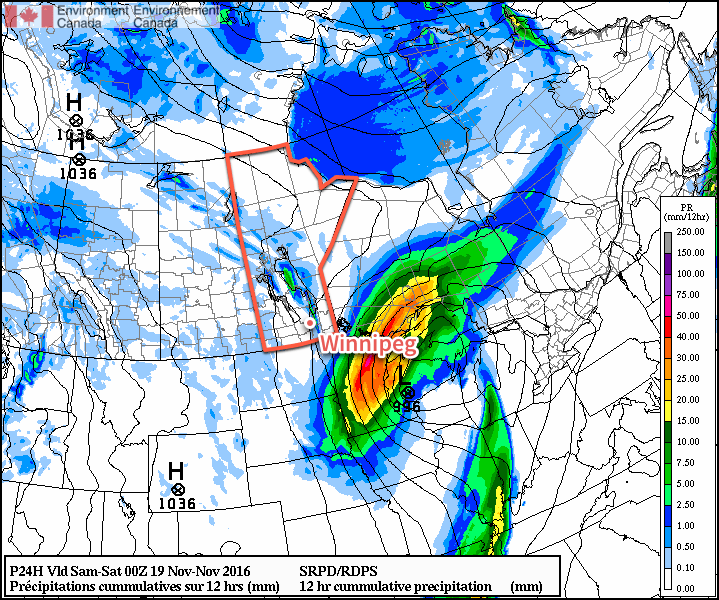 Skies will begin to clear out on Saturday night, save for locations that see cloud streaming off the lakes. Winds will taper off and temperatures should dip to a low near -6°C.
Saturday will bring a ridge of high pressure to the province, quashing the lake-effect snow and bringing a bit of sunshine and light winds. Highs will reach around 0°C under mixed skies. Saturday night will be partly cloudy with a low near -5°C.
Sunday will bring increasing cloud ahead of a warm front pushing eastwards across the southern Prairies. Temperatures will climb to a high near -1°C with a brisk southeasterly wind at 20-30 km/h. Expect fairly cloudy skies with a chance of some light snow on Sunday night with a low near -4°C.
Back To Normal
As mentioned up top, while these cooler temperatures are a shock to the system, we're simply in a rapid adjustment back towards seasonal temperatures.
November has been a phenomenally warm month so far, with an average high of 11.3°C, a whopping 9.8°C warmer than the typical average high of 1.4°C through the same 17-day period. Including overnight lows, mean temperatures have been over 6°C above normal, more typical of mid-October than November, and November 2016 has taken the crown with the warmest first half1 of November on record.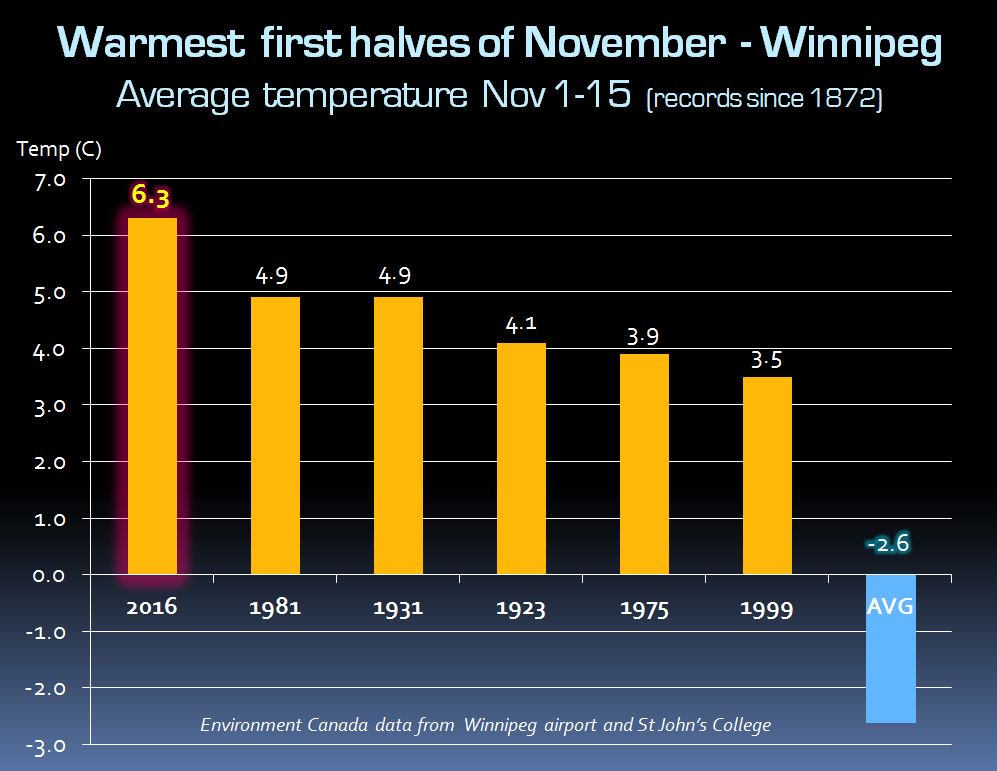 And, while a brief seasonal snap is on the way, models indicate that by next weekend above-normal temperatures will be back in full force, which could enter the month into the competition for warmest November on record!
Long Range
The system pushing the warm front eastwards across the Prairies on Sunday will continue to push eastwards and bring another chance for snow to the region on Tuesday. After that, it appears that a series of low pressure systems will track to our north and begin building warmer air back into the Prairies.
Winnipeg's seasonal daytime high is currently -3°C while the seasonal overnight low is -11°C.
---
First half of November is November 1-15, inclusive. ↩