An increasingly active storm track will bring a major winter storm through the Northern Plains of the U.S., drawing colder arctic air southwards cross the Prairies and ushering in the coldest temperatures seen so far in the fall of 2016.
Today will start with a weak system pushing through the Red River Valley, bringing with it a band of showers that will lift northeastwards across the region through the first half of the morning. After that moves through, we'll be left with fairly cloudy skies as temperatures climb to a high near 9°C. Winds will pick up out of the southeast this morning to around 20-30 km/h, then taper off for the afternoon. Expect the winds to pick back up out of the northwest later in the evening with a slight chance of some very light rain showers or snow flurries overnight as a cold front moves through and temperatures dip down to the 0°C mark.
Thursday will bring mainly cloudy skies as a Colorado Low strengthens south of the border. Winds will be breezy out of the north to northwest at around 20-30 km/h and temperatures will climb to a high of about 3°C.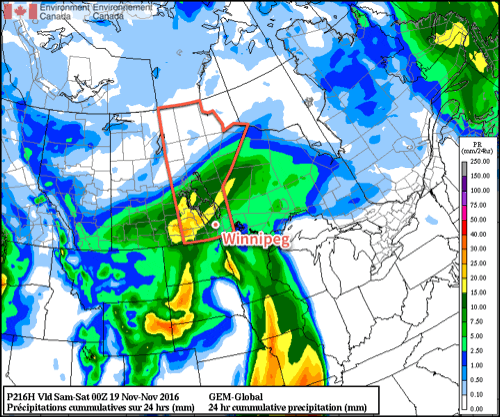 Since last weekend, it's been quite clear that a major winter storm was possible on Friday, and that much it got right. However, what at one point looked like a major blizzard for the Red River Valley has since turned into a moderate-strength winter storm for the Dakotas and Minnesota into Wisconsin. There's a whole discussion on long-range model forecasts, but we'll leave it at this: while it may get the general pattern right, don't trust it on the details.
So what will we see instead of a blizzard? Cloudy skies and a stiff north wind likely at 40 gusting to 60 km/h. The southeastern portion of the province may get clipped with some snow from this system, but here in the Red River Valley, the system snow should miss us. There may, however, be a sneak attack from the north as cooler air surges southwards and lake-effect snow fires up over the lakes. Areas in the lee of the lakes may see some light to moderate snow flurries, however these will occur in fairly narrow strips and be highly dependent on the wind direction.
Temperatures will climb to only -1 or 0°C for a high. Expect the cloud and potential lake-effect snow to continue overnight as temperatures fall to a low near -4°C.
Long Range
The weekend looks cool with a continued chance for lake-effect snow through the day on Saturday. Cloud cover will be a mixed bag and highs will be near 0°C with lows near -6°C or so. If we get completely clear skies one night, then temperatures could plummet quite severely, though, so an overnight low below -10°C may be possible if the cloud manages to be scoured out of the Valley.