The promised warmer weather will move in for the second half of the work week, sending temperatures over 10°C above seasonal daytime highs.
Temperatures will be very mild over the coming 3 days as westerly winds continue to advect a Pacific-sourced air mass eastwards across the Prairies. Daytime highs over the next few days will hover around the 0 to +2°C mark with overnight lows between -4 and -1°C.
Winds will be fairly light over the coming few days as well, with winds generally out of the south at 10-20 km/h persisting right through Friday.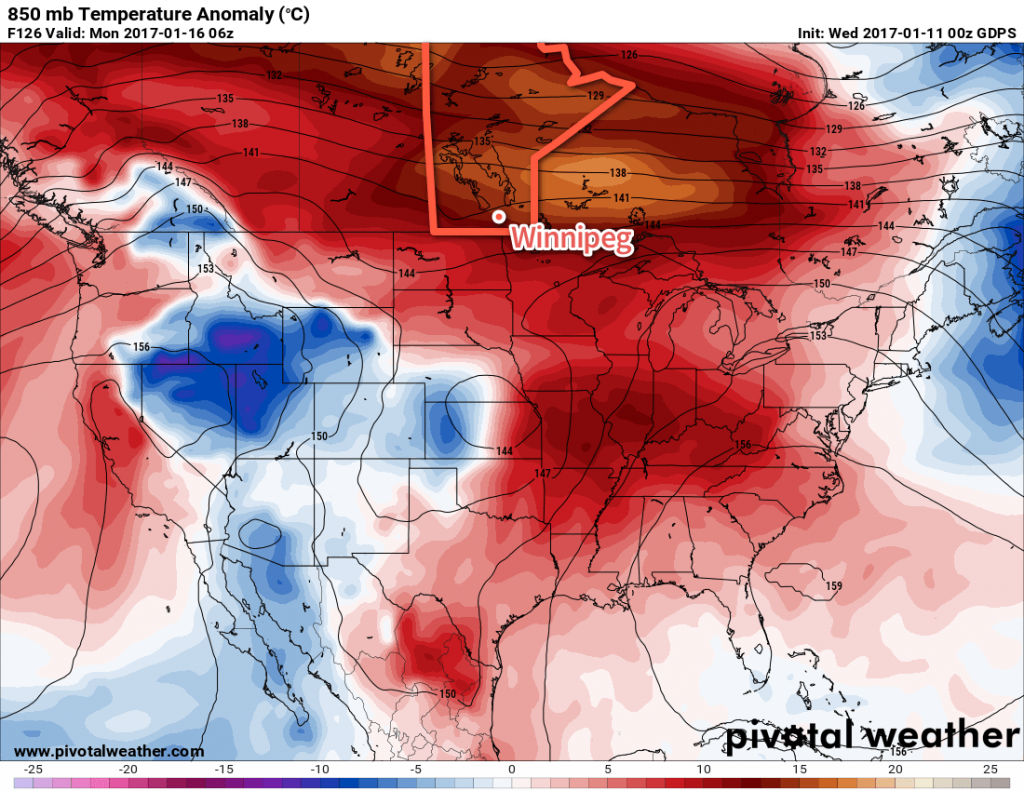 Skies will be variably cloudy; today we expect partly cloudy skies this morning transitioning to periods of mixed to cloudy skies this afternoon and evening. Things should clear out a bit on Thursday morning with partly cloudy skies returning for the afternoon and then thicker cloud cover moving in on Thursday night for Friday.
All in all, a very nice second half to the work week on the way.
Long Range
Things will begin to change on the weekend, though, as a rather complex transition occurs and brings more unsettled weather to our region.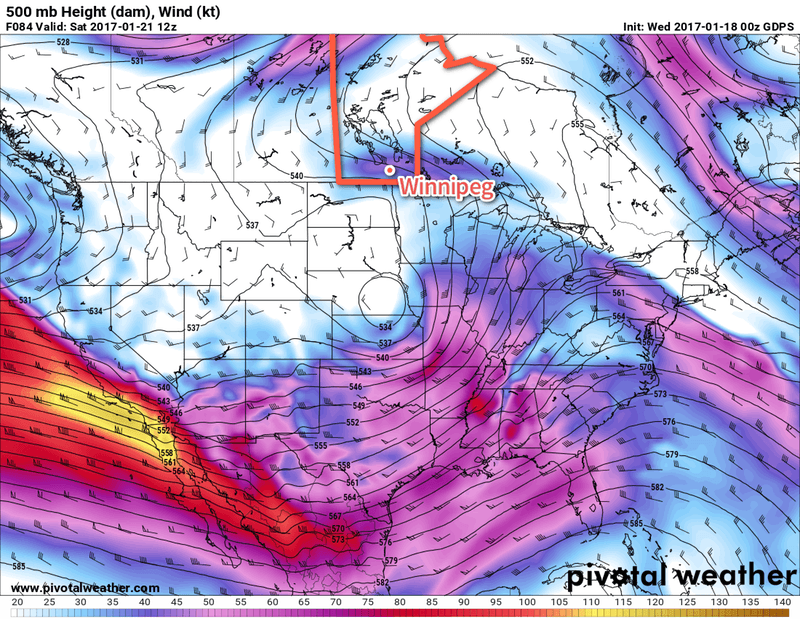 A potent upper-level jet is digging a trough off the western coast of the United States while at the same time an upper-level low meanders northeastwards from New Mexico into the Central Plains of the United States. Over the coming days, the digging upper-level trough over the west coast will tilt eastwards and absorb the upper-level low, merging into a rather large vortex that will then push several plumes of moisture northwards across Southern Manitoba.
It can't be understated how complex the evolution expected to happen this weekend is. Details about precipitation will almost certainly change between now and then. That said, a few generalities…
The weekend will be fairly mild with temperatures hovering at or above the freezing mark, with overnight lows within a degree or two of the daytime highs. It will be cloudy throughout, with a chance of snow or rain on both Saturday and Sunday. This could be very light, or a more significant storm depending on how things set up.
With a large area of lift moving in over the region, there will also be a chance for fog and drizzle through the weekend, but whether or not it forms will depend exactly on how this weather system sets up.
So, in short: a nice end to the work week will be followed by a mild but messy weekend. We'll have more details on exactly what to expect in our next forecast on Friday.
Winnipeg's seasonal daytime high is currently -13°C while the seasonal overnight low is -23°C.