A complex low pressure system moving across Manitoba today likely bring record-breaking rainfall to Winnipeg as showers develop along a cold front sweeping eastwards. Behind this feature, things will cool slightly, returning the region to near-seasonal temperatures with a few chances for some light snow.
Today's main weather story will be a low pressure system lifting northeastwards through the Interlake that will push a cold front eastwards across the Red River Valley & Whiteshell. Ahead of this front, temperatures will climb to a high near 4°C with light southerly winds. As the front pushes through later this morning, an area of showers will develop and spread eastwards. The rain has the potential to be relatively heavy (for February in southern Manitoba), and will produce a swath of accumulations generally in the range of 4-8mm, with lower amounts to the west of the main development and localized potential for 8-15mm although those higher amounts would likely be restrained to near the Ontario border.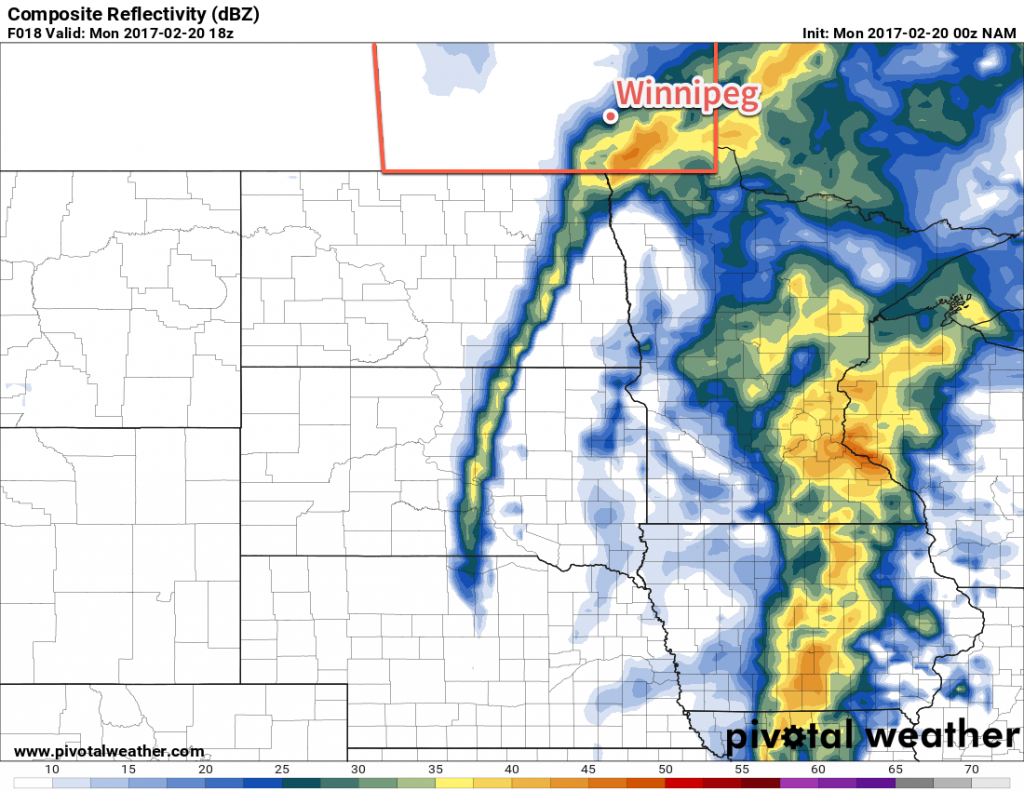 There's a little uncertainty as to how far west and north the precipitation will push, however it seems likely that Winnipeg will see some rain with 2-5 mm very likely. There's a smaller chance that we'll see amounts higher than that, but that will become more clear this morning as the rain develops. Winnipeg's daily rainfall record for February 20th is 0.3 mm, set in 1965. This makes breaking the record almost a near-certainty today.
Winds shift out of the west behind the front to west-southwesterly at around 20-30 km/h. Temperatures will fall to a low near -1°C overnight under mostly cloudy skies.
Tuesday will bring a mix of sun and cloud to the region with mild weather still in place as temperatures climb to a high near 3°C. Expect increasing cloudiness on Tuesday night with temperatures dropping to a low near -2°C.
Wednesday will bring another low pressure system to the region, this time skirting across southern Manitoba near the US border. This system will spread an area of snow along and just north of the low track. Total amounts, at this point, look like 5-10 cm over the southwestern portion of the province, tapering off to 4-8 cm over the Red River Valley and 2-5 cm over the southeastern corner of the province. Winnipeg's high temperature will climb to around -1°C, but temperatures may climb to 0 to +1°C over the southern Red River Valley if the low tracks far enough north. Expect a low near -8°C on Wednesday night with gradually clearing skies.
Long Range
The long-range forecast looks cooler, but still relatively pleasant. Winnipeg will likely see variable cloudiness through the second half of the week as temperatures fall back to seasonal to slightly below seasonal temperatures. Nothing significant is expected for snow between Thursday and the end of the weekend.
Winnipeg's seasonal daytime high is currently -7°C while the seasonal overnight low is -17°C.