Winnipeg's temperature will be climbing well above-seasonal through the second half of this week as a major low pressure system develops over the central Prairies, drawing mild air northwards out of the United States. While southern Manitoba will avoid the brunt of this system, it will also bring some gusty winds and a good chance of rain to round out the work week.
Today will be a very pleasant day in Winnipeg as a ridge of high pressure brings mainly sunny skies to the region and temperatures climb to a high near 15°C. Winds will be light out of the east to northeast, making for a wonderful day to get outside. Temperatures will dip down to a low near +1°C under partly cloudy skies overnight.
Thursday will bring even warmer temperatures to the region with highs climbing into the upper teens under partly cloudy skies. A major low pressure system will be organizing over the western Prairies, which will begin to increase winds out of the south over Manitoba. In Winnipeg & the Red River Valley, expect winds to pick up out of the southeast to 20-30 km/h by the end of the day. Temperatures will dip to a low near 8°C on Thursday night under partly cloudy skies. Winds will continue to increase through the night, reaching 30 to 40 km/h by Friday morning.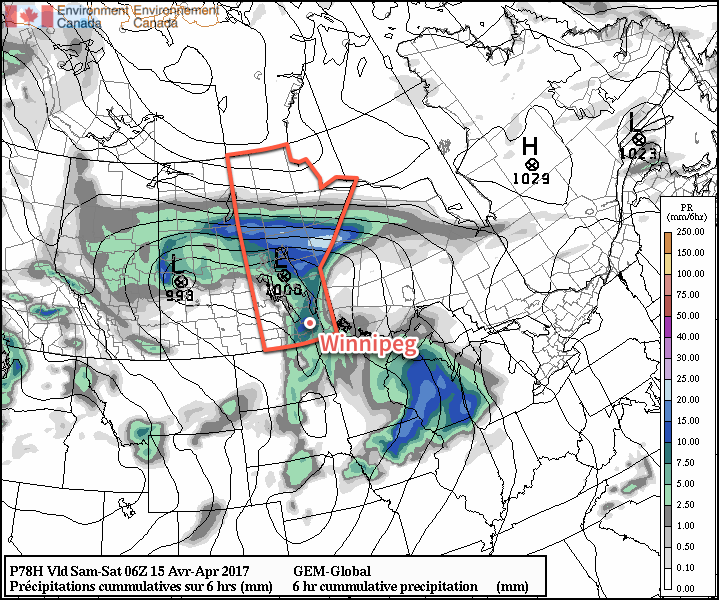 Friday will be an active day as the low pressure system heads across the central Prairies and its cold front pushes eastwards across the Red River Valley. Ahead of the front, temperatures will be mild with highs reaching the mid- to upper-teens, but the winds will be quite strong out of the south at around 40 gusting 60 km/h. Cloud will increase through the day as the cold front approaches.
The cold front will push into the Red River Valley in the afternoon, supporting a developing area of showers as it does so. Indications at this point are that the showers could be fairly heavy with a slight chance of some thunderstorms embedded within.
Once the front passes through, winds will die down and skies will clear as temperatures head to a low near 5°C.
Long Range
The weekend looks to be a bit of a mixed bag. Saturday will be pleasant with near-seasonal temperatures and partly cloudy skies. Winds will be out of the west-northwest to around 20 km/h.
Things change on Saturday night as a second cold front moves through the region, ushering in Arctic air that will send temperatures well below seasonal and bring a chance of flurries back to the region.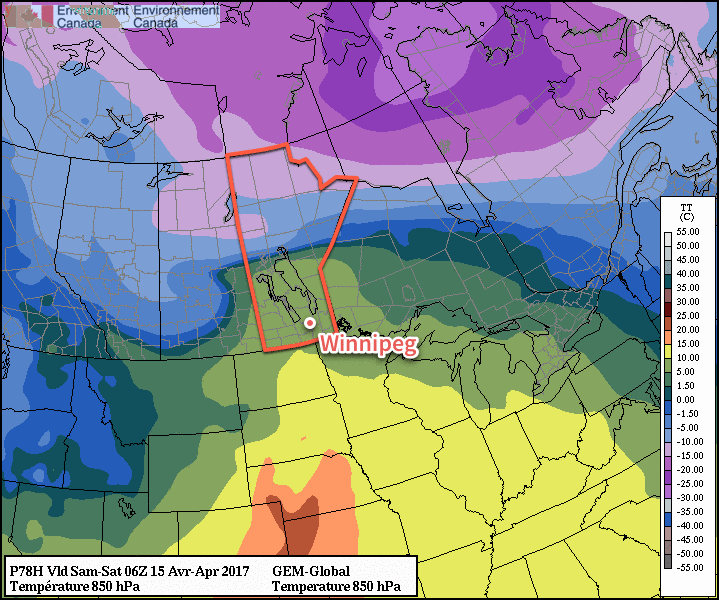 Sunday will likely have mainly cloudy skies as temperatures drop to around 0°C midday and remain there. Sunday night will be seasonably cool as skies clear out and temperatures dip to a low in the -3 to -5°C range.
Winnipeg's seasonal daytime high is currently 9°C while the seasonal overnight low is -2°C.