Temperatures will fall off a cliff this weekend from nearly 20°C today to barely above freezing by Sunday as a surge of cold air plows southwards in the wake of a winter storm moving across the central and northern Prairies. This push of colder air will also bring unsettled conditions to Winnipeg & the Red River Valley, with several chances for rain and even a slight chance of flurries towards the end of the weekend.
Winnipeg will see warm and windy weather today as a low pressure system tracking through the central & northern Prairies moves into eastern Saskatchewan. A warm front associated with this system will move through this morning, bringing a slight chance of showers to the region. Temperatures will then climb to a high near 18°C with strong southerly winds increasing to 40 gusting 60 km/h. A cold front will push eastwards into the Red River Valley this afternoon, triggering the development of a line of showers that will move through the valley late in the afternoon into the evening. Along with the rain, there will be a slight chance of an isolated thunderstorm or two along this line of showers.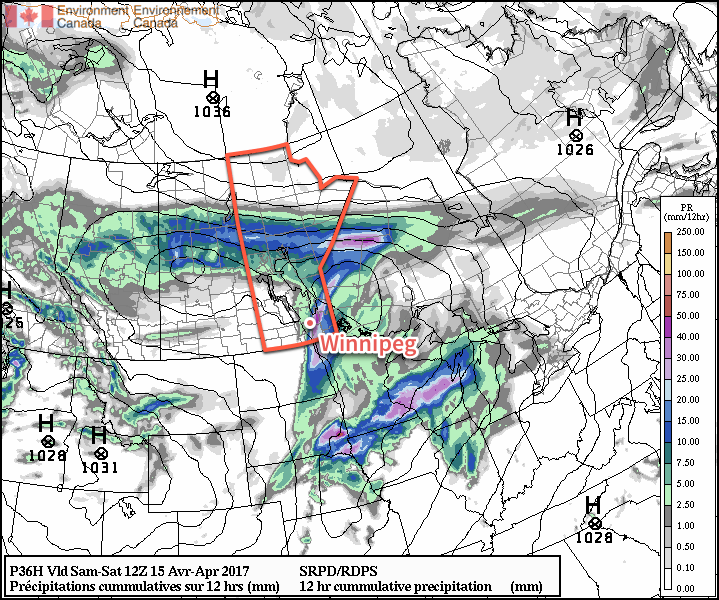 By 10 or 11PM, the rain should be moving off east of the Red River Valley, and Winnipeg will head towards a low near 6°C with gradual clearing and diminishing winds.
Saturday will actually be a relatively nice day for much of the day. The Red River Valley will be nestled between Friday's cold front to the east and a second cold front approaching from the north. That said, temperatures will climb to a high near 13 or 14°C with fairly light winds and variable cloudiness. A second disturbance will move into the region late in the afternoon, dragging another cold front southwards into the Red River Valley that will bring another wave of showers to Winnipeg & the Red River Valley. These showers will gradually taper off overnight, but temperatures will be dipping down to a low near +1°C, and those rain showers may change over to flurries in the second half of the night.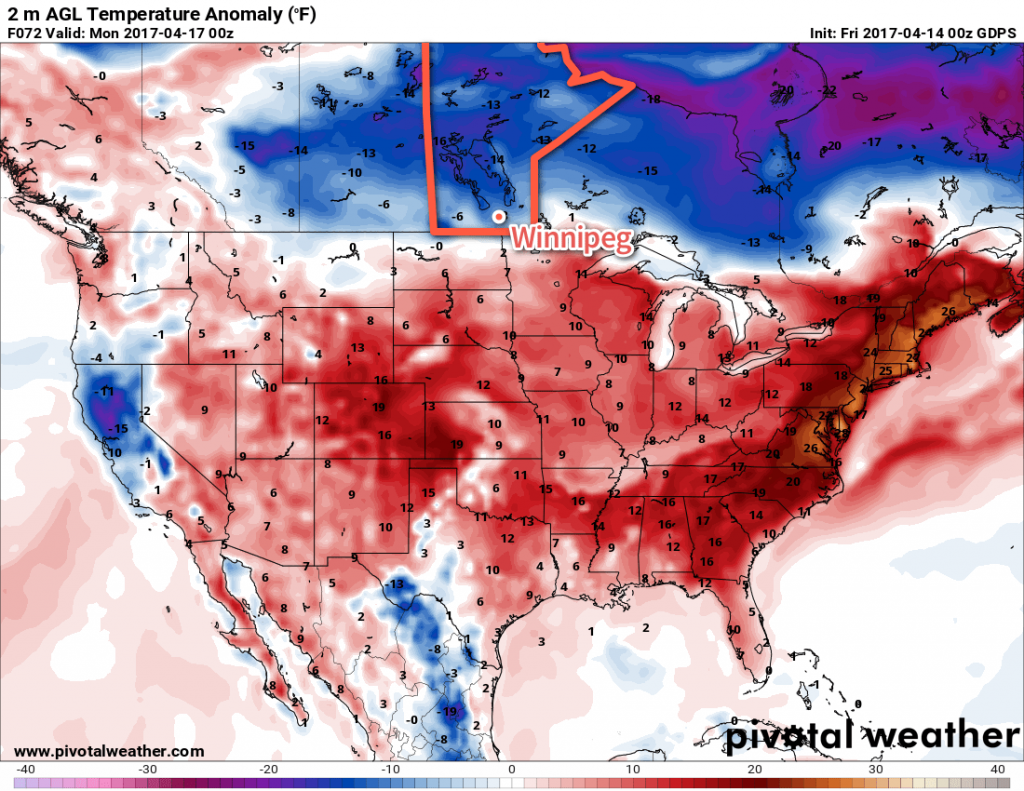 Sunday will be a rather unpleasant day as moderate northerly winds keep the temperature pinned near the freezing mark. Skies will remain cloudy through the day with a chance of flurries. Temperatures will dip down to around -4°C on Sunday night under mostly cloudy skies.
Long Range
Temperatures will slowly rebound towards seasonal through the first few days of next week. Winnipeg may see another chance for showers or flurries on Tuesday, but then things begin to settle down for the second half of the week.
Winnipeg's seasonal daytime high is currently 10°C while the seasonal overnight low is -2°C.