After a brief cool-down that followed a wet end to the weekend, spring-like weather will return as mild temperatures return alongside some unsettled weather.
Temperatures are on their way back to near-seasonal today as daytime highs climb to around 12-15°C across the Red River Valley under fairly sunny skies for much of the day. There will be increasing cloud, particularly through the second half of the afternoon and early evening, spreading into the Red River Valley ahead of a low pressure system moving towards Manitoba. Winds will be pleasantly light out of the southeast. Expect temperatures to drop to a low near 4°C tonight under mostly cloudy skies.
On Thursday, a low pressure system tracking across the province will result in cloudy skies for Winnipeg showers developing through the Red River Valley beginning midday. Rainfall amounts look fairly low at just a couple mm, however higher amounts are possible in any heavier showers that might develop. Temperatures will be a bit cooler than Wednesday with highs near 11°C. Some clearing should work into the region on Thursday night as temperatures dip to a low near +2°C.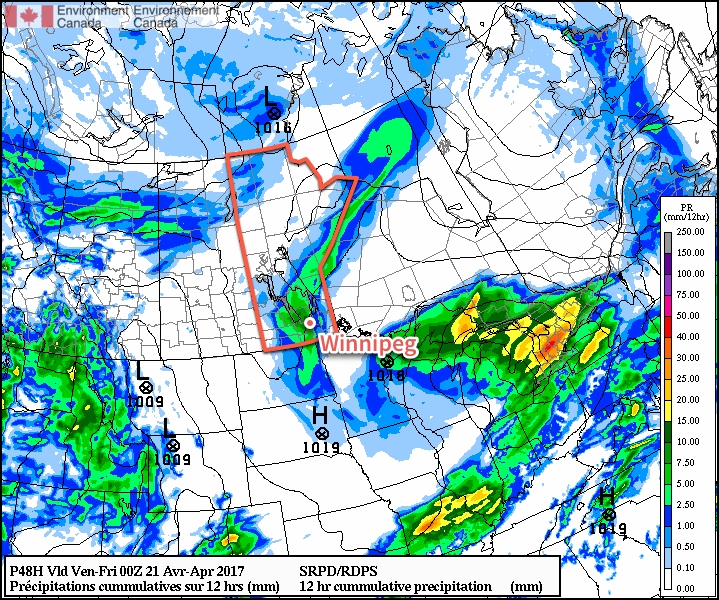 Friday will bring a return to the nice weather with clearing skies and a high near 15°C. A cold front will sweep through the region overnight into early Saturday morning, bringing more cloud into the region alongside some northerly winds. Temperatures will dip to around 3°C.
Long Range
Saturday will be fairly cloudy with a chance of showers through the first half of the day as the cold front clears the region. Temperatures will see a return to below-normal with highs topping out in the mid-single digits. Winnipeg will likely see sub-zero lows once again on Saturday night.
Sunday will bring more cloud back into the region through the day as another disturbance approaches the region. Temperatures will remain cool with highs in the mid- to upper-single digits. More showers are possible, however whether or not Winnipeg will see them depends on the exact track the disturbance takes.
Winnipeg's seasonal daytime high is currently 12°C while the seasonal overnight low is 0°C.