While 2017 has had a few cold snaps in Winnipeg, by and large temperatures have remained well above normal. This graph shows the daily temperature departure from normal, where red areas are warmer than normal days and blue areas are colder than normal days. The cold snaps have not only been few and far between, but also fairly short.
Of note is how the temperatures have spent very little time at "near-normal" values. Instead, Winnipeg has generally been seeing swings from up to 15-20°C above normal down to 5-10°C below normal. As of writing1, Winnipeg is sitting with a year-to-date temperature departure (black line) of +4.1°C.
The greatest above normal day occurred on January 21st when a daily high of +2.0°C and daily low of +0.9°C combined for a mean temperature of +1.5°C, a whopping 19.4°C above normal for that date.2
The greatest below normal day occurred on March 10th when a daily high of -16.9°C and daily low of -23.4°C combined for a mean temperature of -20.2°C, 12.2°C below normal for that date.3
The next "blue area" is on the way beginning this weekend, as a large pattern shift brings cooler air into the region.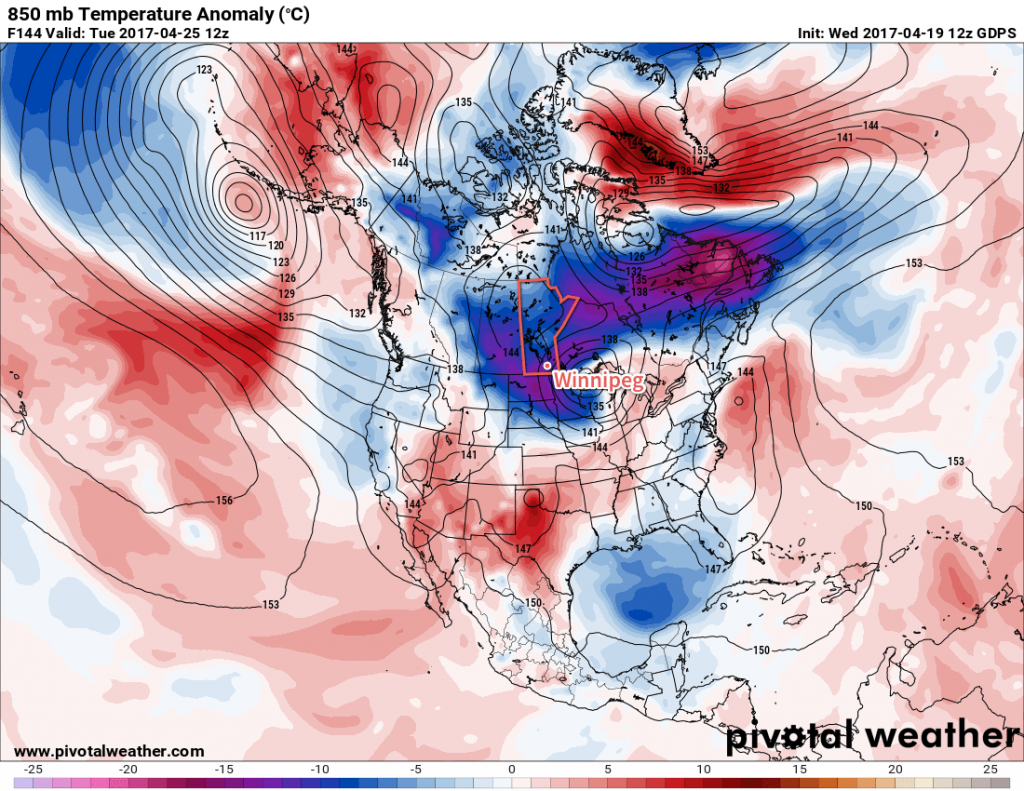 The result will be a prolonged period of cooler temperatures, likely lasting until the end of the coming week at the least.
Time will tell how the rest of the year pans out; while it may be tempting to look towards seasonal forecasts for a hint of what's to come, they have a habit of being wrong, so it's best to temper expectations from them. That said, Winnipeg has been seeing a lot of above-normal temperatures over the past 18 months, so the trend would suggest that we continue to be mild in the bigger picture.