Winnipeg and the Red River Valley will see mild temperatures today, but a sharp cold front will sweep through the early Saturday, bringing unsettled conditions and much cooler temperatures.
A southwesterly flow aloft will draw mild air into the Red River Valley today, eventually sending daytime highs into the mid-teens this afternoon. Before that, however, there will likely be fog patches throughout much of Southern Manitoba. Areas that see fog will likely see some cloudier skies through the morning as the fog lifts, but it should subsequently burn off leaving much of the region under sunny skies. Winds will also be light, so all in all it should be a beautiful day.
Change is afoot, though. Cloud will move in overnight as a cold front slumps southwards through the province. It will move through very early on Saturday morning, ushering in northerly winds to around 30 gusting 50 km/h and sending temperatures to a low near +2°C. As the front moves through in the morning, it will support an area of precipitation that will begin as rain, but possibly change over to snow mid-morning.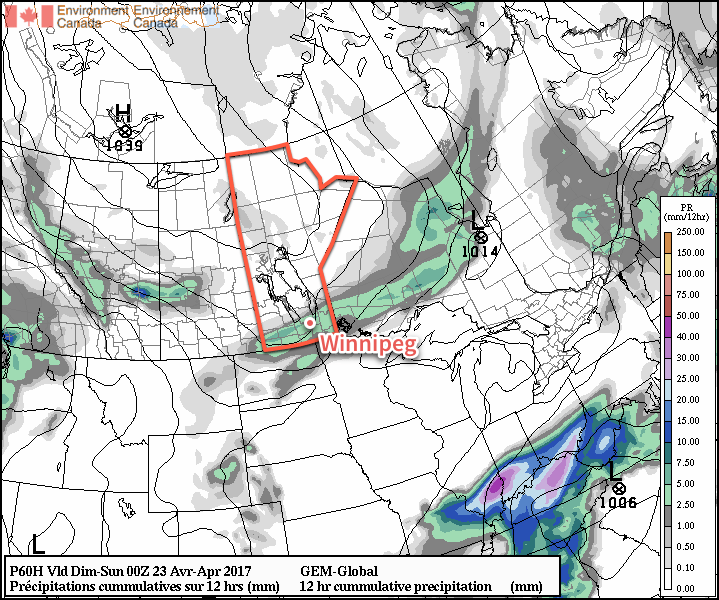 The precipitation will end midday as winds begin to ease and temperatures climb to a high near 6°C. There's a decent chance that the cloud cover will break up a bit in the afternoon let the sun shine through. The wind will diminish on Saturday evening as the temperature drops to a low near -2°C with some cloud cover beginning to move in.
Sunday will bring mixed skies to the region as Saturday's disturbance departs and the next one develops in Alberta. A reprieve from precipitation, temperatures will climb to a high near 6 or 7°C with light easterly winds. Cloud coverage will increase in the evening as the next system approaches, bringing with it a chance of showers for Sunday night. Temperatures will drop down to a low near 0°C.
Long Range
The start of next week will bring more unsettled weather as a major storm system tracks near the American border. Uncertainty exists on the track of the low, and with a fairly sharp boundary to its precipitation, that leads to a wide range of potential precipitation amounts.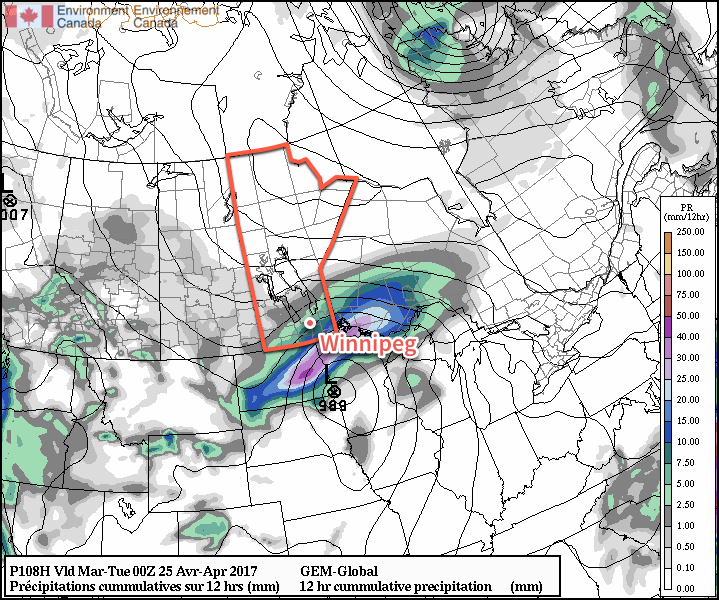 We'll have updates closer to the event on what exactly we can expect from this system.
In the wake of that low, Winnipeg and the Red River Valley will see a stretch of calm weather with below-normal temperatures until the end of the week, when another system may impact the region and bring more rain and/or snow to the province.
Winnipeg's seasonal daytime high is currently 13°C while the seasonal overnight low is 0°C.