A large-scale pattern shift begins today that will bring warmer weather back to the region, but alongside the reprieve from the unseasonably cool temperatures comes a shift towards several days of unsettled weather.
Today will be a quiet day across the Red River Valley with sunny skies and a high near 15°C. Winds will be light as a ridge of high pressure moves across the region. Tonight will also bring fairly clear skies and a low near 4°C.
Warmer air will begin working into the region on Saturday, bringing with it partly cloudy skies as temperatures climb to a high near 19°C. Winds will pick up out of the east to around 30 km/h as a warm front sets up along the US border. Skies will remain partly cloudy overnight as temperatures dip to a low near 9°C with continued easterly winds at 20-30 km/h.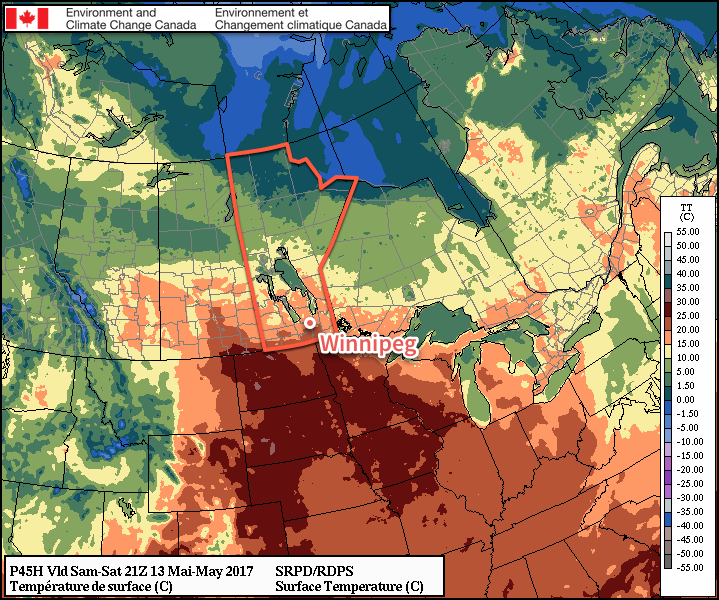 Sunday will be the turning point for Winnipeg as the first disturbance moves through the region. Winds will continue out of the southeast near 30 km/h until a cold front moves through sometime mid-day into the afternoon. This cold front will support an area of showers or thunderstorms as it moves through the region. As the front moves across southern Manitoba, skies will cloud up as temperatures climb to a high near 20°C.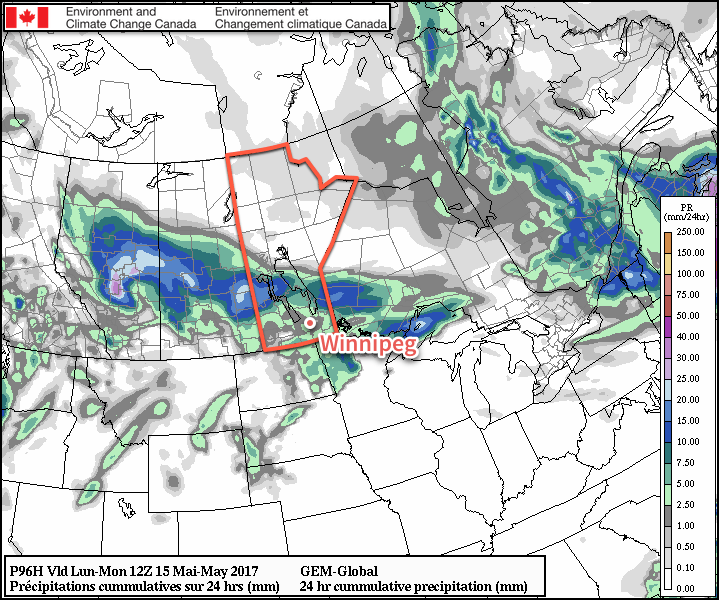 Once the front passes, temperatures will cool a bit as the winds taper off. Expect a low near 6°C on Sunday night with partly cloudy skies.
Long Range
The forecast through the first half of next week shows several disturbances moving through the region, however exactly where and how much rain falls with them is still very uncertain.
Expect plenty of cloud, particularly into the middle of the week. Temperatures will be mild both Monday and Tuesday, however a brief cool-down will likely happen mid-week with highs dropping into the low teens.
Winnipeg's seasonal daytime high is currently 19°C while the seasonal overnight low is 5°C.