In what is quickly becoming the summer that just can't quite get going, seasonal warmth will be ushered out of the region by unsettled conditions nearly as quickly as it arrives as another large low pressure system moves into the Prairies.
Winnipeg will see a return to more seasonal temperatures today as the weather system that had brought the cooler temperatures moves off to the east. Today will be perhaps the most pleasant of the next few as sunny skies will combine with light winds and a high near 22°C. Expect temperatures to dip down to around 10°C tonight with some cloud cover moving into the region near morning.
Tomorrow will bring slightly warmer temperatures alongside breezy southeasterly winds that pick up to around 30 gusting 50 km/h. The increasing warmth and wind is thanks to a trough of low pressure pushing eastwards across the Prairies associated with an upper low moving out of Alberta. Winnipeg will see a daytime high climb towards 24°C with mixed to cloudy skies for much of the day, although it's likely that we'll see a few sunny breaks in the afternoon. Temperatures will dip to a low near 15°C on Tuesday night under cloudy skies with an increasing chance of rain towards morning.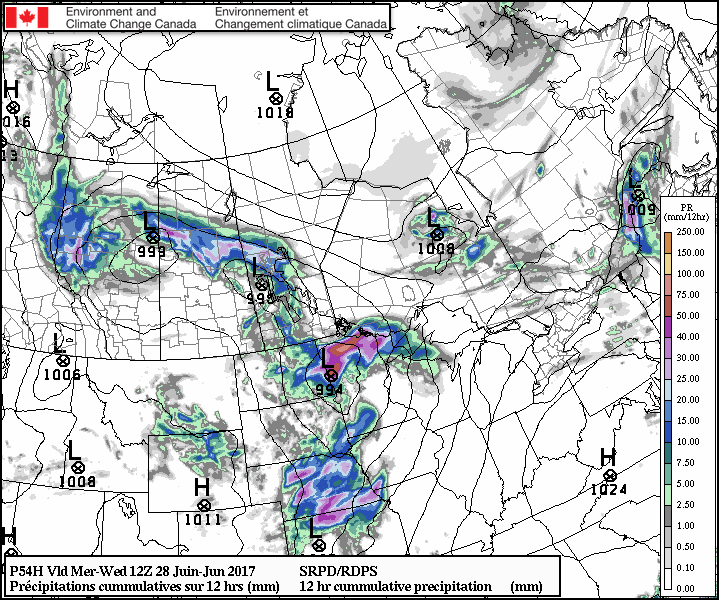 Wednesday will bring the low pressure system through Manitoba, spreading showers and/or thunderstorms throughout the region, primarily through the morning hours. After that Winnipeg will be left with cloudy skies and a slight chance of showers. Temperatures will reach a high near 19°C with cloudy skies continuing on Wednesday night as the low drops to around 14°C.
Long Range
The unsettled weather continues for the second half of the work week. Slightly cooler-than-seasonal temperatures will beg in place right through the weekend with highs generally in the low 20's and overnight lows near 10-12°C.
It won't be soaking wet, but Winnipeg will see a chance of showers late Thursday, much of Friday, and on Canada Day Saturday as well. None of these days look like particularly large soakings or anything of that sort, just generally unsettled conditions.
Winnipeg's seasonal daytime high is currently 25°C while the seasonal overnight low is 12°C.