Get the sunscreen & shorts out, there's a beautiful summer weekend ahead for Winnipeg & the Red River Valley.
Today will be a beautiful mostly sunny day…after a weak disturbance tracking through the region overnight clears out early this morning, likely bringing some showers or thundershowers through the city with it. In its wake, skies will clear as temperatures head to a high near 25°C with light winds out of the northwest. Not much to say about today; it's going to be a nice one!
Tonight will bring clear skies to the region with a low near 15°C and light winds the shift to southerly through the early evening as a weak warm front moves through.
If there was little to say about today, Saturday has even less. Temperatures will climb to a high near 28°C under clear skies. Winds will back to the northwest midday and increase to 15-25 km/h for the afternoon as a weak trough swings through the Red River Valley. Expect a low near 14°C on Saturday night with light winds and partly cloudy skies.
Sunday will bring a few more clouds to the region as a disturbance moves through North Dakota, but it appears conditions will be dry for Winnipeg & much of the Valley. A few showers or thunderstorms will be likely Saturday night into Sunday morning over the southwestern corner of the province and some of this activity could creep into the southwestern Red River Valley early Sunday, but it seems unlikely at this point. Temperatures will remain warm with highs once again near 28°C with light winds.
Skies will clear for Sunday night with temperatures heading to a low near 15°C.
Long Range
As we've been advertising all week, it continues to look like next week will be a warm one. A warm and sunny start to the week will then see a disturbance moves through the Prairies on Tuesday and Wednesday. Behind that system, the upper-level ridge responsible for the warm, dry weather will rebound and strengthen as it shifts eastwards from the western Prairies.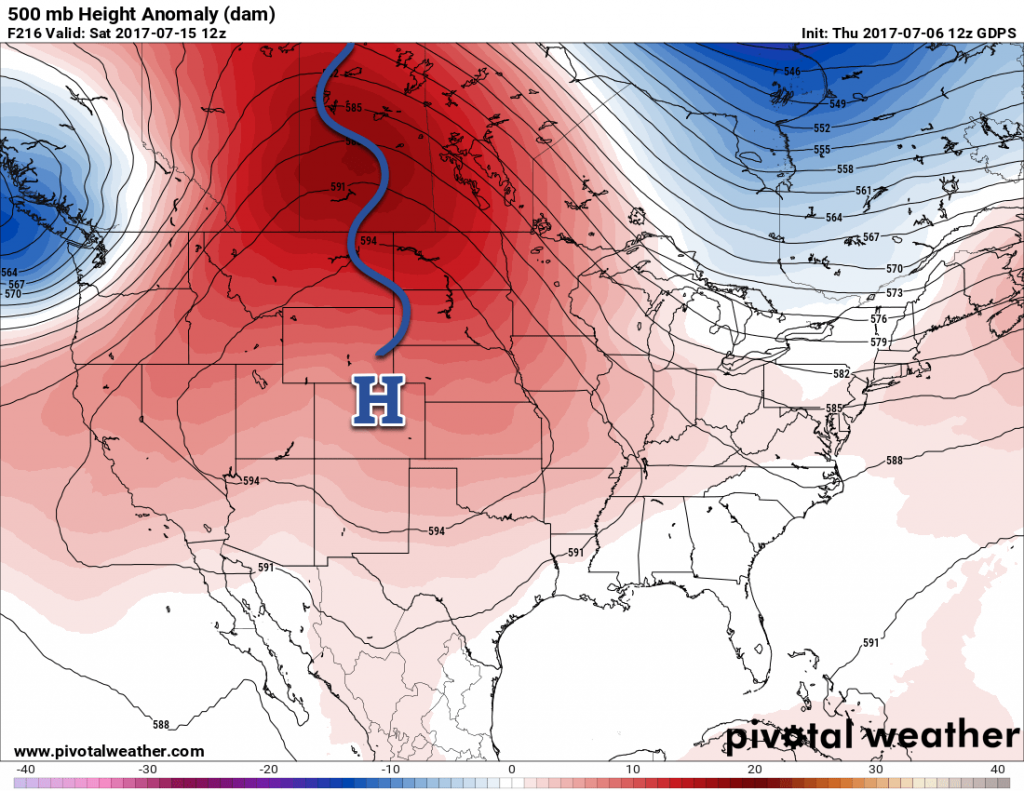 As the upper ridge shifts eastwards, it will spread even more intense warmth into southern Manitoba. Current indications show the latter half of the week seeing daytime highs in the low 30's and overnight lows near 20°C.
Winnipeg's seasonal daytime high is currently 26°C while the seasonal overnight low is 13°C.
Cover photo by Flash Bros