Although daytime highs will continue at slightly below-seasonal values in Winnipeg over the coming days, it will remain quite pleasant as the region still sees plenty of sunshine and light winds.
The weather over the next few days will be quite consistent as the overall pattern remains unchanged with the jet stream — and thus the storm track — diving southwards through Saskatchewan and into the central United States. The result is a persistent weak northwest to northerly flow over the region that will keep daytime highs slightly below-normal but bring pleasant summer days.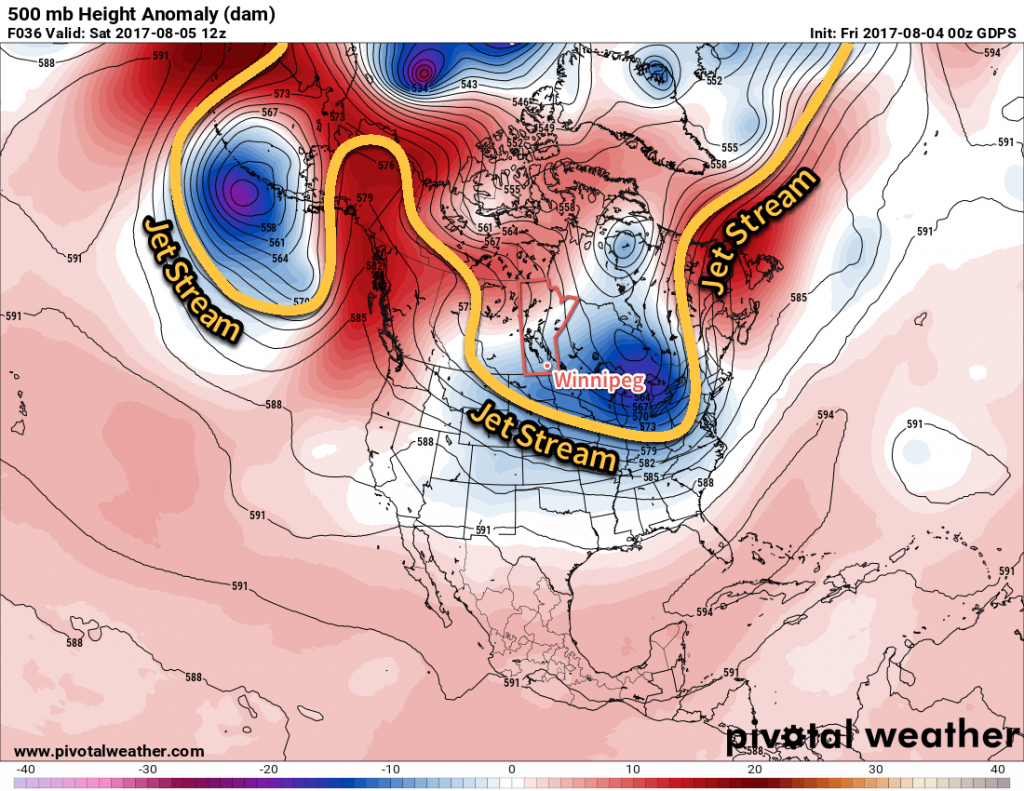 All the way through Sunday, daytime highs will sit around the 24°C mark with overnight lows between 11-13°C. Will be northwest to north at 10-20 km/h each day, and ease to west-northwest at 0-10 km/h at night. Each day should bring sunny skies in the morning, with a few clouds to partly cloudy skies in the afternoon. While rain in the Red River Valley is unlikely over the next couple days, an isolated shower or thundershower can't be ruled out.1 And that's pretty much it; overall there are some great days ahead!
Long Range
The nice weather continues Monday, but early indications are that a disturbance will roll across Southern Manitoba on Tuesday/Wednesday, potentially bringing some rainy weather with it. Behind that, it appears that the region will see more of the same: slightly below-seasonal highs and pleasant conditions.
Winnipeg's seasonal daytime high is currently 26°C while the seasonal overnight low is 13°C.
Any thundershowers that develop will not be severe. ↩