Mild weather returns to Winnipeg and the Red River Valley today thanks to a warm front that moved through the region overnight. It will be short-lived, however, as a cold front sweeps through on Monday night, bringing with it a chance of showers and a return to below-seasonal temperatures.
Today will be a very pleasant day across the Red River Valley as a sunny start to the day sends temperatures climbing towards a high near 27°C. A cold front slowly pushing southwards will start spreading cloud into the region from the north for mixed skies this afternoon and then clouding over this evening. Winds will pick up out of the west around 20 km/h.
Tonight will bring a chance of showers with the risk of isolated thunderstorms to Winnipeg & area as temperatures dip to a low near 14 or 15°C.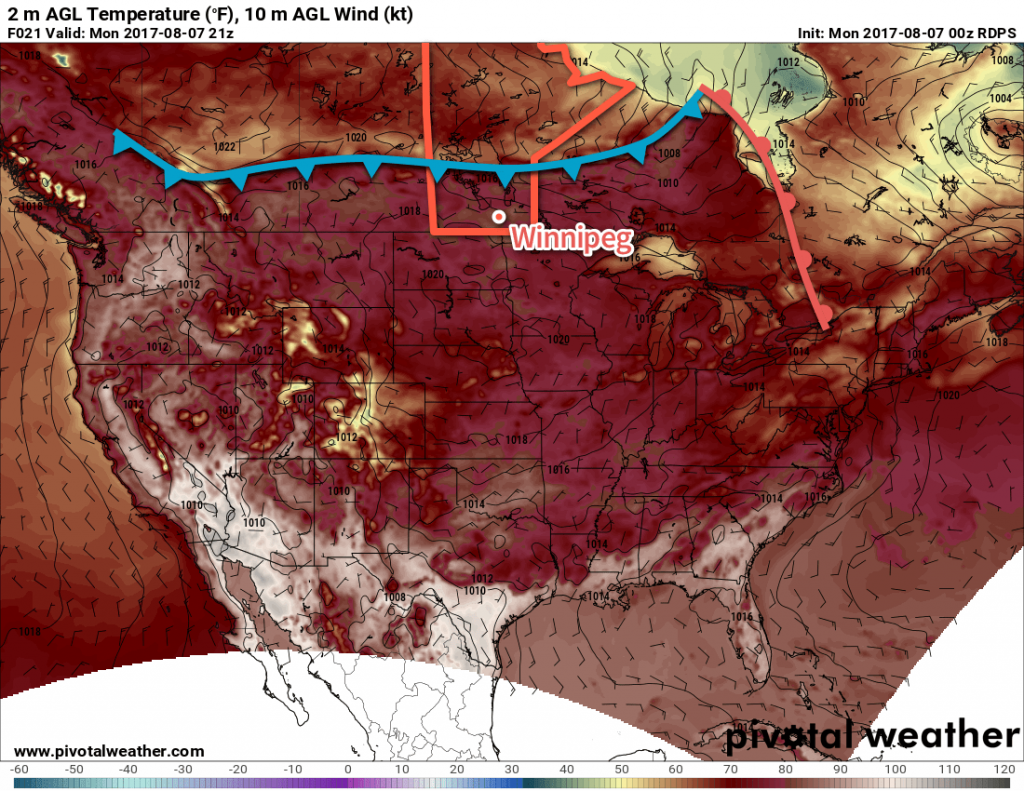 Tuesday will bring mixed to cloudy skies to the region as the cold front swings through, with a continued low chance of showers. Temperatures will be much cooler with a high of just near 22°C as winds shift to northerly at 10-20 km/h. Temperatures will then drop towards a low near 12°C under cloudy skies on Tuesday night with a continued low chance of showers.
Things will finally clear out on Wednesday as the front pushes off to the southeast. Expect temperatures to reach a high near 24°C with a low near 12°C on Wednesday night.
Long Range
It appears that things will settle down again with near-seasonal temperatures for the remainder of the week into the weekend as a very broad area of high pressure moves through the Prairies.
Winnipeg's seasonal daytime high is currently 26°C while the seasonal overnight low is 13°C.