Winnipeg will see temperatures return to near-seasonal values with a smattering of showers moving through the region; rather favourable conditions compared to the sub-freezing temperatures and snow building into Alberta!
The primary weather feature that will dominate over the next few days is a large low pressure system over central Saskatchewan. While this system will end up producing a wide swath of snow through Alberta into far southwestern Saskatchewan, things will remain more mild on the eastern side of the system with occasional rain the concern instead of a winter storm.
Today will bring some morning showers to Winnipeg as a shortwave lifts northwards out of the Dakotas. The rain should taper off by lunch, with a bit of sun poking out through the afternoon. Temperatures will climb to a high near 16°C with light winds picking up out of the southwest to around 30 km/h. Clouds will begin working back into the region tonight as winds taper off and temperatures dip to a low near 6°C.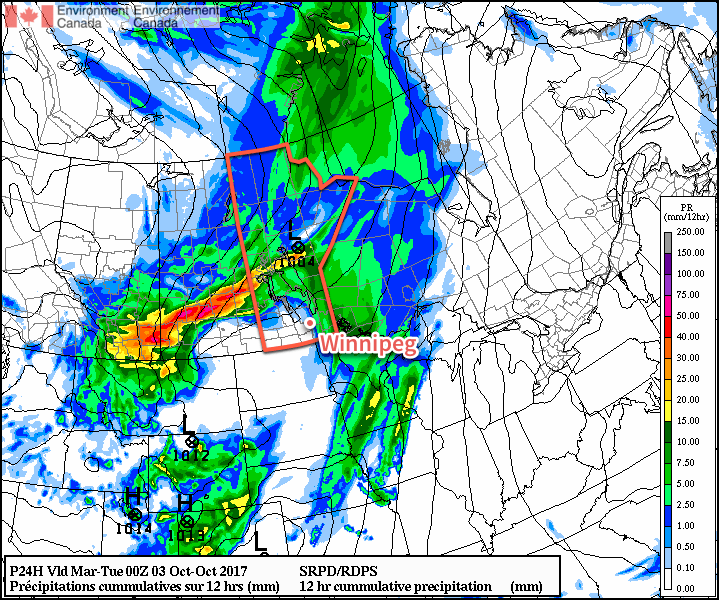 Mostly cloudy skies will be in place for Winnipeg on Tuesday with a chance for some more showers. Temperatures will be cooler with a near-seasonal high of 13°C and winds will remain light. Expect a low near 5°C on Tuesday night with continued cloudy skies.
Things finally change on Wednesday as the remnants of the Alberta/Saskatchewan storm move out of the region. Skies will clear out of Winnipeg through the morning, leaving us with a fair amount of sunshine for the latter half of the day. Temperatures will once again reach a high near 13°C with winds out of the southwest at 20-30 km/h. Expect partly cloudy skies on Wednesday night as temperatures head to a low near +4°C.
Long Range
The remainder of the week looks to bring seasonal temperatures and variable cloudiness. No significant rains are expected. Early indications are that Winnipeg may see another disturbance bring more rain to the region at the end of the weekend.
Winnipeg's seasonal daytime high is currently 14°C while the seasonal overnight low is 3°C.