After several days of cloudier conditions, Winnipeg and the Red River Valley will see the sun return for the second half of the week.
The low pressure system that brought a few showers to Winnipeg over the past couple days — although more notably a major winter storm to the southwestern Prairies — is finally making its way out of the region. The upper-level support will finish moving out of the province this morning with mostly cloudy skies giving way to afternoon clearing. Temperatures will climb to a high near 13°C this afternoon with winds picking up out of the southwest to around 30 km/h.
Temperatures will be quite cool tonight as a shot of Arctic air moves through the region. Under clear skies and diminishing winds, overnight lows will dip down to around the +1°C mark in Winnipeg, however that's for most of the urban areas. At the edges of the city, as well as into the Red River Valley, overnight lows may dip down to the 0 to -2°C range. There will be a risk of frost throughout the region, including Winnipeg.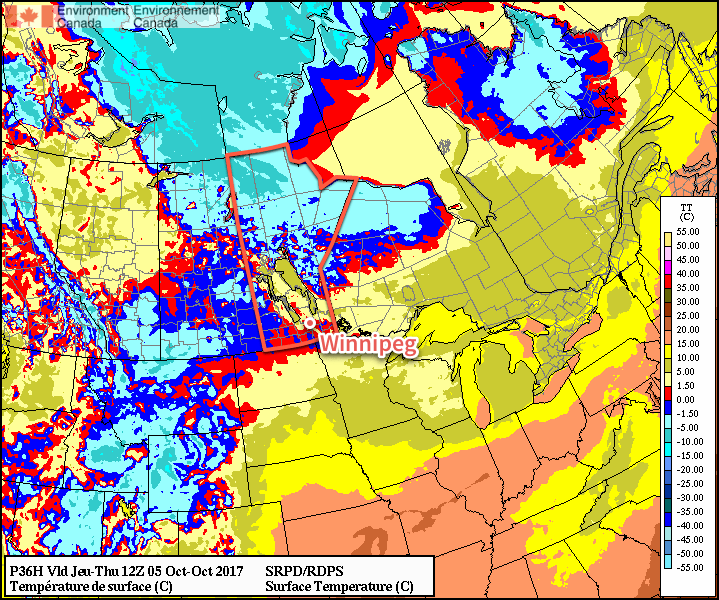 Thursday will bring mainly sunny skies to Winnipeg with light winds as a ridge of high pressure slumps through the southern Prairies. Temperatures will be near seasonal with highs climbing to around 13°C again in Winnipeg and overnight lows dipping back down to around the +3°C mark.
Friday will also bring sunny skies to the region with a light southerly wind developing in response to a low pressure system building into the far northern Prairies. Daytime highs will climb up to around 16°C as slightly warmer air pushes northwards, and overnight lows will follow suit dropping to only around 6°C.
Long Range
Conditions look fairly dry for the next while, although a more significant pattern change will move in for early next week. Temperatures look to climb into the upper teens on Saturday with breezy southerly winds, with a cold front then passing through on Saturday evening. At this point, the passage of the front looks dry, and will be followed by a second cold front moving through the region on Sunday night.
That will leave the Prairies underneath a large upper-trough for Thanksgiving Monday. Temperatures will be below normal with highs just in the upper single digits under cloudy skies with a breezy northwesterly wind and a chance of showers. The road to recovery will be slow, with temperatures gradually rebounding towards seasonal through the remainder of the week.