Environment Canada has issued a heavy snowfall warning for Winnipeg: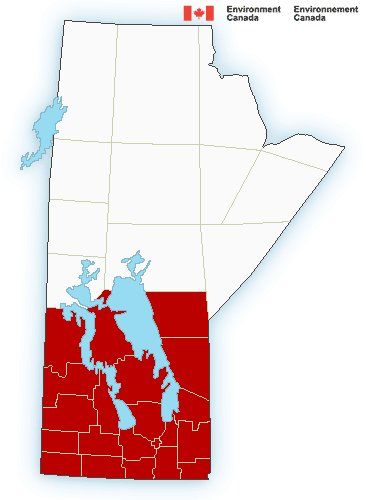 Snowfall, with total amounts of 10 to 15 cm is expected.

Moderate to heavy snow will spread into southern Manitoba Friday night into Saturday morning. Approximately 10 to 15 centimetres is expected by the time snow begins to ease Saturday evening, with locally higher amounts where terrain features may enhance snowfall intensity.

Be prepared to adjust your driving with changing road conditions. Prepare for quickly changing and deteriorating travel conditions. Rapidly accumulating snow could make travel difficult over some locations. Visibility may be suddenly reduced at times in heavy snow. If visibility is reduced while driving, slow down, watch for tail lights ahead, and be prepared to stop.

Please continue to monitor alerts and forecasts issued by Environment Canada. To report severe weather, send an e-mail to ec.storm.ec@canada.ca or tweet reports using #MBstorm.
As we mentioned in our forecast this morning, this system has been one that forecast models have had a trouble getting a handle on, however this morning's 12Z runs have moved towards a consensus (save for the GFS, which seems like a bit of a southern-biased outlier for Saskatchewan).
That said, it looks very likely that not only Winnipeg, but the entirety of southern Manitoba will see a blanket of snow tomorrow as this incoming system produces 10 to 15 cm of snow in most places. Some areas, like the far southwest corner, may end up just hitting the 10 cm mark, while upslope-enhanced areas such as the Riding Mountains may see closer to 15 to 25 cm of snow.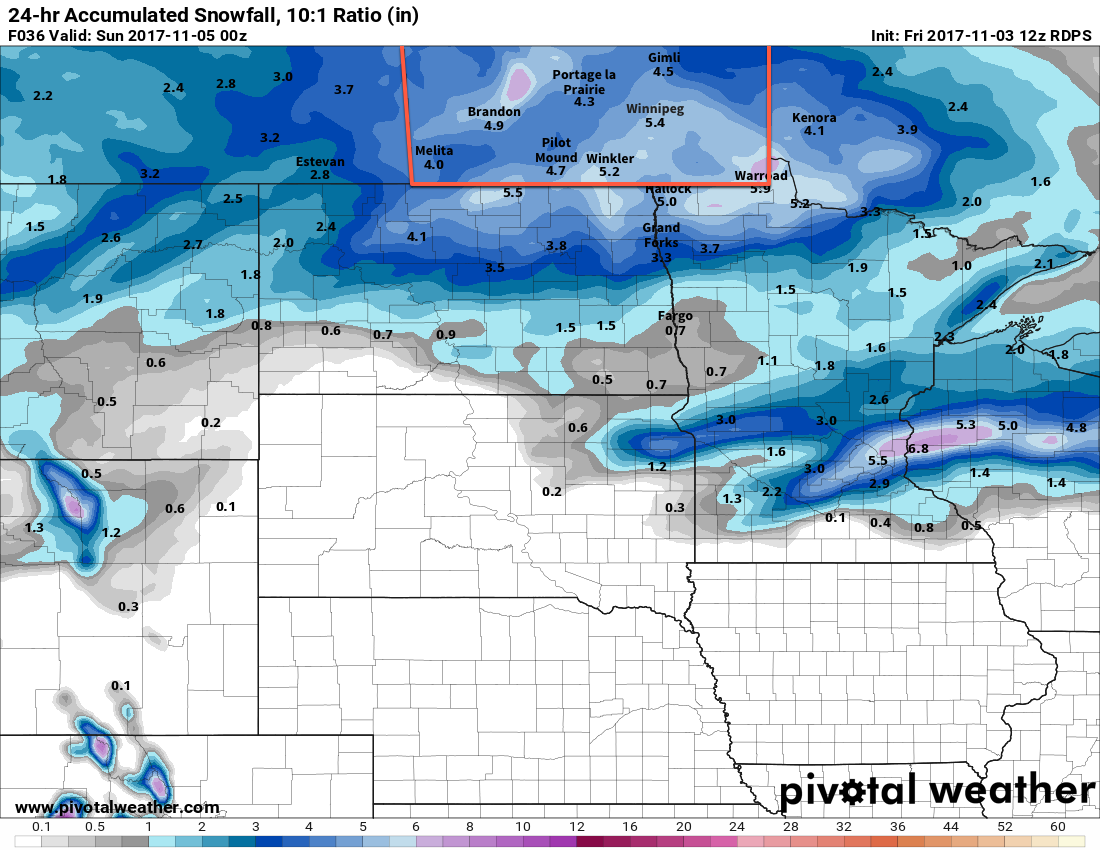 With daytime highs near 0°C in Winnipeg, it will also likely be a fairly heavy snow — good for snowmen! – and by the time all is said and done, it's likely that there is around 10 to 13 cm of new snow on non-road surfaces. Assuming the roads are treated properly, expect a slushy mess that freezes on Saturday night into Sunday.
Highway conditions will likely deteriorate fairly quickly Saturday morning as well, so if you need to travel be sure to give yourself extra time, drive safely, and carry an emergency car kit.
The snow will taper off on Saturday evening, followed by gusty westerly winds developing overnight into Sunday morning. These breezy winds of around 30 gusting to 50 km/hmay produce local areas of blowing snow, so again drive with care.
You can refer back to our Friday morning forecast for details on the remainder of the weekend.