Arctic air will continue to build southward over the eastern Prairies in the coming days, bringing below-seasonal temperatures, variable cloudiness, and on Wednesday, some light snow.
Cloud will build into Winnipeg from the northwest later today as a cold front slumps southwards out of northern Manitoba, possibly bringing the occasional snowflake, but nothing that resembles accumulating snow. Temperatures remain cool with a high near -6°C, almost 9°C below seasonal for this time of year. Winds will continue out of the west at around 15 to 20 km/h through the day today. Skies should clear out overnight as temperatures head to a chilly low near -17°C. Winds will remain out of the west at 10 to 15 km/h.
Tuesday will see morning sun transition to mixed skies as another disturbance approaches from the northern Prairies. Temperatures will be similar to Monday with highs near -6°C again, but Tuesday night will be considerably warmer with lows near -9°C courtesy overcast skies that will move into the region. Winds will shift from west to northwest on Tuesday night, setting the stage for cooler air to move in on Wednesday.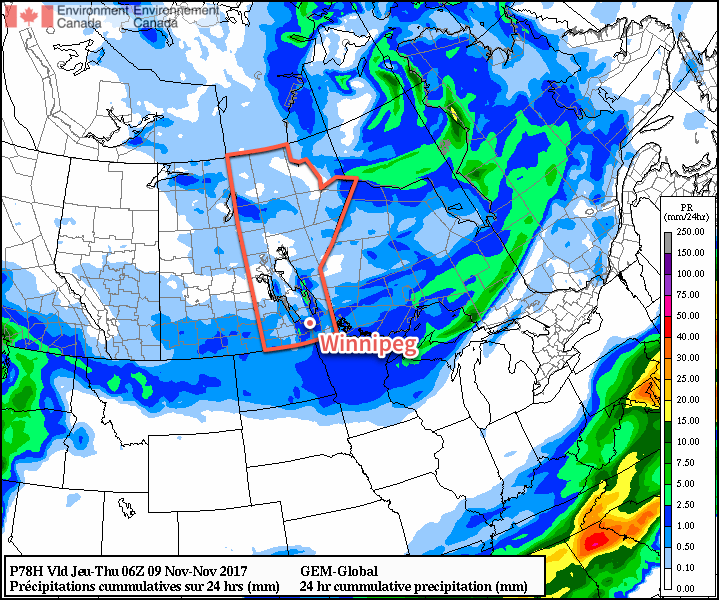 Expect cloudy skies on Wednesday with some light snow and a cool high near -8C. Those northwesterly winds will likely fire up the lake-effect snow once again, enhancing the flurries to the south of Lake Manitoba and Lake Winnipeg.
Expect the clouds to persist much of Wednesday night with temperatures dropping to a low near -16°C.
Long Range Outlook
The remainder of the week will continue to bring mixed skies with the occasional chance for flurries. By Saturday, temperatures should begin to climb back towards the freezing mark, with near-seasonal temperatures expected to start next week!
Winnipeg's seasonal daytime high is currently 1°C while the seasonal overnight low is -7°C.