A few flurries today will mark the arrival of another shot of colder temperatures as an approaching upper-level trough keeps Arctic air entrenched over the region. Improvement is on the horizon, with near-seasonal temperatures moving back into the region on the weekend.
Today will bring cloudy skies and flurries to much of the Red River Valley as colder Arctic air slumps southwards in the wake of a cold front that moved through on Tuesday evening. The flurries will be relatively light with little accumulations, however a light northerly flow and very cool temperatures aloft will support some lake-effect snow off of Lake Manitoba and Lake Winnipeg through the day and into the evening.
During the day, the snow from Lake Manitoba will primarily affect regions south of the lake between Oakville and Austin, including Portage la Prairie. Heading into the evening, winds shift more to the west-northwest, and while the snow will weaken with less favourable fetch, it's likely that light snow coming off the lake will shift eastwards towards Winnipeg.
Lake Winnipeg will primarily see moderate flurries off the North Basin moving through the Narrows and adjacent areas and eastwards into Berens River for much of the next 24 hours. The South Basin will produce some lighter snow that will spread southwards off the lake, shifting southeast towards Pinawa and then eastwards towards Bisset as winds swing around in the evening.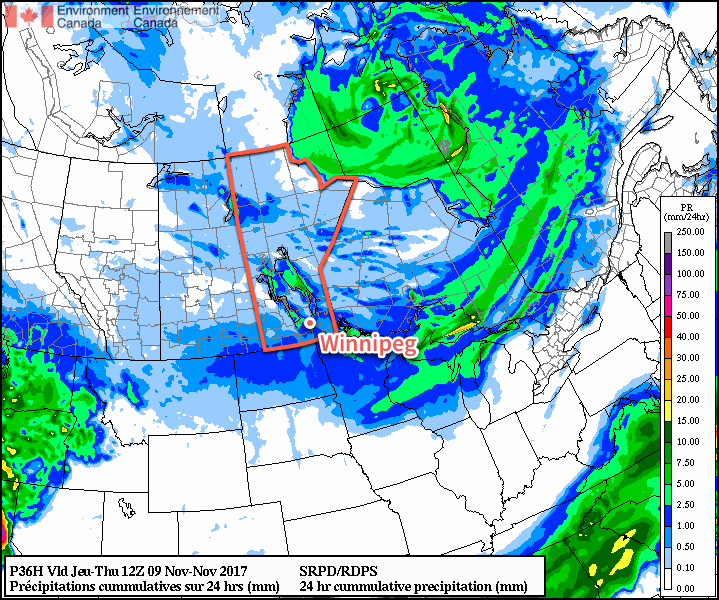 The widespread snow will exit the province by late Wednesday afternoon with lake-effect flurries from Lake Manitoba and the south basin of Lake Winnipeg persisting into Thursday morning.
Temperatures will climb to a high near -8°C with light northwesterly winds. Winnipeg will see a continued chance of flurries on Thursday night with a low near -18°C.1
Thursday will be a very cool day with high temperatures across the Red River Valley climbing to just-10 or -9°C. Winds will remain light with the only clouds in the region those that move off of the lakes. Skies should be clear heading into Thursday night with temperatures plummeting to a low near -20°C.2 Cloud will begin to move into the region late Thursday night/early Friday morning ahead of a warm front approaching the region.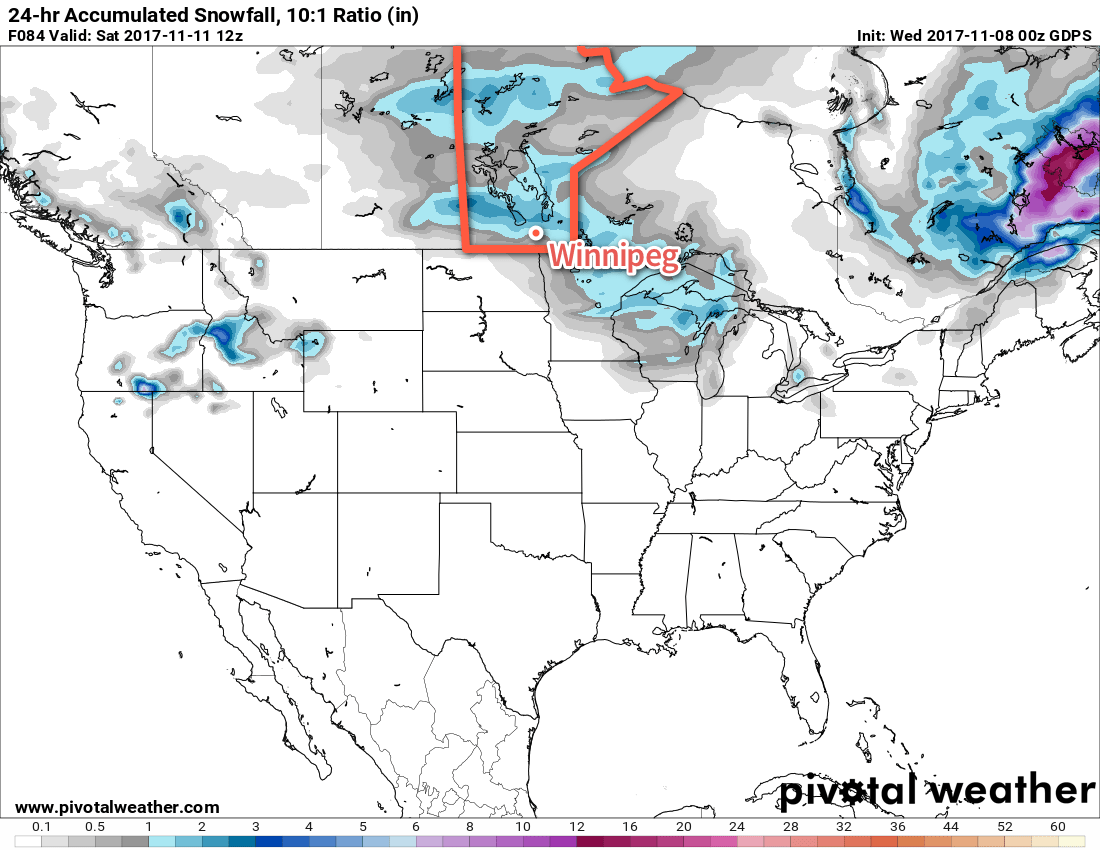 Friday will bring a weather system that will trigger a change in the large-scale weather pattern, shunting the cold air out of the region and sending Winnipeg back towards seasonal temperatures. Expect cloudy skies with light snow building into the region as the warm front moves through. Temperatures will climb to a high near -6°C, but breezy southerly winds strengthening to 40 gusting 60 km/h will make it feel much cooler as wind chill values dip to around -15. Friday night will continue cloudy with a slight chance of light snow as temperatures remain steady around -6°C. Winds will gradually taper off by Saturday morning.
Long Range Outlook
Heading into the weekend, it looks like Winnipeg will move into a variably cloudy and dry pattern, with temperatures returning towards seasonal values. Saturday and Sunday both look to bring highs in the -2 to -4°C range, then highs are expected to climb to the freezing mark for the start of next week. Overnight lows will be follow suit, climbing back into the -8 to -4°C range.
Winnipeg's seasonal daytime high is currently +1°C while the seasonal overnight low is -7°C.
Further to the south in the Red River Valley, away from the lakes, temperatures could drop into the -20 to -22°C range overnight. ↩
Again, overnight lows could drop even colder further south of Winnipeg in the Red River Valley, into the -22 to -25°C range. ↩