Winnipeg will continue to see mild conditions for a couple more days, then a low pressure system moving through will usher in another surge of Arctic air.
Winnipeg will see sunny skies and seasonably mild conditions as a weak ridge moves across the province. Highs near -7°C combined with light winds will make for a beautiful January day that's hard to complain about. Temperatures will dip to a low near -12°C tonight with a light southerly wind developing. Some cloud will begin to push into the region late overnight into early Tuesday morning.
Another surge of slightly milder air will move back into the region on Tuesday ahead of a developing low pressure system in Alberta. Temperatures will climb to around -4°C under mainly cloudy skies with winds out of the southeast at 20 to 30 km/h. An area of snow will spread eastwards across the central Prairies through the day, but at this point it looks like the snow will mostly remain north of a warm front which will be draped through western Manitoba and across the Interlake region. Temperatures will remain mild on Tuesday night near -4°C under cloudy skies with a chance of flurries and light winds.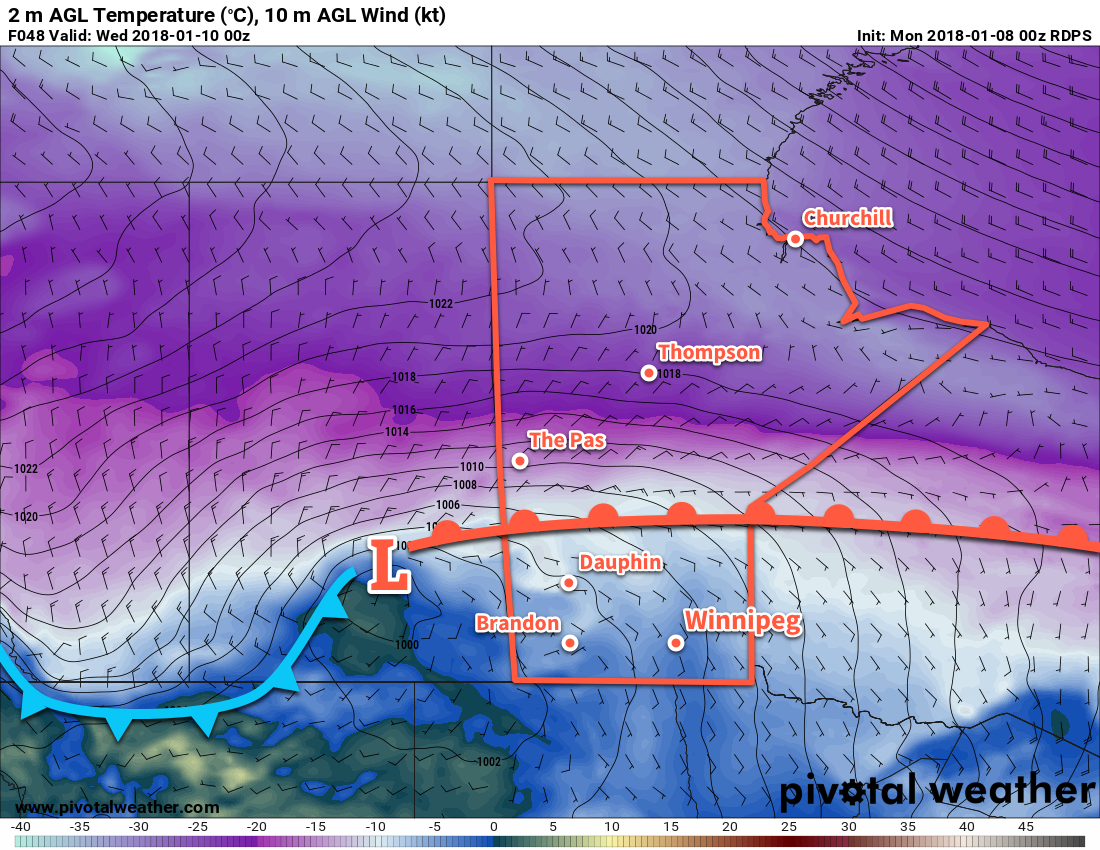 An Arctic cold front will sweep through early Wednesday morning, ushering in northwesterly winds of 30 to 40 km/h and sending temperatures in Winnipeg plummeting to around -19°C by evening. Skies will remain cloudy with a chance of flurries throughout much of the day. Skies will remain cloudy much of Wednesday night as temperatures drop to a low near -24°C by early Thursday morning.
Long Range Outlook
Below-seasonal temperatures will remain in place for the remainder of the week with daytime highs in the -22 to -18°C range and overnight lows in the mid-minus 20s right through the weekend. Conditions also look fairly dry, although a light skiff of snow may be possible on Friday as a low pressure system passes by through North Dakota.
There are hints of a more prolonged mild period developing next week, but models are still waffling on just how far north the warm air will make it and whether it will be continental feature, or primarily restricted to the United States. We'll just have to wait and see on that one.
For now, get out there and enjoy the nice weather before that cold front arrives on Wednesday!
Winnipeg's seasonal daytime high is currently -13°C while the seasonal overnight low is -24°C.