The pleasant temperature Winnipeg has seen the past few days are coming to an end: a potent cold front will blast through today, bringing strong northerly winds usher Arctic air back into the region.
While today will start off with mild temperatures near the freezing mark, a cold front will push through early this morning, ushering in northerly winds of 50 gusting to 70 km/h that will send temperatures plummeting into the low minus teens through the afternoon. There will be a fairly good chance of flurries today, but no notable accumulations are expected.
Temperatures continue to fall tonight, heading towards a low of -23°C under cloudy skies. A disturbance moving through the Dakotas will spread snow into southeastern Manitoba, possibly clipping portions of the Red River Valley. In Winnipeg, it looks like up to around 2 cm of snow may fall, but further south in the Red River Valley up to 4 to 8 cm of snow may fall overnight. Moderate northerly winds will continue through the night.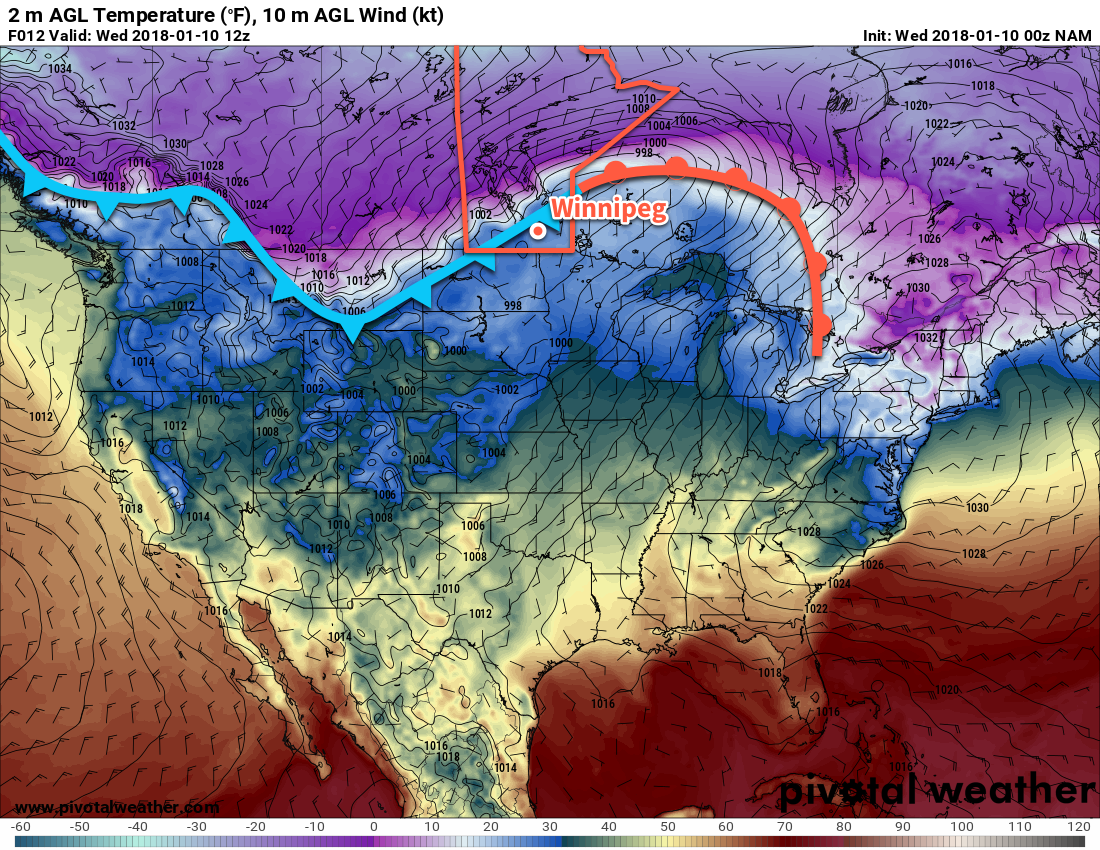 Thursday will bring clearing skies to Winnipeg & area as the winds slowly taper off. Temperatures will be cold with daytime highs near -21°C. Thursday night will bring mainly clear skies with light winds as temperatures fall to a low near -30°C. The cold weather continues on Friday with a daytime high near -20°C under sunny skies. Expect a low near -31°C on Friday night with the potential for extreme cold warnings.
Long Range Outlook
Conditions look cold and dry through the weekend and into the beginning of next week. Winnipeg will see variable cloudiness through the weekend as a weak disturbance passes to the south, but no accumulating snowfall is expected.
Long-range guidance suggests that temperatures will begin to climb back to seasonal to above-seasonal values in the second half of next week.
Winnipeg's seasonal daytime high is currently -13°C while the seasonal overnight low is -24°C.