Temperatures are finally beginning to move back towards seasonal with 2018's warmest temperatures thus far on the way!
Finally. The relentless chill that has remained over the province for a significant portion of March and April is giving way! Milder temperatures will build back into the region this week, sending daytime highs to the warmest values seen so far in 2018. While temperatures will still remain slightly below-normal, it will be a huge improvement over the days earlier this month that were 10 to 15°C colder than seasonal values!
It all begins today with a ridge of high pressure bringing sunny skies and light winds to Winnipeg. Temperatures will climb to a high near 7°C. This is still below the seasonal +10 to +11°C, but still significantly better than seen over the past weeks. Temperatures will dip to a low near -5°C tonight under clear skies.
Tuesday will bring partly cloudy skies to Winnipeg. The Red River Valley will be on the eastern edge of a system lifting into Northern Manitoba spreads overcast skies through parts of Saskatchewan and western Manitoba. Winds will be a bit more noticeable than Monday out of the east-southeast at 15 to 25 km/h. Temperatures will be quite mild, though, with a near-seasonal high of 10°C. Skies will cloud up Tuesday night as temperatures head to a low near 0°C.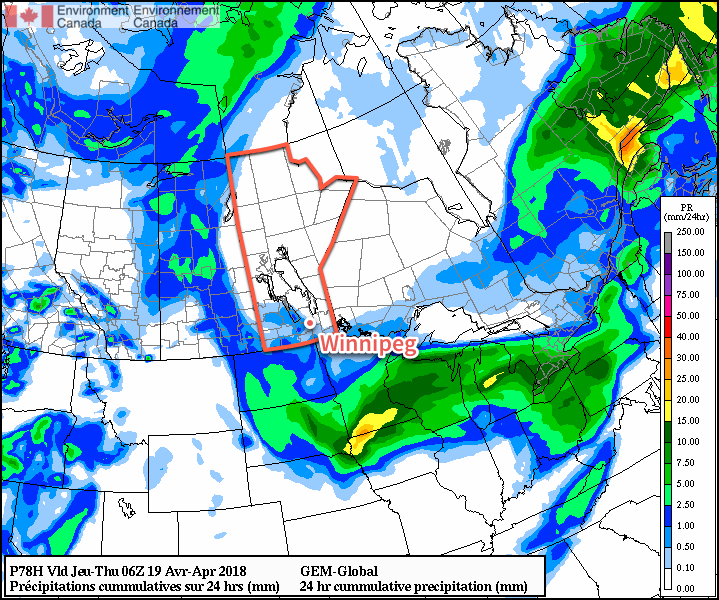 Wednesday will bring cloudy skies to Winnipeg & the Red River Valley as systems pass by to the north and south of the region. There may be a slight chance for some showers later in the afternoon into the evening, but a light northeasterly wind will continue to push dry air into the Red River Valley and do its best to keep things at bay.1 Temperatures will climb to a high near 7°C again, then head to a low near 0°C on Wednesday night under cloudy skies.
Long Range Outlook
Long-range outlooks show the potential for some showers or snow on Thursday morning, then clearing working into Winnipeg later in the day. After that, it's a trend towards seasonal to above-seasonal temperatures with highs in the mid- to upper-teens possible by the weekend!
Winnipeg's seasonal daytime high is currently 11°C while the seasonal overnight low is -1°C.
This dry air often spreads underneath precipitation, evaporating it either partially or fully before it reaches the ground. ↩