The drought continues in Winnipeg as temperatures begin to climb back toward the upper 20s. But for those with plans to head downtown on Saturday for the Jets game? It'll be a beautiful evening!
There's no relief for the drought in sight for Winnipeg. The dry spell the city has seen is now into its 28th day, and will likely enter into the top 5 longest dry spells on record next Wednesday.
Today (May 9) will be Winnipeg's 27th straight day without measurable precipitation. Last day with measurable precip here was April 12th with 1.2 mm of melted snow. With no precip expected over next 6 days, we may be approaching top 5 dry spells in Winnipeg history #mbwx pic.twitter.com/LTG1zzxytY

— Rob's Obs (@robsobs) May 9, 2018
Winnipeg will see partly cloudy to mixed skies as cloud cover left over from a disturbance that moved into Saskatchewan yesterday gradually clears out. Temperatures will stay a tad below seasonal with a high near 16°C. Skies will clear overnight as temperatures drop to a low near +4°C.
The weekend will bring sunny skies to Winnipeg with gradually warming temperatures. Saturday should see a high near 21°C and Sunday will be even warmer with a high near 27°C. Both nights should see overnight lows in the low teens.
Winnipeg Jets Whiteout Party!

It will be a beautiful evening for Game 1 of the Western Conference Finals as the Jets take on the Golden Knights 6:00PM Saturday evening. Temperatures will be right around 21°C when the game starts and cool to around 16°C by 10 PM. Winds will be light and skies will be clear; fantastic weather for the Whiteout Party! Lets just hope the outcome of Game 1 is as nice as the weather!
Winds will be relatively light on Friday and Saturday, but a low passing through northern Manitoba will bring west-southwest winds of 30 gusting to 50 km/h to the Red River Valley on Sunday.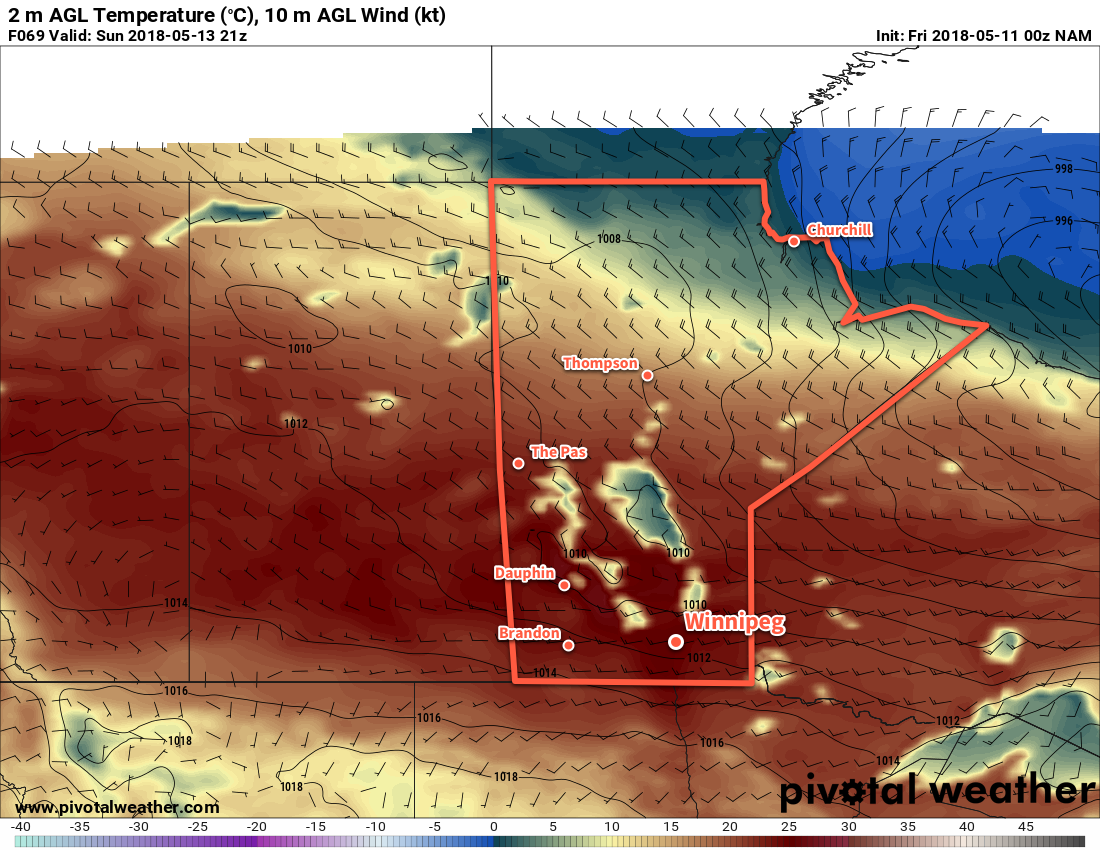 Not a drop of rain is forecast to fall over the next 3 days.
Long Range Outlook
Next week will start warm with highs in the upper 20's or possibly even the low 30's. Some forecast models bring the potential for some showers to Winnipeg mid-week. Unfortunately, it's the result of a complex interaction of two systems that converge over southern Manitoba. This makes it so, again, it's not too hard to see a situation where the Red River Valley escapes any rainfall. Perhaps hold off on placing any bets regarding wet weather next week.
After that disturbance passes, Winnipeg looks to return to near-seasonal temperatures with variable cloudiness.
Winnipeg's seasonal daytime high is currently 19°C while the seasonal overnight low is 5°C.