Warm temperatures continue in Winnipeg under sunny skies through the first half of the week.
An upper-level ridge building eastwards across the Prairies will bring mainly sunny skies to Winnipeg and the Red River Valley over the next few days. Temperatures will range from seasonably warm – daily highs will be low 20's both today and Wednesday – to hot with temperatures peaking near 30°C on Tuesday.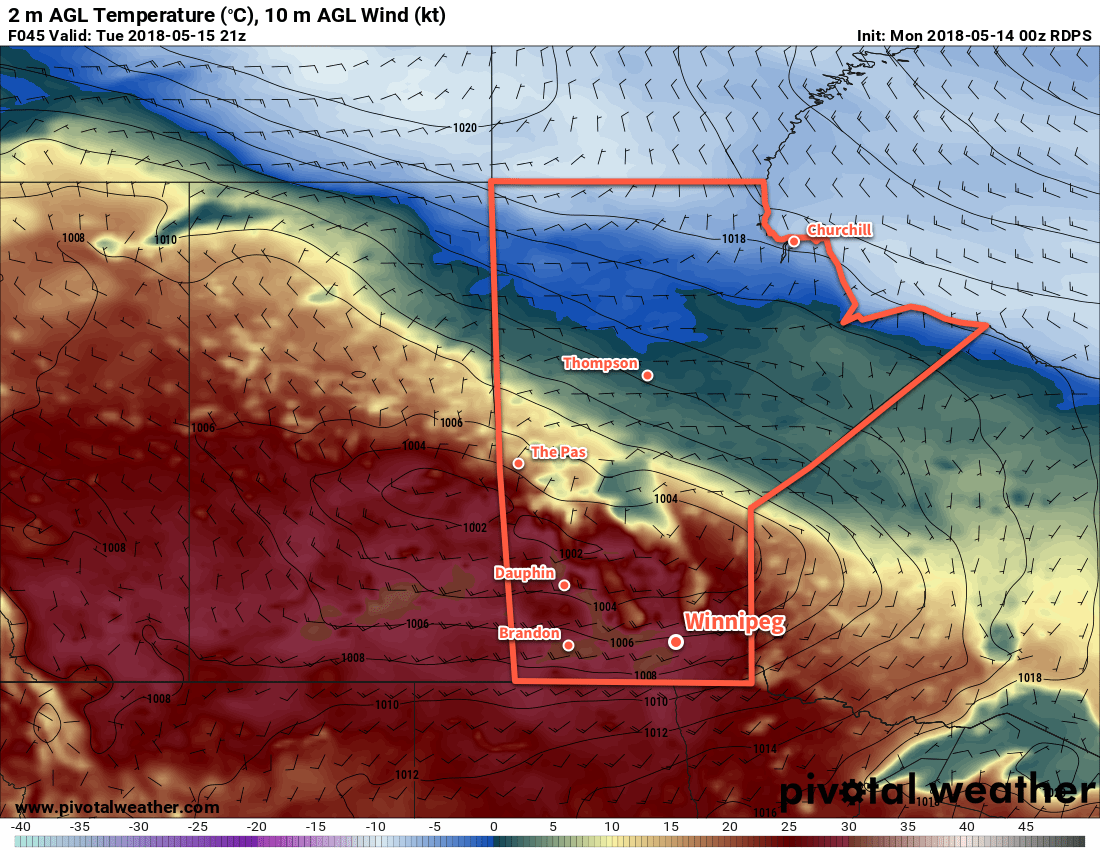 The bone dry conditions will continue with no rain expected through Wednesday. As highlighted in our last forecast, this means that Winnipeg will likely enter into one of the top 5 longest dry spells on record, tying 1882's fourth place record of 34 days.1 A couple of low pressure systems will roll through the region, but any rain associated with them will likely stay north of Winnipeg.
Winnipeg Jets Whiteout Party!

It will be another great evening for Game 2 of the Western Conference Finals as the Jets take on the Golden Knights at 7:00PM. Temperatures will be around 20°C when the game starts and cool to around 13°C by 11 PM. Winds will be start near 20
km/h
and quickly diminish as the evening progresses under clear skies. All in all, fantastic weather for the Whiteout Party that's not too different from the last one! Lets just hope the Game 2's outcome is as much of a repeat as the weather!
Winds will be noticeable over the coming days. Today will see northerly winds near 30 km/h develop this afternoon. Tuesday will bring breezy south to southwesterly winds of 30 to 40 km/h as a low crosses through the Interlake region. Wednesday will then bring northeasterly winds of 20 to 30 km/h as a low pressure system develops in Montana. The winds should subside each evening.
Long Range Outlook
Beginning Wednesday night, most models show increasingly unsettled weather. On Thursday through Friday, two disturbances will begin producing showers across southeastern Saskatchewan into southern Manitoba. The first is an upper disturbance that will track eastwards from Alberta to Manitoba. The second is a low that will track from the American Central Plains northeastwards into Minnesota.
Unfortunately, it's difficult to tell where exactly any precipitation that develops may fall. Much of it will be convectively driven, so model-based rainfall forecasts will likely vary wildly over the coming days.
The potential exists for measurable rainfall over a wide area with this system, however there continues to be a possible evolution of these systems where much of the rain misses the Winnipeg region. We'll be keeping a close eye on it and have updated details mid-week!
Winnipeg's seasonal daytime high is currently 19°C while the seasonal overnight low is 5°C.