Winnipeg will see a break from the heat for the remainder of the week, but the dry conditions continue with no significant rain on the horizon.
A cold front will sweep through Winnipeg today, bringing cooler temperatures to the region that will stick around for the rest of the week. Winnipeg will see a high temperature near 16°C both today and Friday, but Thursday will bring even cooler conditions with a high near 12°C. Overnight lows will sit right near freezing tonight and tomorrow. Friday night should bring slightly warmer temperatures with lows near 4 or 5°C.
Winnipeg will see mixed to cloudy skies this morning and as the cold front passes midday, followed by clearing skies this afternoon. Winds will be quite breezy behind the front as they pick up to around 40 gusting 60 km/h out of the north. The cooler temperatures and northerly wind will bring a chill to the air that will put a bit of a damper on the late-day sunshine. The cold front has a tiny chance of producing scattered showers as it moves through, but they'll be short lived with little, if any, measurable rainfall.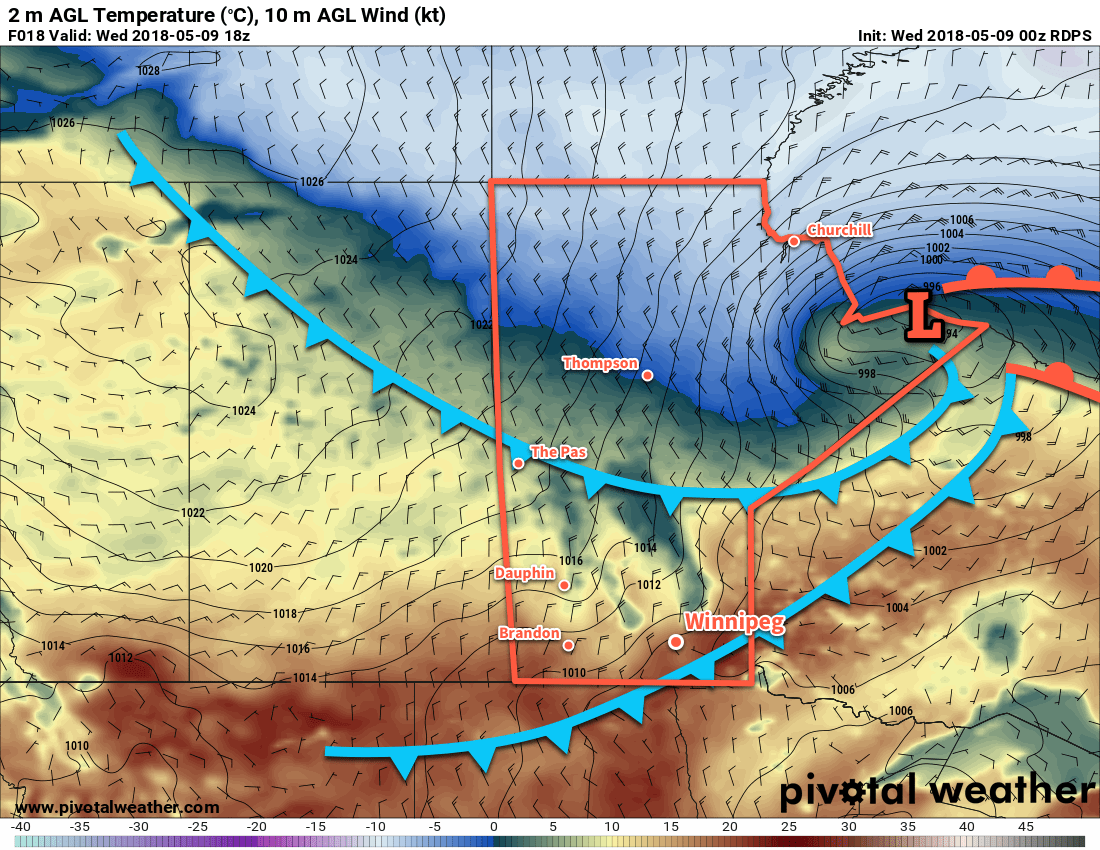 The wind will diminish this evening, leaving clear skies and light northerly winds in Winnipeg for the night and much of Thursday. Cloud cover will begin working back into the region on Thursday afternoon, bringing mostly cloudy skies to Winnipeg on Thursday night.
Winds remain light on Friday, and mixed to mostly cloudy skies look likely. Some clearing will work into the Red River Valley late in the day, resulting in partly cloudy skies on Friday night.
Long Range Outlook
The heat returns on the weekend with temperatures climbing back into the 20's under sunny skies. It looks as though both Sunday and Monday could bring highs approaching the 30°C mark again.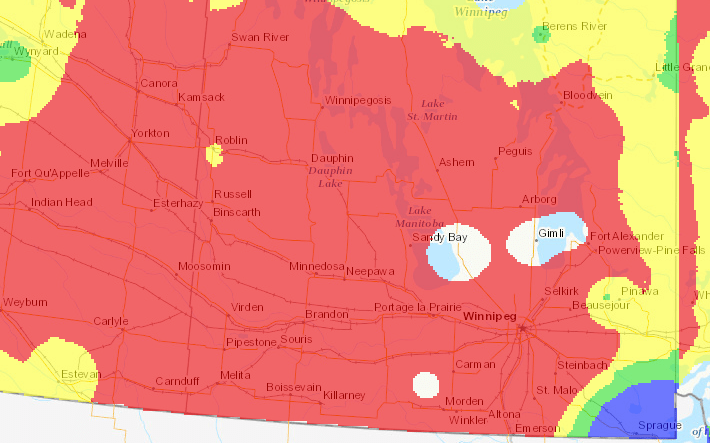 While often this would be cause to celebrate, the extremely dry conditions will only be getting worse, and the warm weather will bring with it an extreme fire danger.
Unfortunately, little change is on the horizon. There's a slight chance of some showers next Tuesday, but it's easy to see an outcome where all the rain remains south of the 49th parallel. Until measurable rain arrives, fire prevention will keep becoming a larger issue as everything continues to dry out.
Winnipeg's seasonal daytime high is currently 18°C while the seasonal overnight low is 4°C.