A complex low pressure system will bring cooler temperatures and a chance of rain to Winnipeg and the Red River Valley on Thursday night through Friday.
Winnipeg's long-lasting dry spell may be coming to an end in the next couple days. A complex low pressure system that will involve two disturbances moving into the region will bring the first significant chance for rain in over a month as it moves into the region on Thursday night. The details are tricky, however, as this low will involve two disturbances: one pushing eastwards across the Prairies from Alberta and a second from the American Plains. These two features will approach Manitoba and merge together Thursday night into Friday. But first…
Today will bring seasonably mild temperatures with a high near 21°C, but a brisk northerly wind of 20 to 30 km/h will keep just a slight chill in the air. A few clouds will be around, but overall it will be a fairly sunny day. More cloud will move into the region overnight as temperatures dip to a low near 11°C.
Thursday will see the incoming low pressure system move from eastern Montana into western North Dakota. Winds in Winnipeg will shift to easterly at 20 to 30 km/h as temperatures head to a high near 19°C under mostly cloudy skies. There will be a slight chance of showers or thunderstorms on Thursday morning as nocturnal convection tapers off. The rest of the day will remain mainly cloudy. Thursday night will bring overcast skies and a low near 10°C. The chance for rain will redevelop over Winnipeg & the Red River Valley overnight.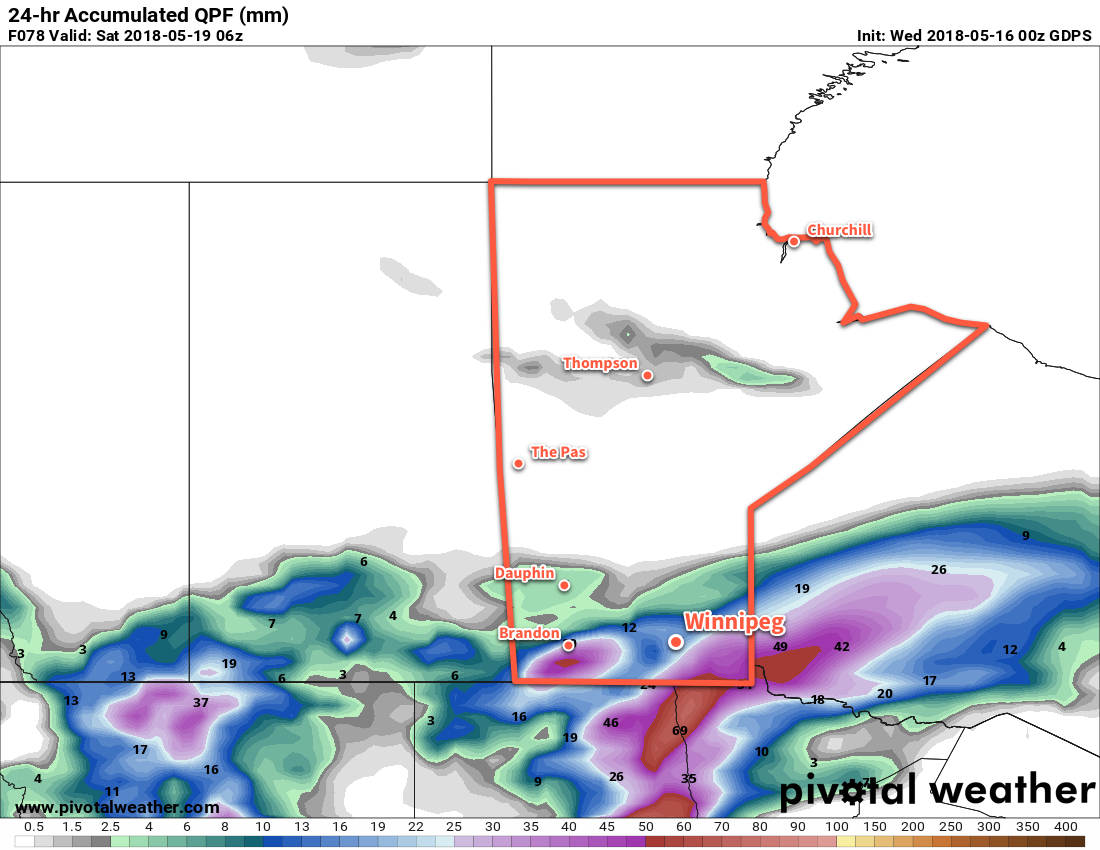 Thursday night into early Friday morning, followed by Friday afternoon into the evening, will bring the best chance for showers [or thunderstorms]. Temperatures will be cool, steady near 10°C, with winds picking up out of the north to 30 to 40 km/h. If the rain develops, there's a potential for widespread amounts in the 10 to 20 mm range. It's important to restate that this system is rather complex, and a lot of the finer details of the weather won't become more apparent until a bit closer to the event. That said, at this point, it looks like Friday may actually bring an accumulating rainfall to the region.
Skies will clear Friday night as temperatures drop to a low near 5°C. The breezy northerly winds will continue at 20 to 30 km/h.
Long Range Outlook
Heading through the weekend, Winnipeg will see sunny skies with temperatures returning back to the low to mid-twenties. Winds won't be too much of an issue, either, making for quite a pleasant weekend. The heat returns next week with daytime highs climbing into the upper twenties. It appears that there will be no significant chances for rain.
Winnipeg's seasonal daytime high is currently 20°C while the seasonal overnight low is 6°C.